https://hust.edu.vn/en/research/latest-research-outputs/about-bk-holdings-555087.html
Deployment scheme: "Construction and development master plan of Hanoi University of Science and Technology for the period 2006–2030," with the target of "developing Hanoi University of Science and Technology become the national key university supporting science and technology education, multi-disciplinary training, reaching international quality standards, attractive for social and technology development investors, financing, and business from domestic and foreign sources." By the consent of the Ministry of Education and Training on 24 March 2008, Hanoi University of Science and Technology has announced the establishment of "Bach Khoa Hanoi Technology Investment and Development One Member Company, Limited", known as BK-Holdings. This is the first business model of its kind in a university in Vietnam.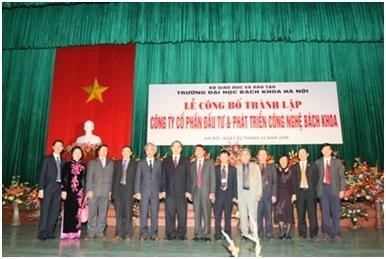 Deputy Prime Minister Nguyen Thien Nhan attended the ceremony to announce the establishment of BK-Holdings
The objectives of BK-Holdings are resource mobilization of government, organizations, and individuals; participation of domestic and foreign enterprises in the research process, followed by incubation and commercialization of science and engineering technology products produced within the university. Throughout history, scientists have been the subject of capital contribution, wisdom, and efforts to build successful commercial enterprises.
Activities of the Company
Investment ventures, associations, and share capital contribution to businesses.
Mobilizing and managing capital for the incubation and commercialization of technology products from Hanoi University of Science and Technology.
Provide training services to adapt skills and update knowledge, as required by society.
Provide services: technology consultation and intellectual property transfer, investment consultancy, management consultancy, financial consultancy, entrusted management of investment capital from organizations and individuals in, and outside Vietnam, and deployment of business activities.
The first university TT enterprise in Vietnam
BK-Holdings is the first business model established in a university in Vietnam even though this kind of model has been already existed in the world for a long time. It ensures coherence, clarity in terms of organization, finance, mobilization of positive contributions with high responsibility from scientists.
After more than 10 years of operation, currently, the system of BK-Holdings operates in three fields and has member units:
Education (BK-Holdings Education): 4 educational institutions
Vocational College of HUST
Bach Khoa Information Technology Academy (BKACAD)
Genetic Bach Khoa international training cooperation program
Ta Quang Buu Secondary and High Schools
TT (BK-Holdings Technology): 5 institutions
Vietnam Cleaner Production Center Company Limited
Bach Khoa Environment-friendly Joint Stock Company
Bach Khoa Consulting & Technology Transfer One-Member Company Limited
Hanoi Technology and Material Technology Joint Stock Company
Precision Mechanical Engineering Research Joint Stock Company
Innovation (BK-Holdings Innovation)
BKHUP Co-working Space
Lotte Start-up Office
BK-eBike project: public bicycles
BK Fund
The triple helix model of innovation
The Triple Helix model of innovation refers to a set of interactions between universities, industry, and government to foster economic and social development, as described in concepts such as the knowledge economy, and knowledge society. BK-Holdings applies the model as its core philosophy to achieve its mission of closing the gap between academia and businesses.
BK-Holdings has been a key consultant as well as key executing entity for government proposals on capability building, including: Project 844 proposal, supporting entrepreneurship and innovation (E&I) ecosystem development to 2025 with the Ministry of Science and Technology; Project 1665 proposal, supporting student startups through 2025 with the Ministry of Education) Project 1665 proposal, a career development and startup program of the Ministry of Labour, Invalids, and Social Affairs (MOLISA); as well as project with Department of Planning and Investment of Hanoi and the central governments of Danang and Hue provinces. BK-Holdings has also supported more than one hundred startups and five hundred mentors since its inception. As a key executor of government initiatives, in the years to come, BK-Holdings typically will conduct eight core classes with the target of reaching a total of five hundred participants among which are startups, SMEs, university officials, and provincial government officials.
BK-Holdings network of partners includes universities, SMEs, major corporations, including Hue University, Thai Nguyen University, 10 subsidiaries companies under BK-Holdings, the Vingroup Company, and Mobifone national telecommunications operator. BK-Holdings has also worked with the embassies of Israel and the United States. BK-Holdings also has a network of international mentors and investors from Vietnam Mentoring Initiative (VMI); the Angel Investor Network; and local incubators such as Vietnam Silicon Valley;
The first university investment fund in Vietnam
Being a pioneer is not new to Hanoi University of Science and Technology (HUST). It is the first and only university in the country awarded the Innovation prize from Clarivate (a global leader in providing trusted insights and analytics to accelerate the pace of innovation). BK-Holdings, another university initiative, was the first model of its kind in a university in Vietnam, established to manage IP and other assets to close the gap between academia and businesses. HUST recently took another pioneering step. It has established a university-led Venture Capital fund, the BK Fund.
The idea of VC funds in universities is new to Vietnam. But around the world, universities have become the sources of alum who've become the world's largest VCs. Forty two percent of the 4,500 top VCs are from twelve top universities. Harvard leads with 484 VCs, calling for USD 13.2 billion in venture capital (Crunchbase, 2018).
BK Fund is the first venture capital fund in Vietnam to belong to a university. It's built on the solid foundation of investors who are alumni. Its mission: to be a foundation for start-up projects and a bridge between scientific products, learning, and technology in universities and businesses.
"The introduction of the BK Fund demonstrates the important role of the alum, business, and civic network in supporting the reinvestment process in Vietnam's nurturing talent pool, and as a way for universities to promote growth and development of the economy," said Dr. Nguyen Quan, Former Minister of Science and Technology.
BK-Holdings will manage BK Fund, and BK-Holdings's Incubation Manager, Mr. Pham Tuan Hiep, will be its Fund Manager. BK Fund raised close to VND 20 billion from the alumni network, in preparation. BK Fund officially launched at a 15 January 2021 ceremony during "Bach Khoa Entrepreneur Night"
Fifty businesspersons, alum of HUST, were in attendance. University officials, representatives of private enterprise partners, and officials from government ministerial partners were in attendance. Notably, the ceremony was attended by: Dr. Hoang Minh Son, Deputy Minister of Education Training and Education; Dr. Nguyen Quan, Former Minister of Science and Technology; Dr. Quynh Quyet Thang, Rector Associate Professor, HUST; Mr. Pham Dinh Doan, Chairman, Phu Thai Group; and, Dr. Nguyen Trung Dung, General Director of BK-Holdings…