https://hust.edu.vn/en/cooperation/collaboration-activities/hust-daad-bilateral-agreement-signing-ceremony-2020-521392.html
On June 27th, 2020, Hanoi University of Science and Technology (HUST) and German Academic Exchange Services (DAAD) held a Signing of agreement on the bilateral exchange of scientists. This is a meaningful event to promote the exchange of faculty staff between HUST and German Higher Education Institutions with the aim to strengthen scientific research collaboration.
Presenting at the Signing Ceremony was Mr. Stefan Hase-Bergen – Head of DAAD Regional Office Hanoi, Dr. Berndt Tilp - Head of DAAD Information Centre Ho Chi Minh City, Prof. Dr. Dinh Van Phong – HUST Vice-President, DAAD alumni of HUST, HUST researchers and representatives from HUST Schools & Offices.
Addressing at the Ceremony, Prof. Dinh Van Phong - HUST Vice President affirmed: "…Under the university's development strategies for the period of 2017-2025, HUST sets a high value on internationalization, in which the international faculty exchange shall be one of our priorities. HUST not only expects our staff to have more chances for academic and research exchanges but also desires to invite foreign scholars to HUST for work and study. Therefore, for HUST, the renewal of the Cooperation agreement between HUST and DAAD is a meaningful event that strengthens the university's development strategies, as well as enriches our collaboration with German partners…"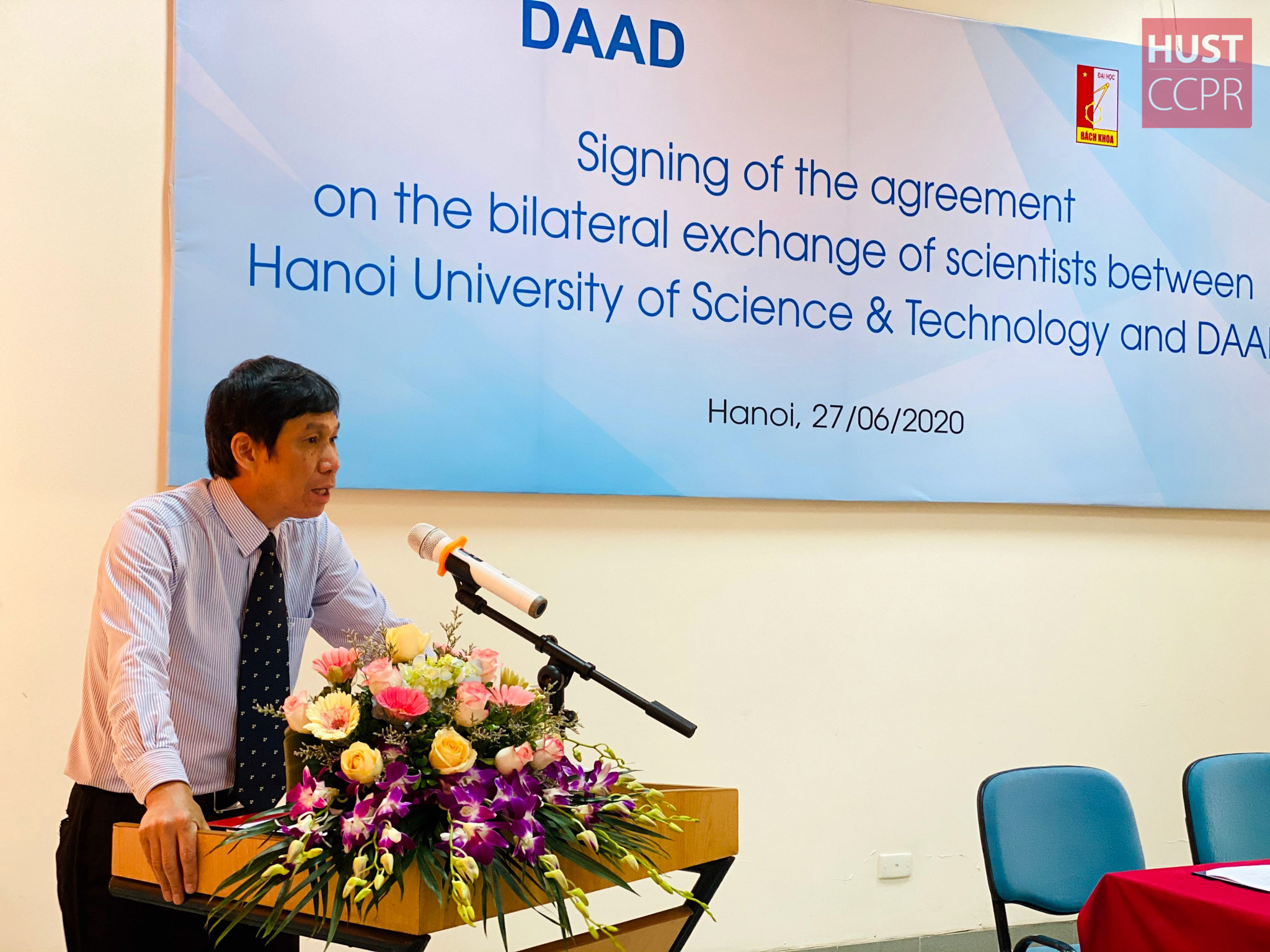 Prof. Dinh Van Phong delivered the opening remarks at the Signing ceremony
Mr. Stefan Hase-Bergen, Head of DAAD Regional Office Hanoi for Vietnam, Cambodia, Laos and Myanmar expressed his joy on this special day. As the important partners of each other, Mr. Stefan believed that the two institutions would surely develop a fruitful relationship, hence a further and deeper collaboration in the near future.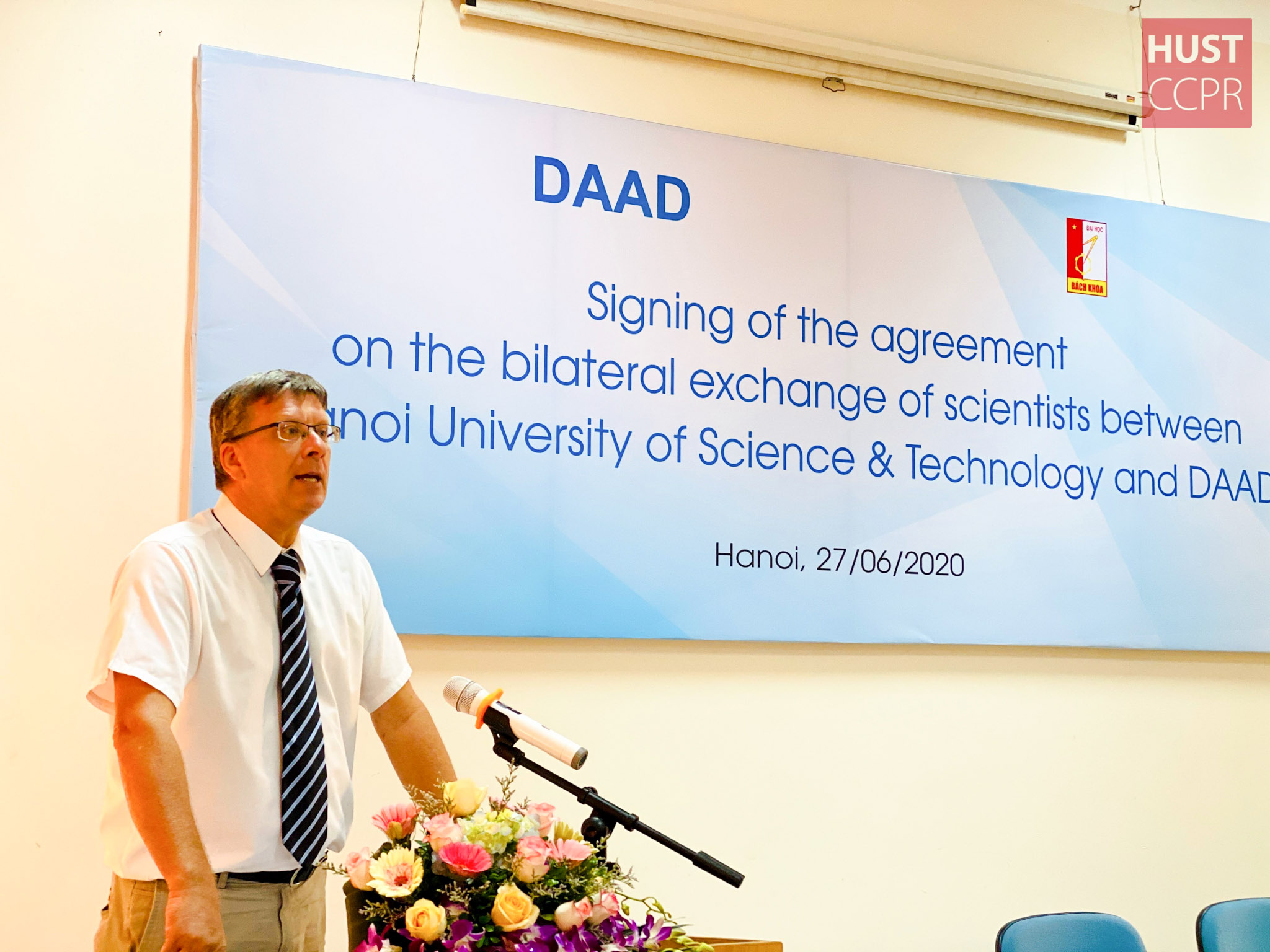 Mr. Stefan Hase-Bergen, Head of DAAD Regional Office Hanoi delivered his remarks at the ceremony
Comparing 2015 MOU, this renewed Cooperation Agreement presented a strengthened commitment of DAAD and HUST on the Program. Instead of allowing only two researchers for exchange annually, each party is now able to send five researchers to the counterpart. Yet, HUST also showed a strong commitment to contributing financially to support German scientists' mobility at HUST.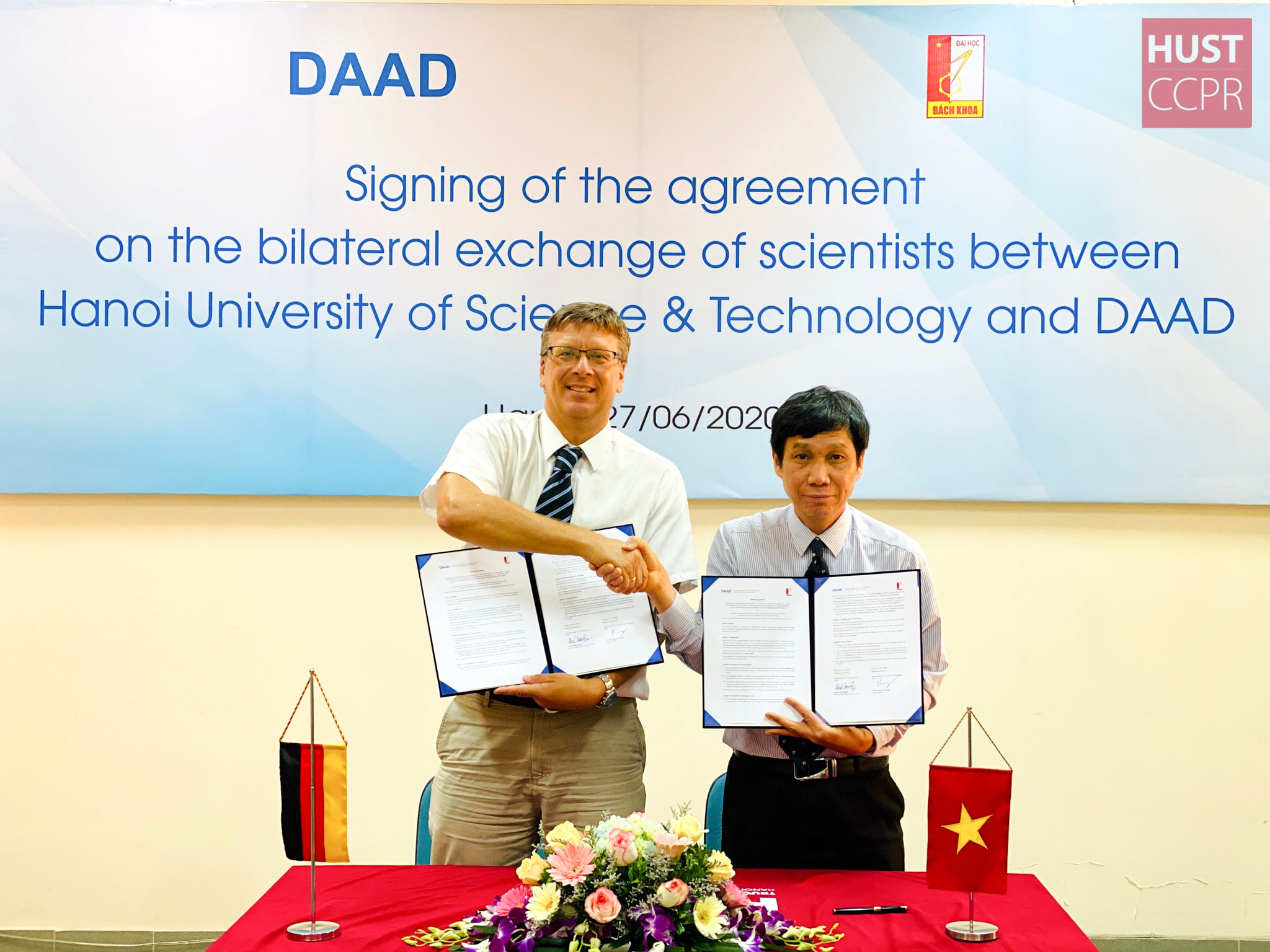 Agreement signing
Also at the ceremony, an open discussion took place among DAAD, DAAD Alumni of HUST and potential HUST exchange faculties. The objective was to summarize the Program's outcomes for the period of 2015-2020, to raise achievements and existing challenges in previous periods of exchange. HUST researchers – DAAD alumni further expressed their great appreciation to the on-going support given by DAAD and HUST, as well as strong belief that the amendments on this renewed agreement will better support both-way exchange.
SOME ACHIEVEMENTS ON THE DAAD EXCHANGE PROGRAM FOR THE PERIOD 2015 – 2020:
8 HUST researchers have been funded for exchange programs at German Universities
6 German researchers have been funded for exchange programs at HUST
1 joint training program developed
8 joint research topics and 3 joint research papers developed
4 lectures at HUST to German universities; 1 lecture at TU-Freiberg to HUST
10 Scholarships for HUST students of EliTech program were awarded