https://hust.edu.vn/en/cooperation/scholarship/e-xchange-leaving-no-one-behind-building-inclusive-tvet-technical-and-vocational-education-and-training-systems-617477.html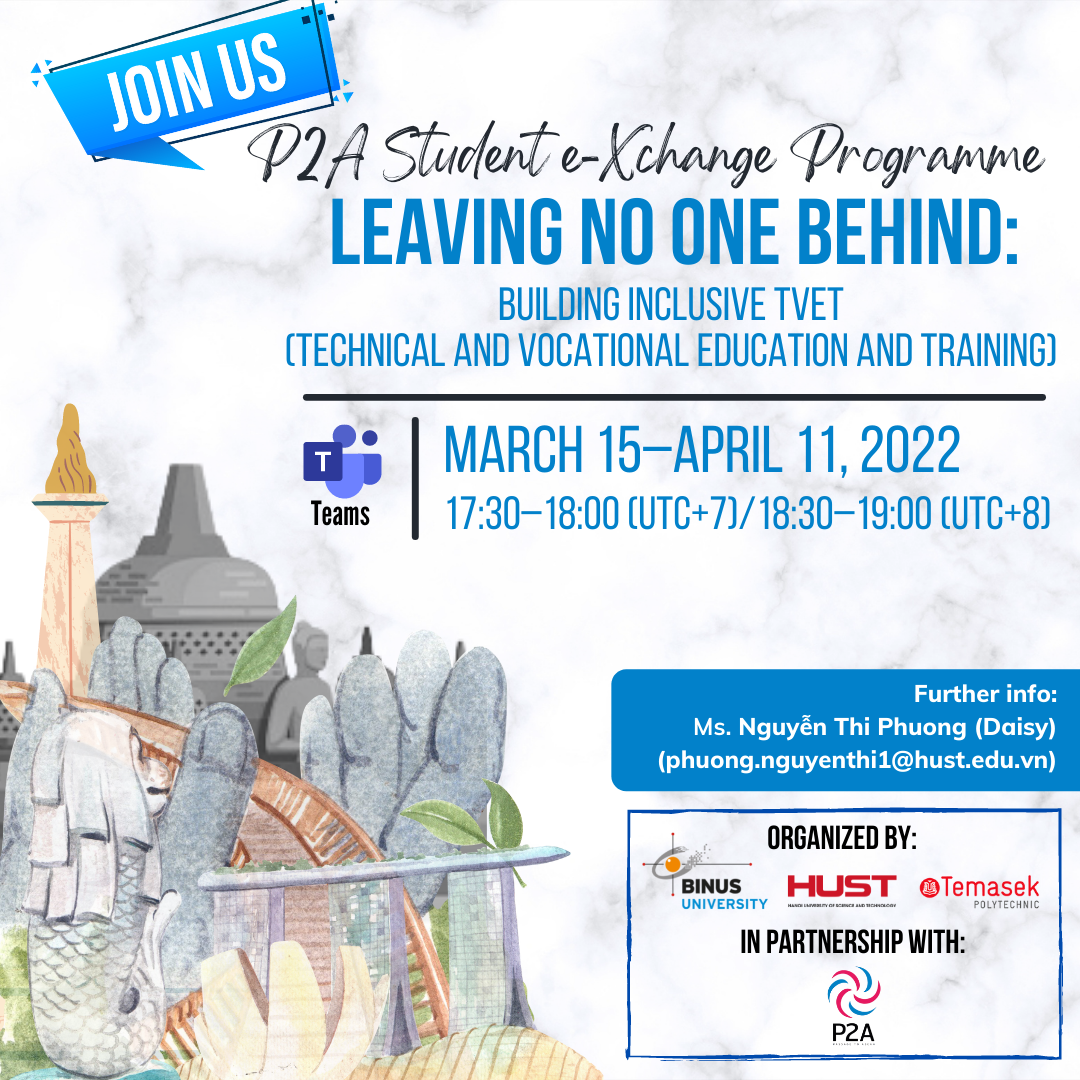 Registration LINK
Theme
YOUth Matters: Celebrating Skills for the Future, WYSD (APAC) 2022 is an inaugural event that aims to bring Youth Voice for Future of Work to center stage so that various stakeholders in the Institutes of Higher Learning (IHL) can better understand the attitudes of youth when it comes to skills needed for the future.
Program Objectives
Through this self-directed online collaboration, students will engage in a fulfilling project to discover more about Leaving No One Behind: Building Inclusive TVET (Technical and Vocational Education and Training) Systems where students get to appreciate the value of continual learning, the connections and friendships they will develop and have their voices heard.
Each group will produce two 1-mins TikTok videos.
1st category of 1-mins TikTok videos, Leaving No One Behind: Building Inclusive Systems, students will discuss:
For Group 1 only – Free, equitable and quality primary and secondary education, in preparation for TVET​
For Group 2 only – Substantially increase the number of youth for TVET in order to meet projected market demand
For Group 3 only – TVET for the vulnerable, including persons with disabilities, indigenous peoples and children in vulnerable situations​
For Group 4 only – Building inclusive and effective learning environments for all​
For Group 5 only – Finding pathways (in your 30s or 40s)
2nd category of 1-mins TikTok videos, regarding the TVET in their above discussion, students will discuss:
What skills/work do you wish to acquire for the future?
What skills do you think will be the most important in the post-pandemic era and why?
What is your message to decision-makers to support youth employment, skills development and entrepreneurship?
*Any of the TikTok videos might be played at WYSD Asia-Pacific, 2022.
Timeline
Tue, Mar 15, 2022

6.00 – 7.30 pm (Singapore) /

5.00 – 6.30 pm (Hanoi/Jakarta)

Fri, Mar 18, 2022

6.00 – 7.30 pm (Singapore) /

5.00 – 6.30 pm (Hanoi/Jakarta)

Fri, Mar 25, 2022

6.00 – 7.30 pm (Singapore) /

5.00 – 6.30 pm (Hanoi/Jakarta)

Fri, Apr 1, 2022

12 noon (Singapore) /

11 am (Hanoi/Jakarta)

Fri, Apr 8, 2022

6 pm (Singapore) /

5 pm (Hanoi/Jakarta)

Fri, Apr 8, 2022

6.00 – 7.30 pm (Singapore) /

5.00 – 6.30 pm (Hanoi/Jakarta)

Mon, Apr 11, 2022

12 noon (Singapore) /

11 am (Hanoi/Jakarta)
Grouping
Each group will have about 3 BINUS students, 3 HUST students and 3 TP students
E-platform
MS Team
Deadline for application: 10/03/2022
Registration: Click this LINK

Contact: Ms. Nguyen Thi Phuong | phuong.nguyenthi1@hust.edu.vn