https://hust.edu.vn/en/cooperation/scholarship/greenus-call-for-logo-design-contest-554149.html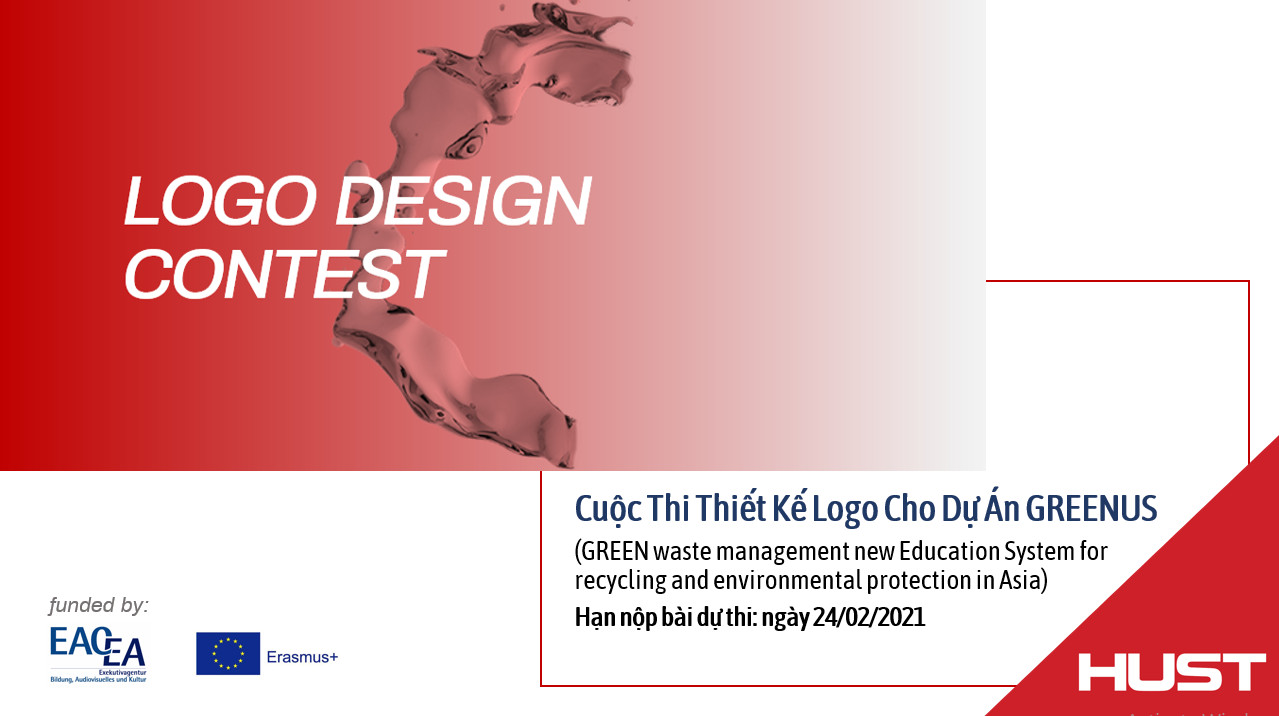 GREENUS INTRODUCTION
GREENUS (GREEN waste management new edUcation System for recycling and environmental protection in asia) is an Erasmus+ Project, funded by the EACEA (Education, Audio-visual and Culture Executive Agency) under the Key Action 2 (Capacity building in the field of higher education) for the period of 2021-2024 with 8 partners from Europe, Myanmar and Vietnam:
Sapienza University of Rome (Italy) – Project Coordinator

Jagiellonian University of Cracow (Poland)

Hellenic Mediterranean University (Greece)

Ho Chi Minh City University of Technology (Vietnam)

Can Tho University (Vietnam)

Hanoi University of Science and Technology (Vietnam)

Yangon Technological University (Myanmar)

Mandalay Technological University (Myanmar)
The project aims at developing 6 courses on Waste Management, Green Policies for Sustainability and Recycling Processes in 3 Universities in Vietnam and 2 Universities in Myanmar in order to:
Increase the local competences on Waste Management and Recycling Processes;

Promote the dialogue between European and higher education (universities) in Vietnam and Myanmar in order to facilitate the reciprocal recognition of competences and credits;

Make comparable the education and training quality of Asian Universities and European Universities, elaborating 6 courses which respect the quality parameters of all countries;

Promote the mobility of students and professors/researchers/staffs and the Universities cooperation;

Promote waste recycling and spread awareness to society.
You are invited to participate in the logo design contest for GREENUS Project
ELIGIBILITY
The Contest is open to the students and staff of all GREENUS University partners involved in the GREENUS project. Participants, to be considered eligible, must accept and agree to comply with the contest rules and submission guidelines:
Participants can submit a maximum of 2 logos but must be separate submissions;

Logo(s) will be accepted from individuals and/or teams;

Logo(s) which do not adhere to the rules and guidelines will not qualify for judging;

A bilingual (native language & English description) of the logo must be submitted, and should not exceed 350 words.
LOGO DESIGN GUIDELINES
The GREENUS Logo will appear on all Project's information tools: GREENUS website, university partners' websites, Project's headed paper and all promotional materials, social media and social network. It
MUST be creative, original and not previously published;

MUST reflect the GREENUS goals and activities;

MUST not include any material (photograph, icon, symbol etc) that is copyright protected;

SHOULD remind to the cooperation between Vietnamese, Myanmar and European universities;

SHOULD include both text and colour;
KEY WORDS: Waste Management, Green Policies, Green World, Pollution, Environment, Recycling Processes, Sustainability, International cooperation, Development, Europe, Vietnam, Myanmar, Europe, Quality, Universities, ECO-campus, Environmental awareness,
Required Elements:
Logo should be legible when reproduce on small surfaces;

Logo has to be visually effective when used in colour or in greyscale;

If the logo incorporates fonts, participants must be able to provide the font names.
DEADLINE
Submission deadline: February 24th, 2021.
Winner notification: Early March, 2021.
SUBMISSION GUIDES
Soft copy of the logo has to be sent by e-mail to:
Ms. Nguyen Thi Hong Hanh
External Affairs Office
Hanoi University of Science and Technology
Email: greenus.hust@gmail.com
With subject line: "GREENUS_LogoContest_your university acronym_your full name/name of your team" (Ex: GREENUS_LogoContest_HUST_NguyenMinhHoang)
The acceptable image file formats are .png, .jpg, jpeg & .pdf (Resolution of 300 dpi and file size less than 3 MB). The logo design is only required in ONE of the above-mentioned formats.
GREENUS Steering Committee reserves the right to accept or to reject any or all submissions that do not meet the requirements for participation and/or competition. Incomplete entries will be declared void and will not be eligible for judging.
JUDGING CRITERIA:
Judging will be carried out according to the following criteria:
- Originality of the design
- Visual appeal reflecting goals, objectives & aspirations of GREENUS
- Adherence to the logo design guidelines
SELECTION OF WINNERS
All entries will be screened, those that comply with the official contest rules, have met the guidelines and specifications will be judged by GREENUS Steering Committee. The decision of the GREENUS Steering Committee will be final and no appeal against the decision will be considered.
INTELLECTUAL PROPERTY RIGHTS
Once the prizes have been awarded to the winner, the copyright and the ownership of the Intellectual Property Rights for the winning logo design will deem to be transferred to the GREENUS. The winning design will be used as the official logo for GREENUS and GREENUS project reserves the right to publish the winning logo on its print and electronic communications.
PRIZES
All participants will be awarded Certificate of Participation by GREENUS Project.
The winner will receive:
A price of US $150 worth

University souvenirs from Project partners

Recognized in the official website of the Project and the website of his/her home university

Certification signed by GREENUS Project Coordinator and the home university

Given priority in participation selection for GREENUS Project courses/ mobility/ activities.
EAO - HUST