https://hust.edu.vn/en/cooperation/scholarship/p2a-virtual-mobility-2021-asean-student-e-xchange-in-business-entrepreneurship-577838.html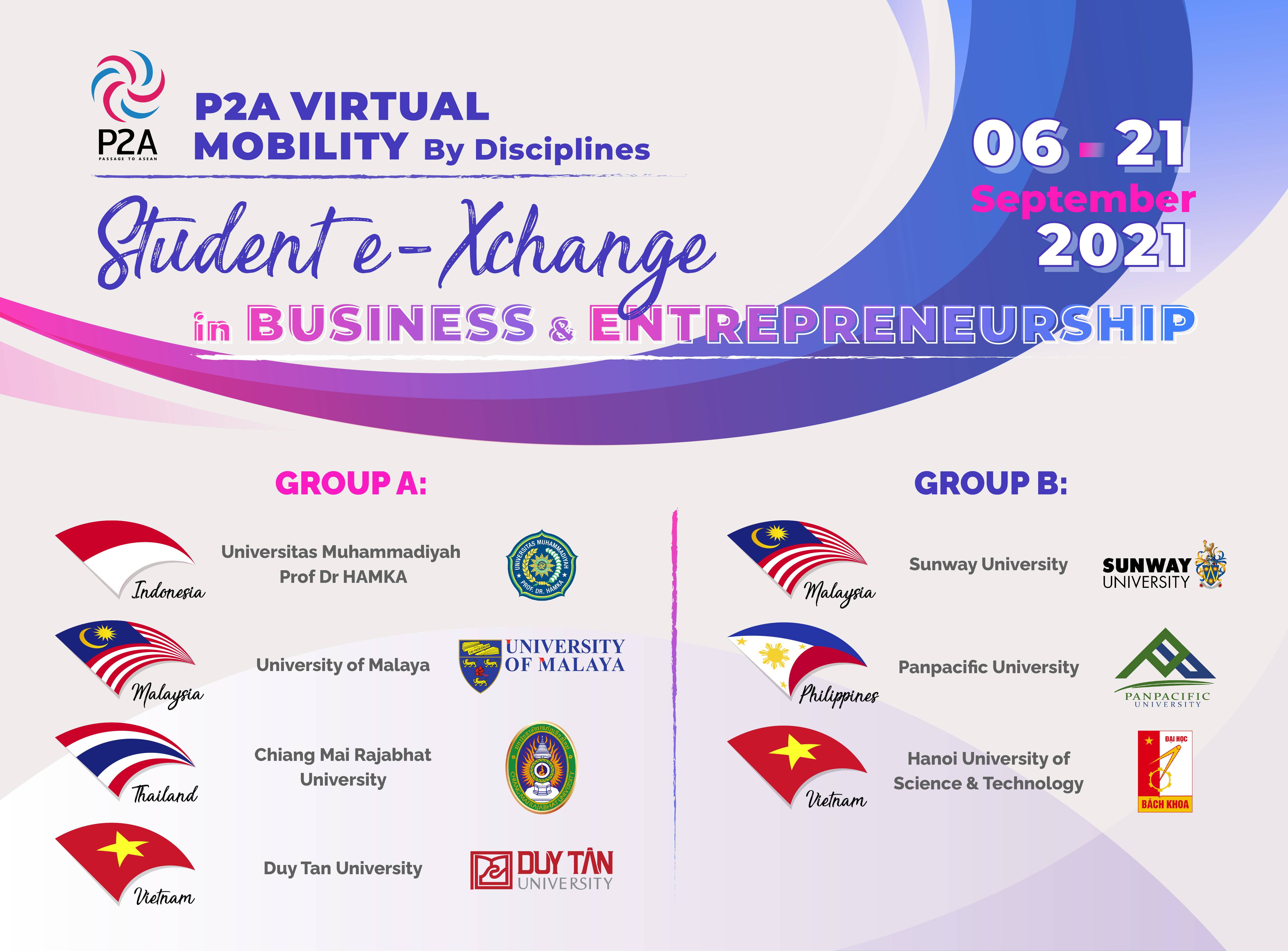 CALL FOR PARTICIPATION
P2A VIRTUAL MOBILITY 2021 ASEAN STUDENT E-XCHANGE IN BUSINESS & ENTREPRENEURSHIP
Registration link: https://form.jotform.com/211850738133453
Registration Deadline: 30/07/2021
Program information: Schedule: 06 - 21 September, 2021
(Including 4 official sessions on 6, 9, 17, 21 September & 2 unofficial sessions)
Number of participants: 15 slots for each university.
ASEAN Student E-Xchange In Business & Entrepreneurship is hosted by with Passage to ASEAN Association, in partnership with:
· Chiang Mai Rajahat University (Thailand)
· Duy Tan University (Vietnam)
· Hanoi University of Science and Technology (Vietnam)
· Panpacific University (Philippines)
· Sunway University (Malaysia),
· Universitas Muhammadiyah Prof Dr HAMKA (Indonesia)
· Universiti Malaya (Malaysia)
Benefits of participation:
· Opportunity to exchange and interact with ASEAN friends
· Opportunity to understand more about the country, culture, economy, and people of ASEAN
· Opportunity to improve teamwork skills, critical thinking, leadership and problem solving skills with ASEAN students.
· Program Certificate by Passage To ASEAN Association.
Participants Criteria:
· Major required in business
· Good command in English language
· Committed to attending all sessions
· Highly motivated and assertive
For further information, please contact:
External Affairs Office: Ms. Phuong Nguyen | Email: phuong.nguyenthi1@hust.edu.vn | Phone: 0968498104