https://hust.edu.vn/en/cooperation/scholarship/lean-six-sigma-lss-webinar-579869.html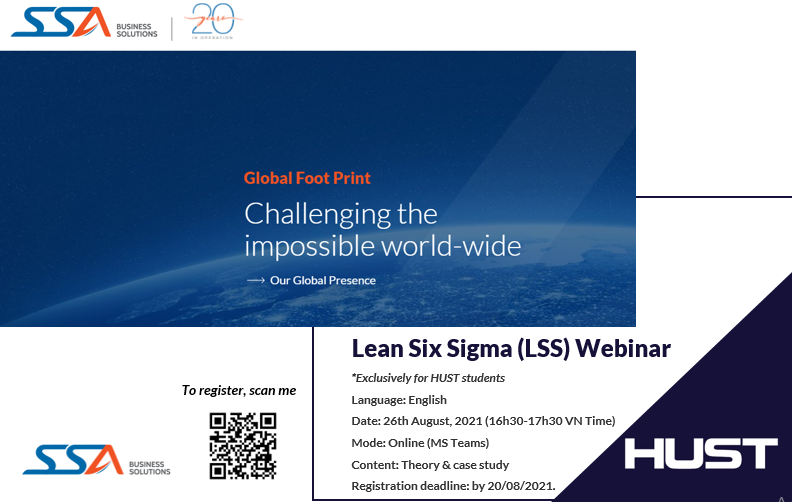 Lean Six Sigma (LSS) Webinar
Webinar Objective:
What is Lean & Six Sigma (LSS)

How LSS helps to relate to Business's & improve Business Efficiency

Understand & Implement Continuous Improvement

Successful Case Studies from global organizations
Webinar Outcome:
Learn how industries across globe are adopting Lean Six Sigma method

How LSS is effective in eliminate errors, remove waste and inefficiency

Practical approach and introduction to basics on LSS
Program Benefit
Awareness of lean & six sigma principles

Help acquire desirable skills for problem solving

Learn about important tools: 5S, Kaizen, SMED, etc.

Language: English

Date: 26th August, 2021 (16h30-17h30 VN Time)

Mode: Online (MS Teams)

Audience: HUST Senior & junior students (mechanical engineering school, and other engineering schools)

Duration: 90 mins

Content: Theory & case study

Registration deadline: by 20/08/2021.
To register for the webinar, click here.
(The registered students will be sent emails with the link to MS Teams)
For more details, HUST students visit here.