https://hust.edu.vn/en/cooperation/scholarship/call-for-application-2022-asean-korea-academic-essay-contest-633437.html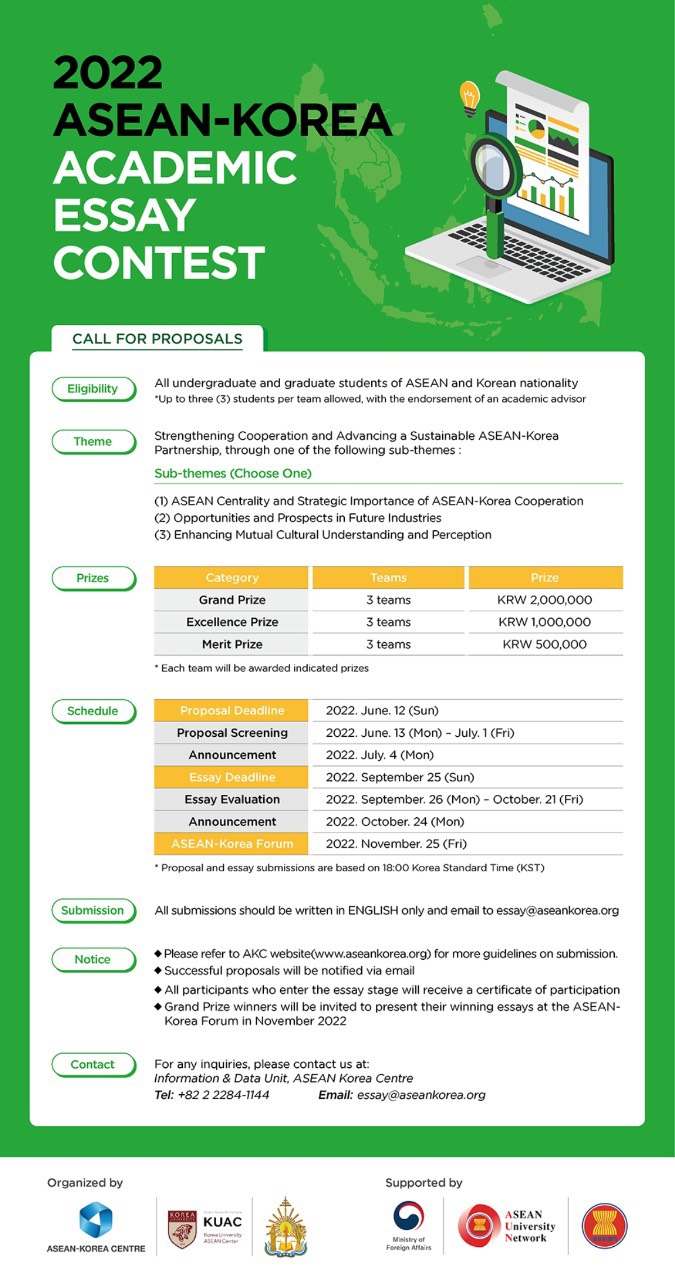 Organized by
ASEAN-Korea Centre
Korea University ASEAN Center
Academic partnership with
Korea University ASEAN Center
Royal University of Law and Economics, Cambodia
Supported by
ASEAN Secretariat, ROK Ministry of Foreign Affairs, ASEAN University Network
This time, the Centre looks forward to receiving proposals in promoting the ASEAN-Korea relationship and suggestions as to how ASEAN and Korea can further expand and deepen their cooperation towards a more sustainable ASEAN-Korea partnership.
Benefits
Win up to KRW 2 million (

Grand Prize (3 teams): KRW 2,000,000 - Excellence Prize (3 teams): KRW 1,000,000 - Merit Prize (3 teams): KRW 500,000)

Grand Prize Winners will have the opportunity to present their winning essays at the ASEAN-Korea Forum (tentatively scheduled on Nov 25, 2022).
Eligibilities
The contest is open to all undergraduate and graduate students with ASEAN or Korean nationality.

Applicants must submit a proposal as an individual or as a team, consisting of up to 3 students.

Applicants must submit a recommendation form by their academic advisor.
Eligible Regions: ASEAN and Korea
You may refer to the attachments for more details and requirements.
3. AKC Application & Consent Form
4. AKC Academic Recommendation
Notice
ㆍCall for proposals is only for proposal submission. Selected proposals will be notified via email on July 04, 2022.
ㆍOnly selected proposals will proceed to the essay stage.
ㆍAll participants who enter the essay stage will receive a certificate of participation.
ㆍFor any inquiries, please contact us at Information and Data Unit,
Tel: +82 2 2284-1144 or Email: essay@aseankorea.org
Website: https://www.aseankorea.org/eng/New_Media/notice_view.asp?page=1&BOA_GUBUN=12&BOA_NUM=17875
*NOTE: HUST students/teams who finish submission for the proposal stage are requested to email to Ms. Phuong Nguyen (at: phuong.nguyenthi1@hust.edu.vn) to report and seek assistance if needed.