Information on Scholarship of Doctoral Degree at the Graduate School of Science and Technology, Niigata University, Japan
2022-12-05T21:22:49-05:00
2022-12-05T21:22:49-05:00
https://hust.edu.vn/en/cooperation/scholarship/information-on-scholarship-of-doctoral-degree-at-the-graduate-school-of-science-and-technology-niigata-university-japan-651348.html
https://hust.edu.vn/uploads/sys/cooperation/2022_12/pr-material-for-pgp-2023_doctor.jpg
Hanoi University of Science and Technology (HUST)
https://hust.edu.vn/uploads/sys/logo-website02_136_200_1.png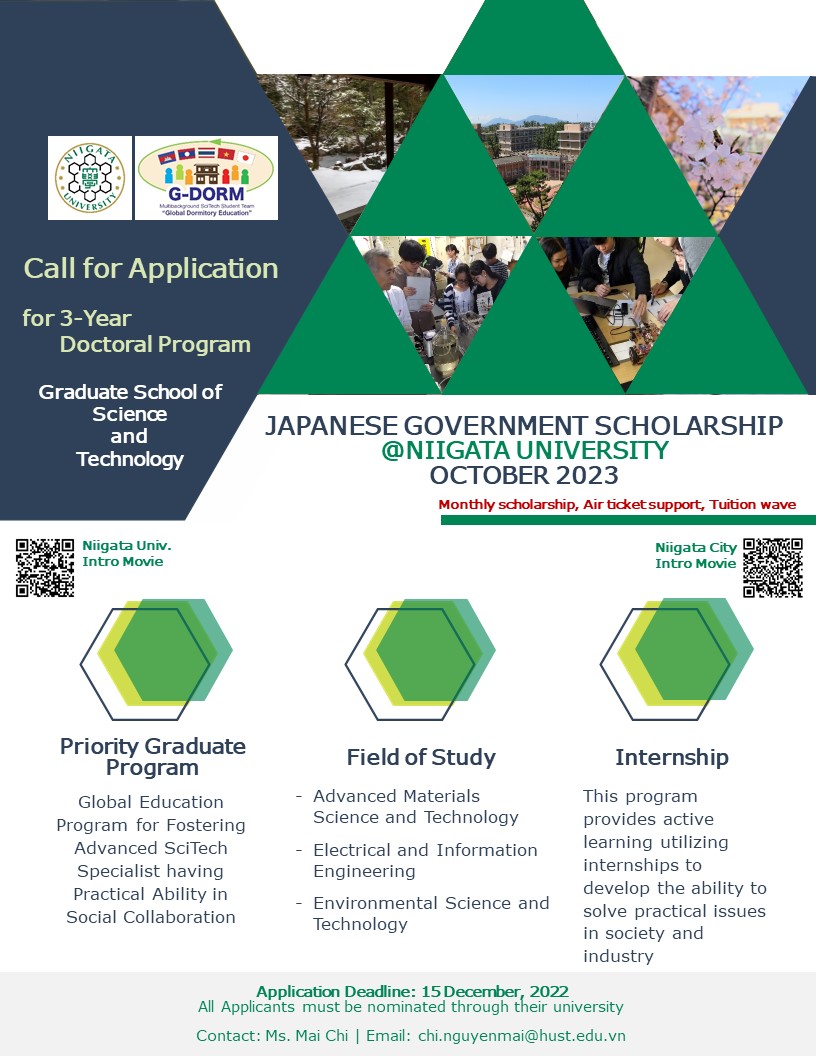 1. Eligibility Fields and courses
- the Advanced Materials Science and Technology: Fields of materials science (Materials Science and Technology Course), chemistry (Applied Chemistry and Chemical Engineering Course), and mechanical engineering (Advanced Mechanical Science and Engineering Course): creation of novel materials based on the structural control of atoms and molecules; composite of dissimilar materials based on the interface control; development of functional materials by applying chemical technology; environment-friendly industrial processes; characterization of materials; mechanical production systems; development of material control technology; and so on.
- the Electrical and Information Engineering: Fields of smart information system (Information Engineering Course), electronics, information and communication engineering (Electrical and Electronic Engineering Course), and biomedical engineering, assistive technology and art and sports science (Human Sciences and Assistive Technology Course): information and communications technology, intelligence and informatics, and sensing technology; high-efficiency energy, electronic devices, and nanotechnology; biomedical engineering and nursing science, healthcare and assistive technology, the fusion of music, arts, and engineering; and so on.
- the Environmental Science and Technology: Fields of civil and environmental engineering, architecture, and urban engineering (Architecture and Civil Engineering Course): construction technology for infrastructures and buildings; methods for urban
and other space composition, design, and planning; techniques for the analysis and assessment of the natural or artificial environment; and so on
More information on Description of major course and information of professors please refer to Annex 2 attached.
2. Eligibility for Application
- Those who have a degree equivalent to a Master's degree or a professional degree in a country other than Japan or those who expect to obtain such a degree by September, 202
3
.
More information please refer to the Guideline attached.
3. Scholarship for Accepted Students
(1) Monthly stipend: around JPY145,000
(2) Period of Scholarship: For the period of the standard number of years required to complete the doctoral program (from October 1, 202
3
, to September 30, 202
6
)
(3) Travel Expenses (Round trip):
Students will receive in-bound travel expenses when entering Niigata University and outbound
expenses if they return to their home countries within the period of scholarship. The travel
expenses cover air fares from the international airport closest to their residence to the
international airport closest to the university in Japan.
(4) Fees Necessary for Entering Niigata University
Students are exempted from paying the examination fee, entrance fee, and tuition for the period
of the standard number of years required for completion.
(5) Other: If the students' stay at Niigata University exceeds the standard number of years required for completion, if they are expelled or transferred, or in any way violate the oath made to the Minister of Education, Culture, Sports, Science and Technology, even after matriculation, the scholarship stipends will not be provided.
More information please refer to Annex 1 attached.
4. How to apply:
4.1 Fill the form:
https://bit.ly/3VzhVhu
before December 10th
4.2 Send the External Affair Office (Ms. Mai Chi:
chi.nguyenmai@hust.edu.vn
) the
"5) Academic Transcript(s) ; 8) Abstract of Thesis an English Proficiency Proof
4.3. Forms:
Complete and send all the Application forms before December 15th
Link to forms (zipfiles)
5. Application deadline
- December 10th for the above 4.1 and 4.2 listed Documents
-
December 15th : the whole Application Documents