https://hust.edu.vn/en/news/newsletter/isolation-and-structural-determination-of-ecdysteroids-from-vietnamese-acrostichum-aureum-653881.html
https://hust.edu.vn/uploads/sys/news/2023_06/349136837_183539300970281_9172083558084344966_n.jpg
"There are days when we left the house at 6:30 in the morning, spent 12 hours in the lab, and didn't return home until it was already dark," Tran Thi Minh Trang - K64 Talented Program in Pharmaceutical Chemistry talked about the time she and her classmate, Le Thu Thao, prepared for HUST Student Research Conference.
These two charming young girls, who are members of the Natural Compound Laboratory - supervised by Assoc. Prof. Tran Thi Minh achieved the Third Prize in the Organic Chemistry subcommittee with her research topic "Isolation and Structural Determination of Ecdysteroids from Vietnamese Acrostichum aureum".
Thu Thao explained that Acrostichum aureum, belonging to the Cyclosorus genus, is a widely distributed plant species in the coastal provinces of Vietnam. Despite its abundant presence, there is a lack of extensive research on this plant species in Vietnam.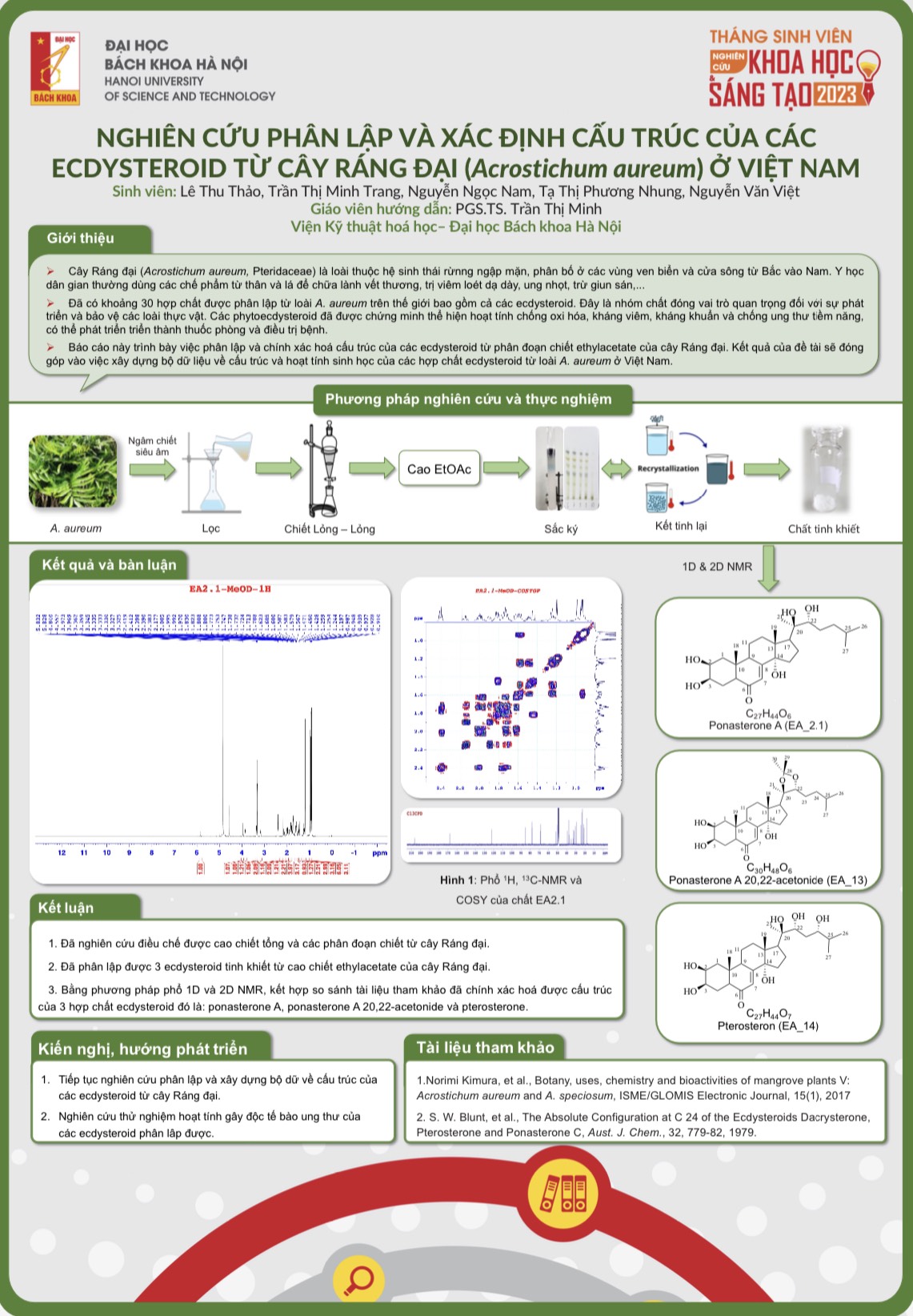 The topic of the 5-member group from the School of Chemistry and Life Sciences is a fundamental research project aiming to extract and isolate ecdysteroid compounds from Acrostichum aureum. Ecdysteroids are relatively rare compounds but possess significant potential for biological activities. They can be used in inhibiting the catalysts responsible for triggering Alzheimer's disease (Memory Impairment Syndrome), manufacturing industrial insecticides, or dietary supplements,…
"Scientific research is like a long path," Minh Trang shared. "Every time when I feel discouraged, the orientation of my instructor and the encouragement of my labmates are helpful". Overcoming the difficulties, the team members not only succeeded in extracting a pure compound but also found a new ecdysteroid compound that was isolated for the first time in the world from this plant.
According to the two students, scientific research helps supplement practical knowledge beyond classroom lectures and helps shape the serious, careful, and meticulous working style of a scientist. These are the first steps on the path of conquering the field of science and technology for these young researchers.
Reporting by Ha Kim - Translating by Mai Phuong - Editing by Ha Kim