https://hust.edu.vn/en/academics/academic-programs/advanced-biomedical-engineering-program-facts-and-figures-369723.html
Advanced Program in Biomedical Engineering (conducted in English)
(Download the program cirriculum HERE)
With a flexible and adaptable curriculum which was established with a reference to the Biomedical Engineering program of the University of Wisconsin-Madison, a highly ranked university in the field of Biomedical Engineering (BME), the advanced Biomedical Engineering program at Hanoi University of Science and Technology (HUST) gives students the opportunity to catch up with the newest advancements in the field of BME; provides students with generic and specialised knowledge and the ability to critically think and reason to research on and develop solutions to technological problems, especially in the field of BME.
The advanced BME program is taught entirely in English by lecturers from HUST and invited professors from overseas.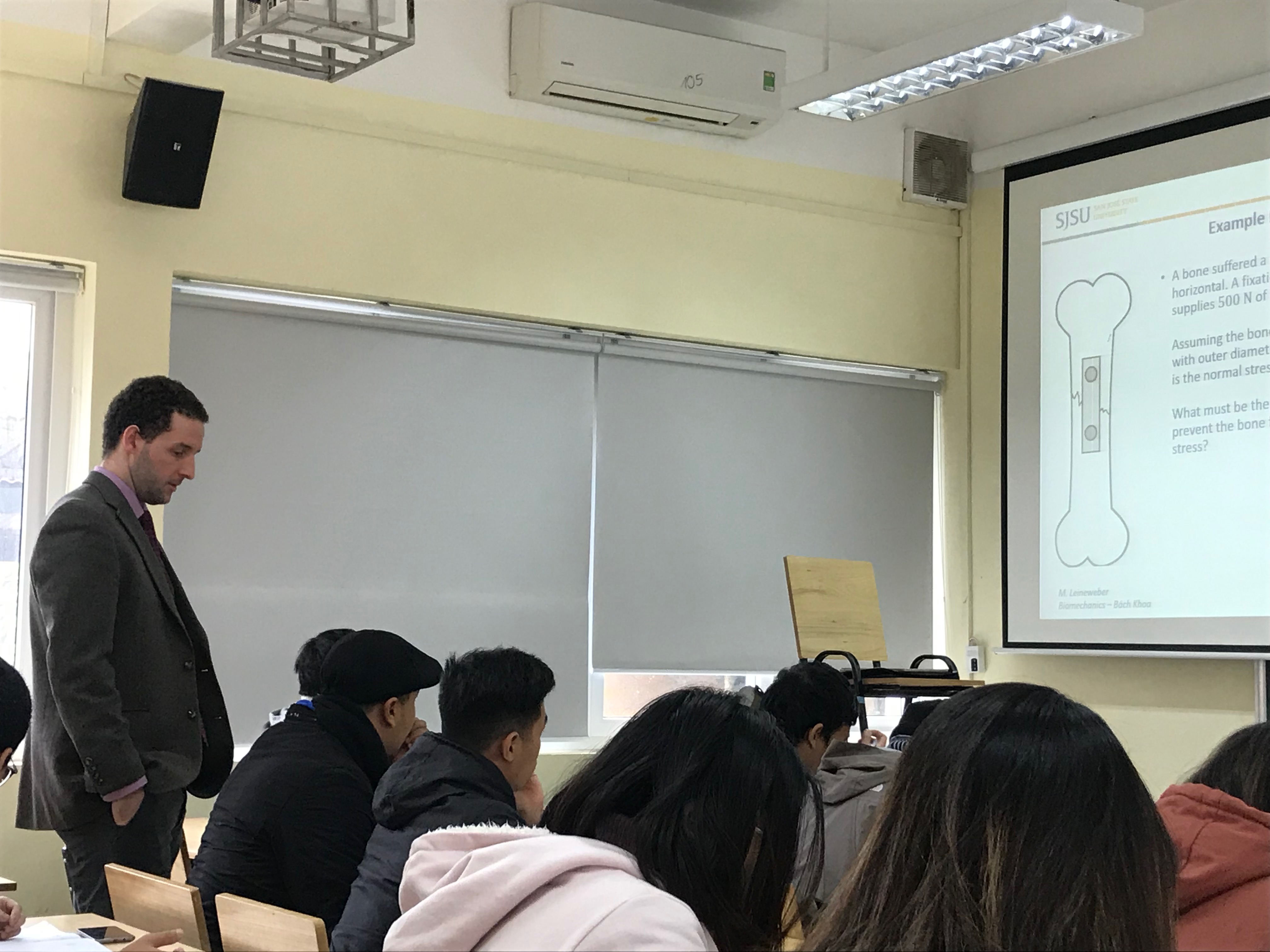 Enrolment code: ET-E5
Expected enrolment quantity: 40
Entrance exam subjects
Maths – Physics - Chemistry

Maths – Physics - English (Main subject: Maths)
Enrolment grade for previous years (out of 30 for 3 subjects):
2017: 25.25
2016: 22.83
2015: 25.50
2018: 21.70
Knowledge and skills obtained at graduation
Knowledge
Graduates will be able to apply deep and broad knowledge of mathematical and basic sciences, as well as of the speciality, together with the ability to employ methods and advanced tools in order to design, implement, operate and evaluate technological systems, products and solutions in the field of BME.
Skills
Graduates are equipped with

Technical skills and professionalism critical for success in their career;

Social skills needed for multidisciplinary team-work and international-standard environments;

The ability to identify problems and develop ideas, ability to design and implement, operate, apply and exploit systems, products and technical solutions in the field of BME.
Foreign language proficiency
Course timeframe and opportunity for higher education
Bachelor degree: 4 years
Combined Bachelor – Engineer degree: 5 years
Combined Bachelor – Master degree: 5.5 years
Combined Bachelor – Master – Doctorate degree: 8.5 years
Scholarship opportunities
In addition to scholarships and financial aids from HUST, students in the advanced BME course have opportunities to receive:
Financial aids and exchange scholarships from enterprises and oversea universities that are partners of the School of Electronics and Telecommunications.

The annual rate of students receiving scholarships to study in the USA, Europe, Japan, Singapore and Korea is more than 20% of all graduates.
Job opportunities after graduation
100% students find jobs within 6 months after graduation with a starting salary of 8-20 million VND.
Typical job positions
Research and development engineers, project managers, marketing staff for domestic and foreign companies and corporations in the field of Healthcare;
Engineers working at the Department of Equipment and Instrumentation at hospitals and clinics throughout Vietnam;
Researchers at universities and institutes in Vietnam...
Contact: School of Electronics and Telecommunications
Address: 405 - C9, Hanoi University of Science and Technology, No 1 Dai Co Viet, Hai Ba Trung, Hanoi

Hotline: 0904277585 (Dr. Nguyen Thai Ha); 0983444322 (Dr. Nguyen Viet Dung)

Email: bme.set@hust.edu.vn

Website: http://set.hust.edu.vn /

www.bme.hust.edu.vn