https://hust.edu.vn/en/news/news/hust-stepped-up-its-quality-accreditation-promoting-internationalization-653845.html
"We have an excellent impression of the academic programs and the university's effort after reading the overall report", Prof. Sebastian Engell, representative of ASIIN (Germany) said that HUST is one of the leading universities in Vietnam.
The Quality Accreditation for 16 academic programs according to ASIIN standards was held in 2 days, 9-10/11.
These 16 academic programs are HUST's core subjects in 5 fields: Mechatronics and Advanced materials, Electrical-Electronics, Information Technology, Industrial Management, and Business Analytics. Most of the programs participating in this accreditation are advanced programs taught in English.
At the Opening Ceremony, Assoc. Prof. Huynh Quyet Thang, President of Hanoi University of Science and Technology, said: "I am confident that we will receive valuable comments and suggestions from the evaluation team to help us improve our training and research qualities."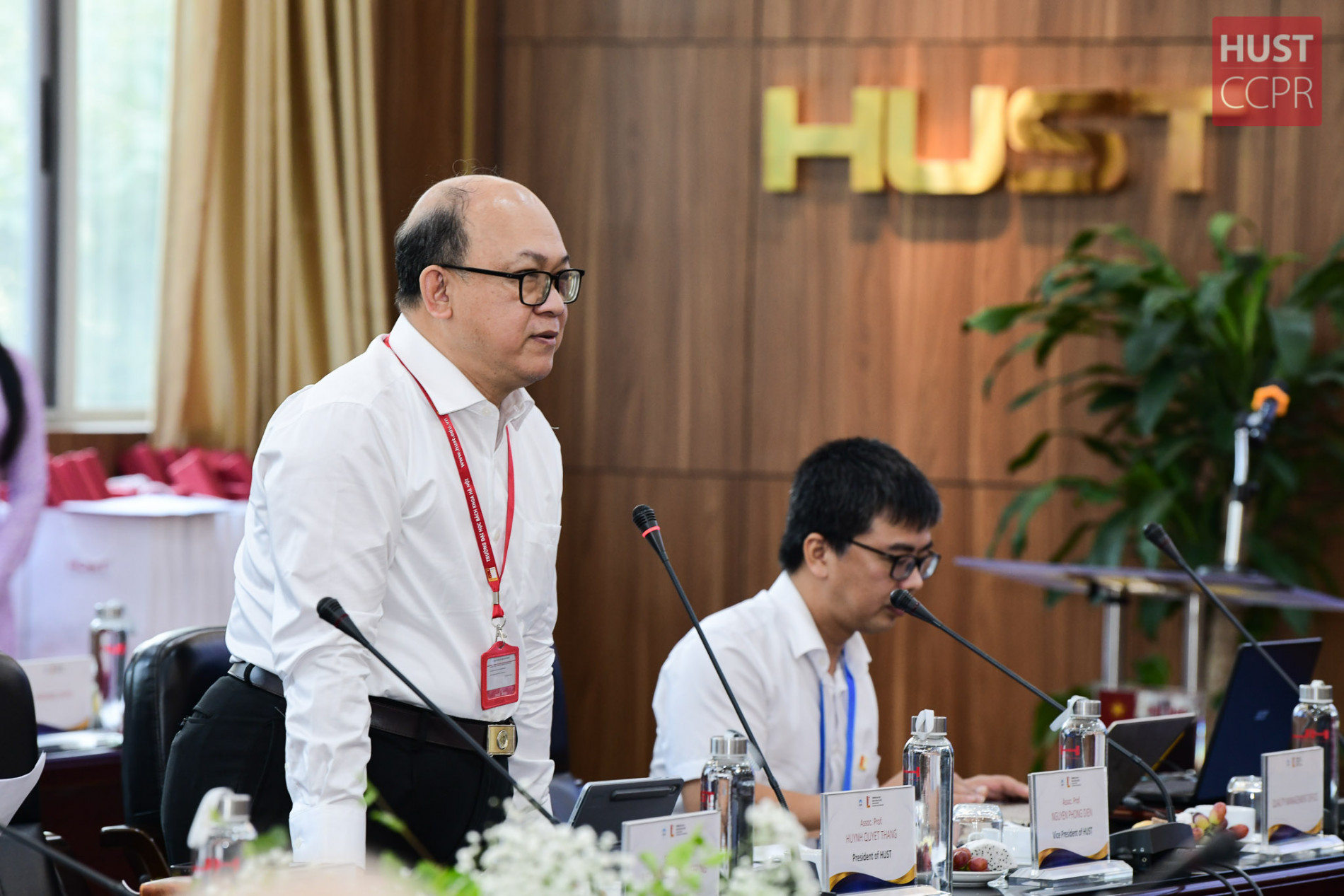 In the period of 2021-2025, Hanoi University of Science and Technology has set 10 important tasks, three of which are top priorities: Building an advanced governance model; Developing modern and sustainable areas of teaching and research; and Strengthening international cooperation. The accreditation of training programs according to ASIIN standards is one of HUST's actions to achieve the set goals.
Ms. Yanna Sumkotter, ASIIN Project Manager, was impressed with the warm greeting in Hanoi. The inspection team includes 21 scientists from Germany and 10 representatives from universities, businesses, and undergraduate students in Vietnam.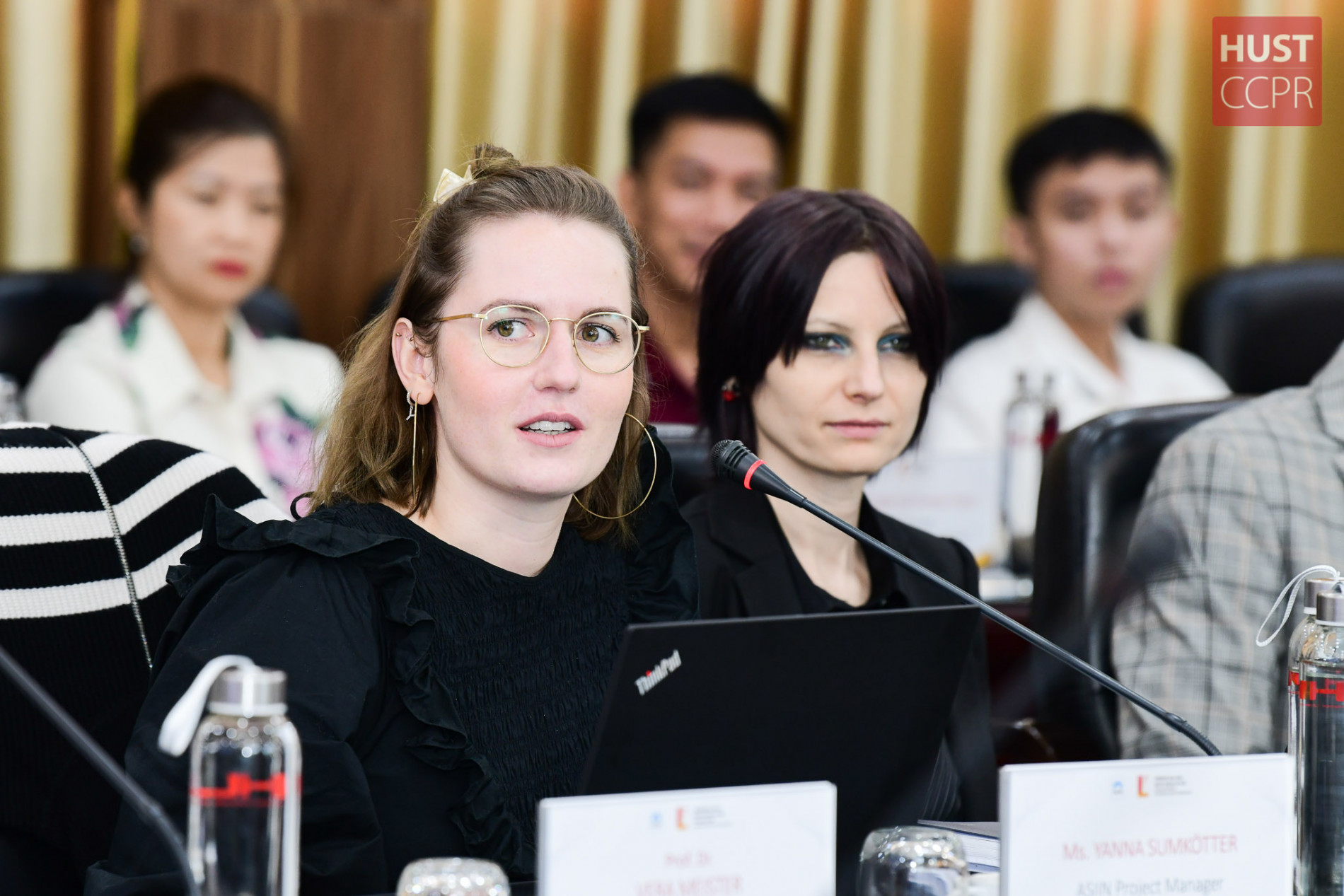 ASIIN (Accreditation Agency for Study Programs in Engineering, Informatics, Natural Sciences, and Mathematics) is a prestigious accrediting organization in the system of the European Association for Quality Assurance in Higher Education (ENQA). In Vietnam, ASIIN is allowed to conduct assessment and accreditation activities for higher education institutions and university training programs in the fields of mathematics, natural sciences, technology, and engineering. ASIIN's accreditations are recognized for their validity assuring the quality of higher education worldwide.
This organization will comprehensively evaluate training programs in many aspects including output standards, curriculum framework, teaching staff, facilities, quality assurance, and connections among universities, students, and business corporates.
Professional accreditation work
According to Assoc. Prof. Truong Viet Anh, Head of the Quality Management Office, the ASIIN accreditation is in line with the University's goals in training quality improvement and internationalization promotion. This is the first time that HUST was accredited by a prestigious organization from Germany, one of the world's leading countries in science, engineering, and technology.
The QA process was carried out carefully and professionally. During two working days, the ASIIN team visited more than 30 laboratories and many other facilities on campus.
Prof. Sebastian Engell, a representative of the ASIIN Accreditation delegation, expressed his opinion: The ultimate goal of ASIIN's accreditation is to understand and provide suggestions for improvement rather than just assess the University's quality.
Each interview session required a minimum of 5 related people to the courses. They can be students, alumni, or business representatives,... ASIIN accreditation team was very interested in the responses of the participants and stakeholders to get a holistic view of the effectiveness of training courses.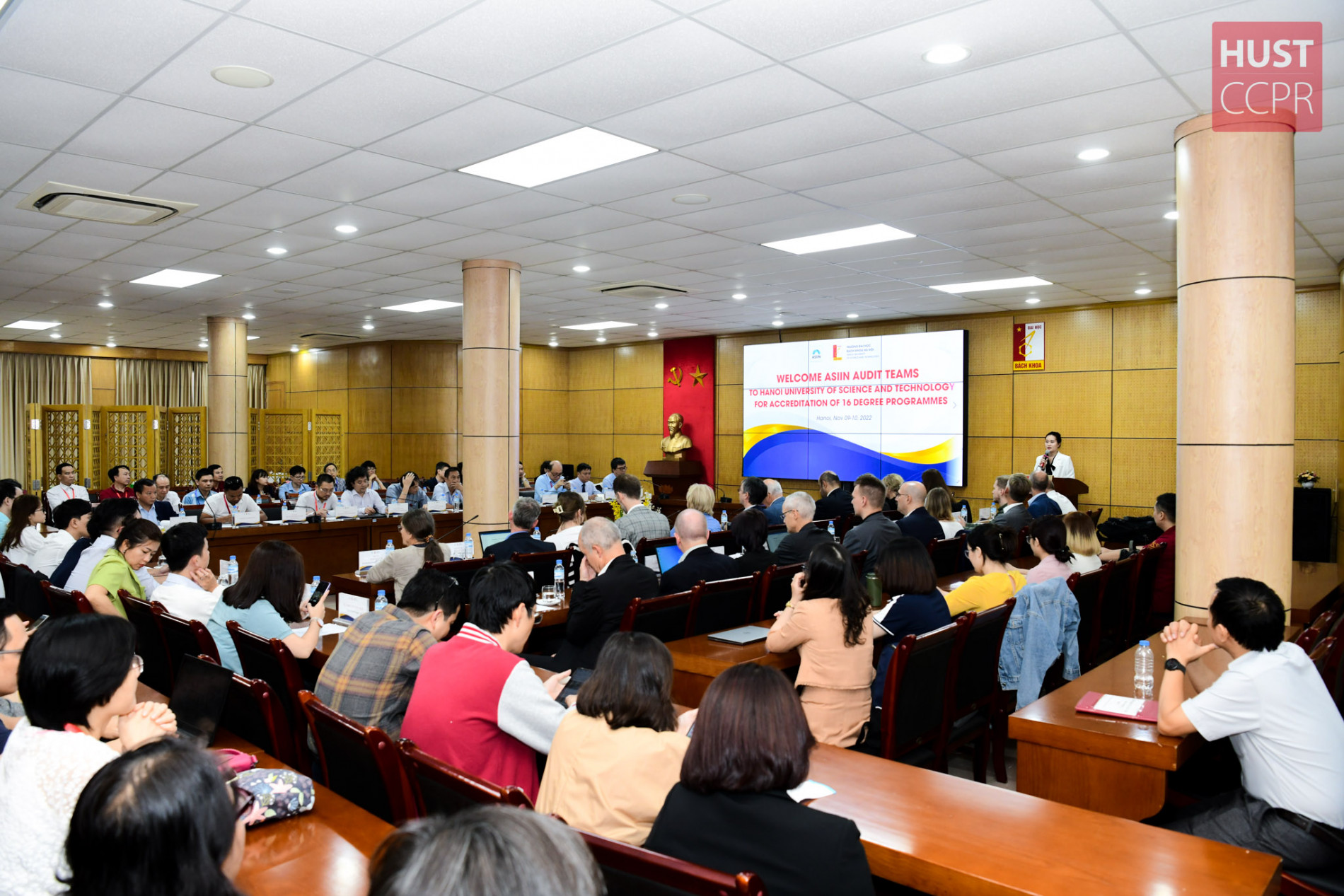 At the closing ceremony, prestigious professors and European accreditation experts from ASIIN highly appreciated the ability of lecturers, staff, and specialized laboratories. Among the accreditation training programs this time, there are 8 programs in Electrical, Electronics, Mechatronics, and Materials Science have newly-built laboratories funded under the SAHEP project of the World Bank. But what stood out was the university's business cooperation because of HUST's positive influence on the economy and society.
Quality assurance must be a constant process
According to the Quality Management Office, about 250-300 people participated in this accreditation. "Report has been underway since last year, but the preparation and implementation process has started since 2019," Assoc. Prof. Truong Viet Anh shared.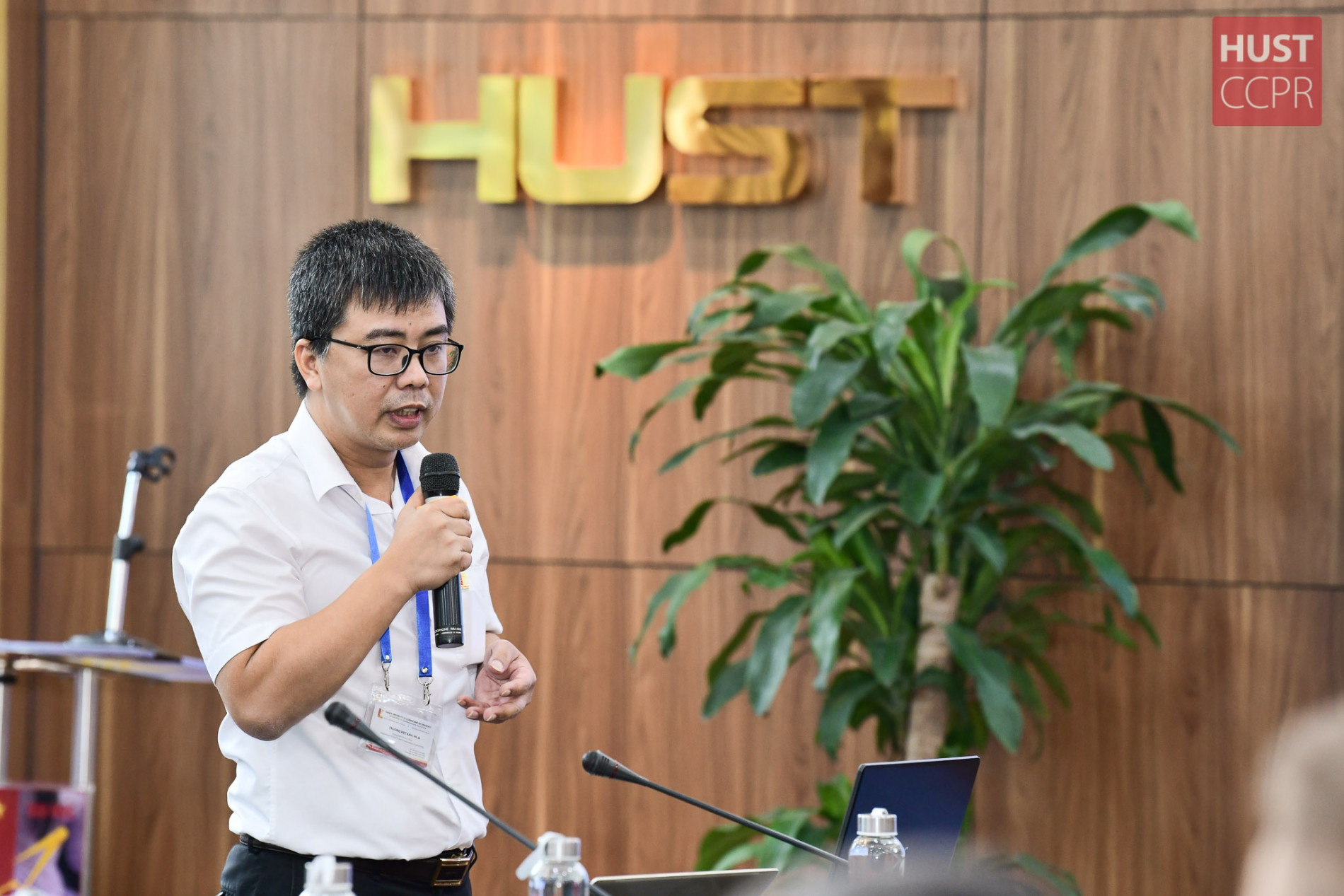 The principle of quality assurance is constant and continuous improvement. According to him, accreditation needs time, people, and resources, so the priority is to build a reasonable and optimal plan, which is suitable to the development needs of training programs as well as the educational institutes' goals and strategies.
To prepare for this accreditation, HUST held many online seminars to guide and discuss the ASIIN requirements. Training programs must undergo a self-assessment process for nearly 2 years.
Suggestions for improvement made after two days of accreditation will be incorporated into the implementation plan, and the operation team from the training programs or faculties will have to effectively monitor the implementation.
In October 2016, HUST launched a pilot project approved by the Prime Minister to implement a comprehensive autonomy mechanism, opening up many opportunities for innovation and development.
"Accreditation demonstrates the initiative and transparency of the University's development strategies", Assoc. Prof. Truong Viet Anh affirmed that HUST's quality assurance is following the model of foreign universities to catch up with the process of autonomy and internationalization.
In 2022, HUST's Engineering and Technology was ranked 1st in Vietnam and 360th in the world according to QS World Ranking by subjects. All 5 ranked subjects including Electrical & Electronic Engineering; Mechanical, Aeronautical, and Manufacturing Engineering; Computer Science and Information Systems; Mathematics; and Materials science ranked 1st in Vietnam and 300-450th in the world.
Of more than 60 university training programs, 95% of training programs have met the accreditation criteria, with 65% of training programs achieving international accreditation. The unaccredited programs are all planned to be implemented in the coming year.
The remaining programs are newly opened. They will continue to perform quality accreditation between 2023 and 2025 after the first batch of students graduate.
In the coming period, HUST's strategy is to focus on improving and accrediting graduate academic programs. "Accreditation is guaranteed to comply with Vietnamese laws and is in line with the University's objectives", said the Head of the Quality Management Office.

Reporting and Translating by Ha Kim