https://hust.edu.vn/en/news/news/hust-professor-continue-to-win-the-hitachi-global-foundation-asia-innovation-award-2022-653855.html
https://hust.edu.vn/uploads/sys/news/2023_02/screen-shot-2023-02-04-at-17.52.48.png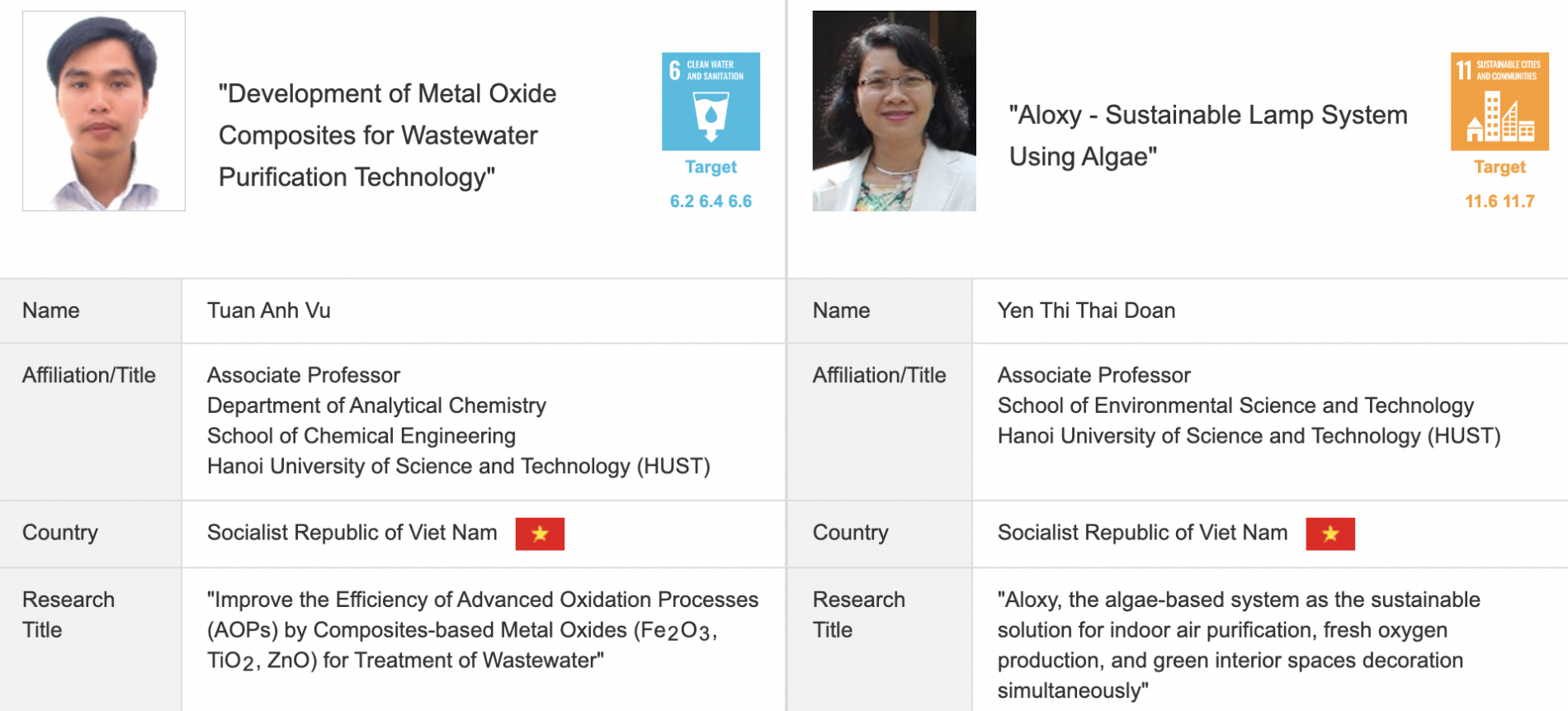 We are glad to announce that Assoc. Prof. Yen Thi Thai Doan, School of Environmental Science and Technology and Assoc. Prof. Tuan Anh Vu, School of Chemical Engineering, HUST, have excellently won the Encouragement Award– with the project named "Aloxy - Sustainable Lamp System Using Algae" and "Development of Metal Oxide Composites for Wastewater Purification Technology" respectively.

The Hitachi Global Foundation Asia Innovation Award
is an award program launched every year, since 2020, to promote science, technology, and innovation that contributes to solving social issues and realizing a sustainable society in the ASEAN region.
In 2020, It is a big pride of Hanoi University of Science and Technology (HUST) as Assoc. Prof. Nguyen Minh Tan, Director of the Institute for R&D of Natural Products (INAPRO-HUST) has excellently won the highest prize – The Best Innovation Award in the first call of The 2020 Hitachi Global Foundation Asia Innovation Award with the project named "JEVA - The smart and mobile technological solution to concentrate heat sensitive solutions (fruit juices, herbal extracts,...) for creating added values of agricultural and fishery products".
More details about the Recipients of the 2020 (1st) Hitachi Global Foundation Asia Innovation Award and the presentation of Awardee – Assoc. Prof. Dr. Nguyen Minh Tan can be found more
here
.
This award recognizes individuals and groups that undeniably served public interests through their outstanding achievements in research and development (R&D) in the fields of science and technology, including their visions of an ideal future society and social implementation plans for R&D as a means of achieving SDGs.
In the fiscal year of 2022, Hitachi Global Foundation solicited research and R&D achievements from 23 universities in 6 ASEAN countries (Cambodia, Indonesia, Laos, Myanmar, Philippines, and Vietnam) contributing to each of selected targets of Goal 6 (Clean Water and Sanitation) and Goal 11 (Sustainable cities and communities).

More details about the Recipients of 2022 can be found here.
EAO - HUST