https://hust.edu.vn/en/news/news/hust-female-scientist-received-kovalevskaia-2022-priz-653861.html
Prof. Le Minh Thang - Senior Lecturer in the Department of Organic and Petrochemical Technology - School of Chemical Engineering, Hanoi University of Science and Technology shared: What motivated her to complete the application for the Kovalevskaia Prize is to encourage HUST talented women to participate in many scientific playgrounds, bringing their research closer to society. Perhaps this thought has brought luck to Prof. Le Minh Thang - Head of the HUST Association for Intellectual Women – as she received the only individual award for the Kovalevskaia Prize 2022 for her outstanding achievements in applied sciences.
Passionate scientist about catalytic types
The main research area of Prof. Le Minh Thang is the catalytic treatment of exhaust gas from fuel combustion and organic synthesis processes for environmental protection. This is a research direction that can be applied in Vietnam and has been put into practice.
Exhaust gases from fuel combustion processes and organic synthesis include emissions from automobiles, motorcycles, internal combustion engines, and emissions from fuel industries; emissions from thermal power plants; toxic gases CO from fires, coal mine gases; emissions from rubber pyrolysis plants; emissions from industrial processes containing many volatile organic compounds, especially aromatic compounds such as exhaust gases from paint processing and unsaturated polyester synthesis. Emissions from these sources contain polluting gases, mainly hydrocarbons, CO, VOCs, and NOx, all of which have adverse effects on the environment and human health.
Catalytic treatment of exhaust gas consists of four main research areas: Three-way catalysis for treating exhaust gas from gasoline engines, catalysis for treating toxic CO gas at normal temperature conditions, catalysis for NOx removal from exhaust gases of thermal power plants, and catalytic treatment of volatile aromatic compounds from rubber pyrolysis and plastics manufacturing plants. Currently, the catalytic products of Prof. Le Minh Thang are being completed to prepare for commercialization, community service, and environmental protection.
From 2009-2013, Prof. Le Minh Thang mentored students and researchers to research three-component catalysts to treat exhaust gas from gasoline engines. This project was funded by the VLIR - Belgium fund. From 2014-2016, Prof. Le Minh Thang is the Principle Investigator of the "Research on technology for synthesizing nano-catalyst systems on multiple capillary supports synthesized from natural mineral materials" project, funded by the Ministry of Education and Training.
Recently, Prof. Le Minh Thang published a study on the topic 'Research and development of adsorption - catalytic technology for the treatment of aromatic compounds, toxic organic compounds difficult to decompose in the exhaust gas of plastic and waste rubber pyrolysis, ', which was approved and funded by the Ministry of Science and Technology. Together with the study of the simultaneous treatment of NOx in motorcycle exhaust on a three-way catalyst, Prof. Le Minh Thang and the research team also studied the treatment of NOx in the exhaust gas by selective reduction with NH3 or hydrocarbons.
The research results of Prof. Le Minh Thang and the research team have both been published in many scientific articles in the prestigious international journal ISI and some are protected by patents and utility solutions... The results of the studies have been applied at a waste treatment plant, and enterprises in Vietnam to ensure the health and safety of workers and limit environmental pollution.
With her contributions to environmental protection in the gas industry in developing countries, the research on catalysts for exhaust gas treatment was awarded the 'Outstanding Innovative Research' award by the Global Hitachi Foundation in 2021 and was awarded the Kovalevskaia Prize in 2022 – the Award for outstanding female scientists in the fields of natural and applied sciences in Vietnam.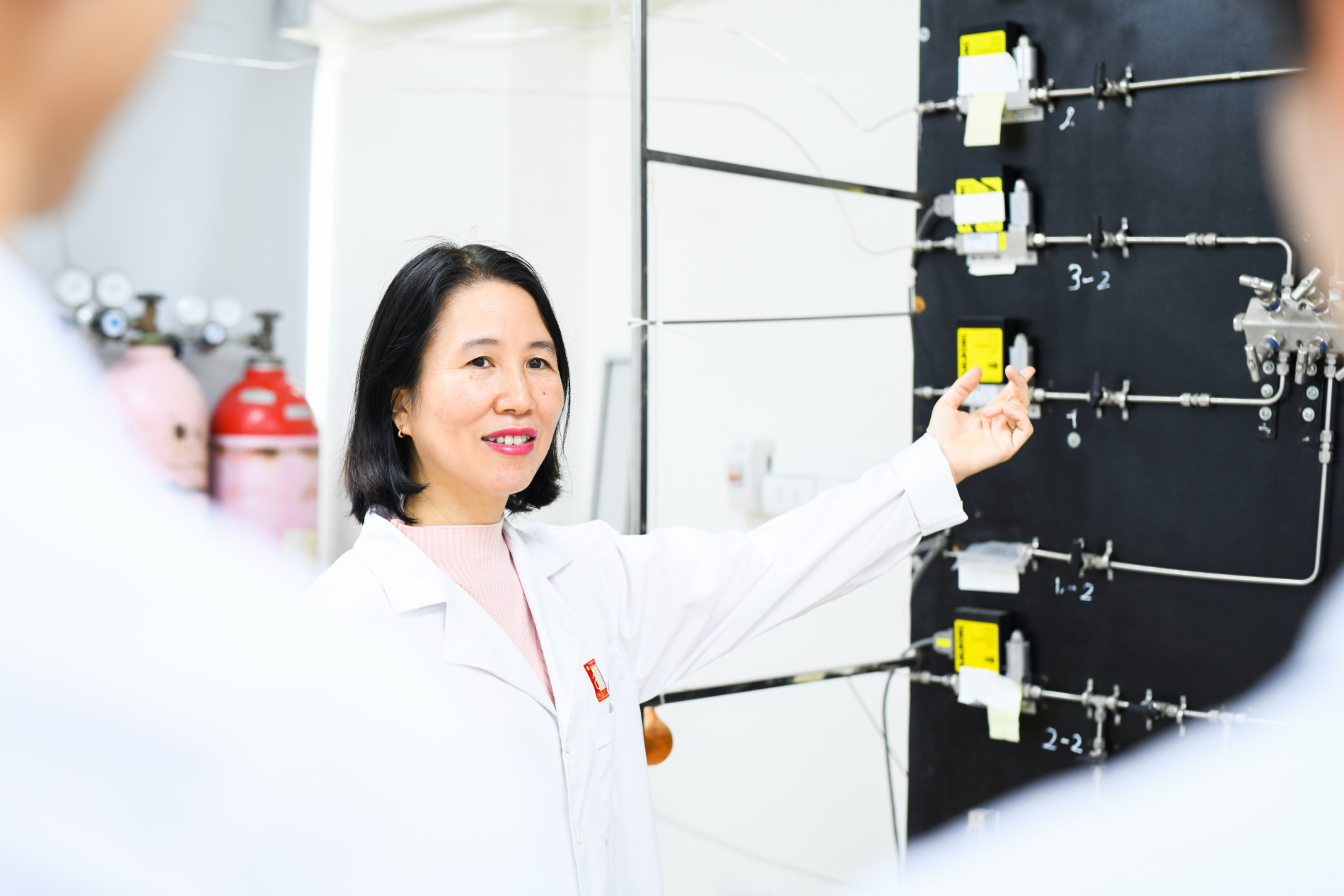 Desire to conquer new horizons
In addition to scientific research, Prof. Le Minh Thang is also a very dedicated lecturer. Talking about her students, she expressed great pride in the intelligence and dynamic of HUST's learners. Ms Thang said her Kovalevskaia Prize is the result of a long process in which she and generations of students have participated in experiments and research. It is the students who have made the greatest contribution to the success of her research.
After ending her term as the University Council's President, she took on the new role as the President of HUST's Association for Intellectual Women. The motive for her participation in the 2022 Kovalevskaia Prize is very interesting: She wanted to set an example to encourage female researchers to participate in many scientific playgrounds. This can strengthen the research movement among female scientists at HUST, and create more valuable scientific research for the community and society.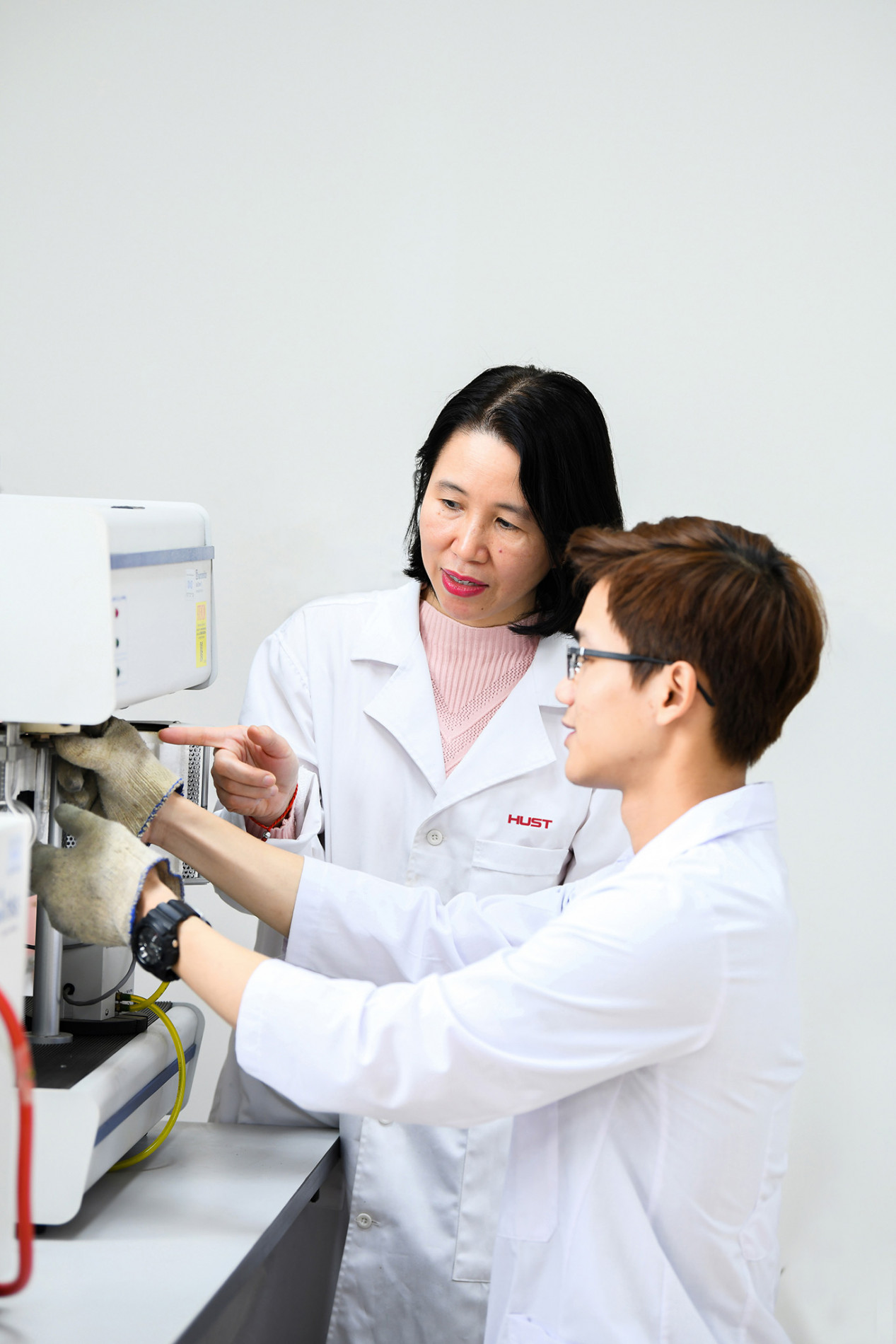 As a female scientist, Prof. Le Minh Thang has received satisfactory results: A brilliant academic career and a happy family. But her achievements are small compared to her ambition: "I may not achieve it, but I won't stop moving forward."
Perhaps, the desire to reach the pinnacle of science is the premise for Prof. Le Minh Thang to nurture her passion for academic instruction and research!