https://hust.edu.vn/en/news/news/study-tour-program-strengthen-the-strategic-partnership-between-hust-and-the-university-of-adelaide-653895.html
https://hust.edu.vn/uploads/sys/news/2023_09/z4737053901317_d7b55993fd1d7f6bba0d3b0b12364992_1.jpg
On September 18th, 2023, students from the University of Adelaide visited Hanoi University of Science and Technology as one of the first destinations for their two-week Study Tour. This is a precious opportunity for students from both countries to exchange knowledge and discuss their environmental and cultural interests.
Thanks to the New Colombo Plan Programme of the Australian government, students from the University of Adelaide were able to join in a 2-week Study Tour in Vietnam. Similar to last year, the Study Tour focuses on the topic of sustainable water management, especially in the context of Vietnam.
At the start of the Study Tour, on September 18th, 2 Professors and 30 students in the major of Chemical Engineering and Environmental Engineering, at the University of Adelaide had an opportunity to discuss and exchange knowledge with students and lecturers from the School of Chemical and Life Sciences, Hanoi University of Science and Technology. Their first lectures that morning on wastewater treatment and graphene aroused many meaningful discussions between the students.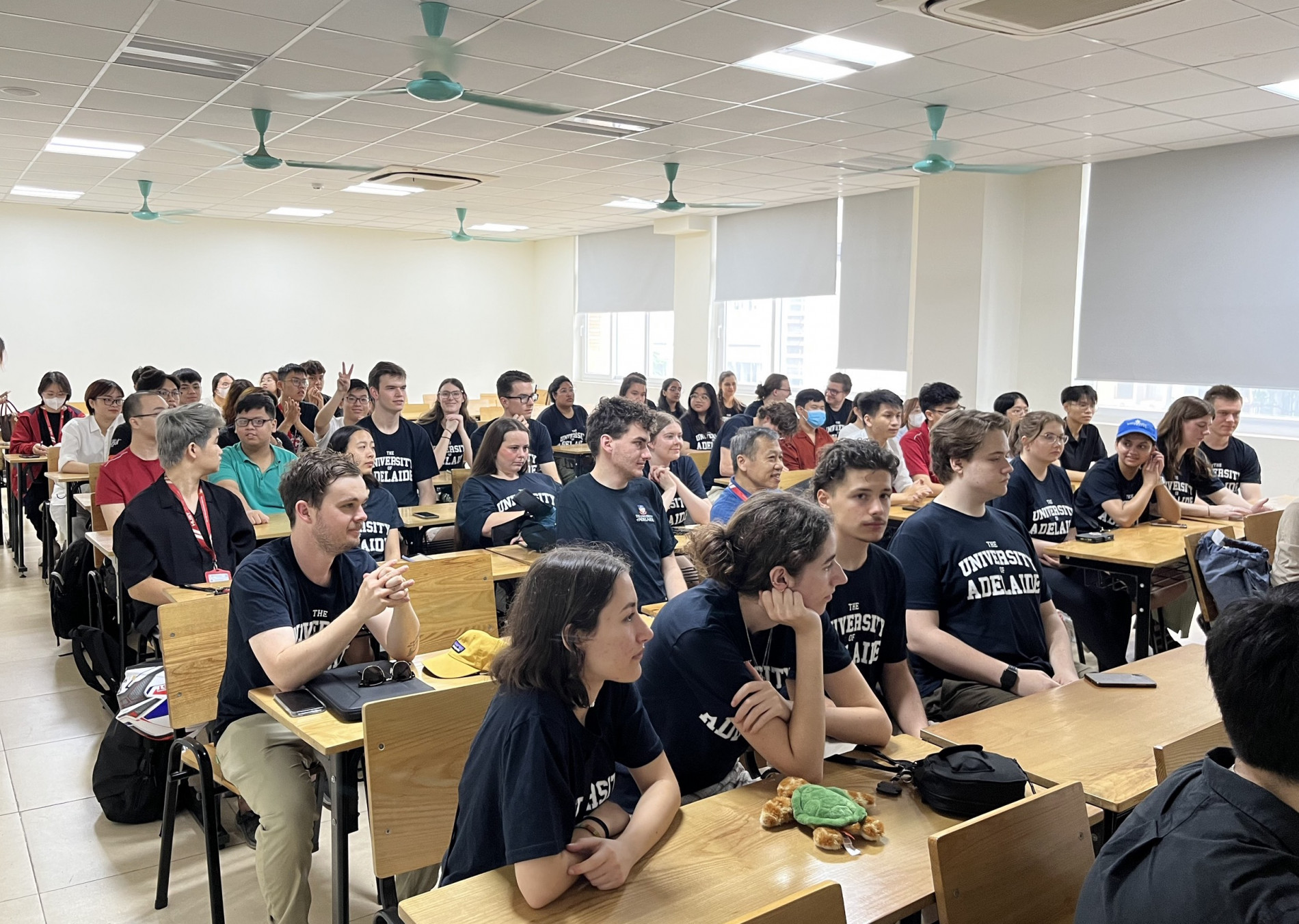 The Study Tour aimed to provide Adelaide students a chance to explore different environments, learn from their peers and acquire both theoretical and practical experience through various lectures as well as visits to different universities, plants and factories in Vietnam. In addition, engineering students can visualize the designed systems in cities in which their profession plays a vital part in keeping everything operating seamlessly.
Simultaneously, the program also helps students enrich their cultural knowledge. During the tour, they can visit many stunning destinations throughout Vietnam and experience the delicious food, rich culture, long-standing customs and history. Participating in the program, they can appreciate the beauty of Vietnamese culture, find out about the similarities and differences between the two countries, and expand their understanding even more.
Prof. Michael Leonard, Study Tour Co-leader and lecturer from the School of Architecture and Civil Engineering, shared his thoughts on the importance of this Study Tour: "Bringing students from our country to Vietnam can expand their thinking about society and how engineering works. Also, as students may choose to come back to work in Southeast Asia, they can build relationships and understanding with students and lecturers here".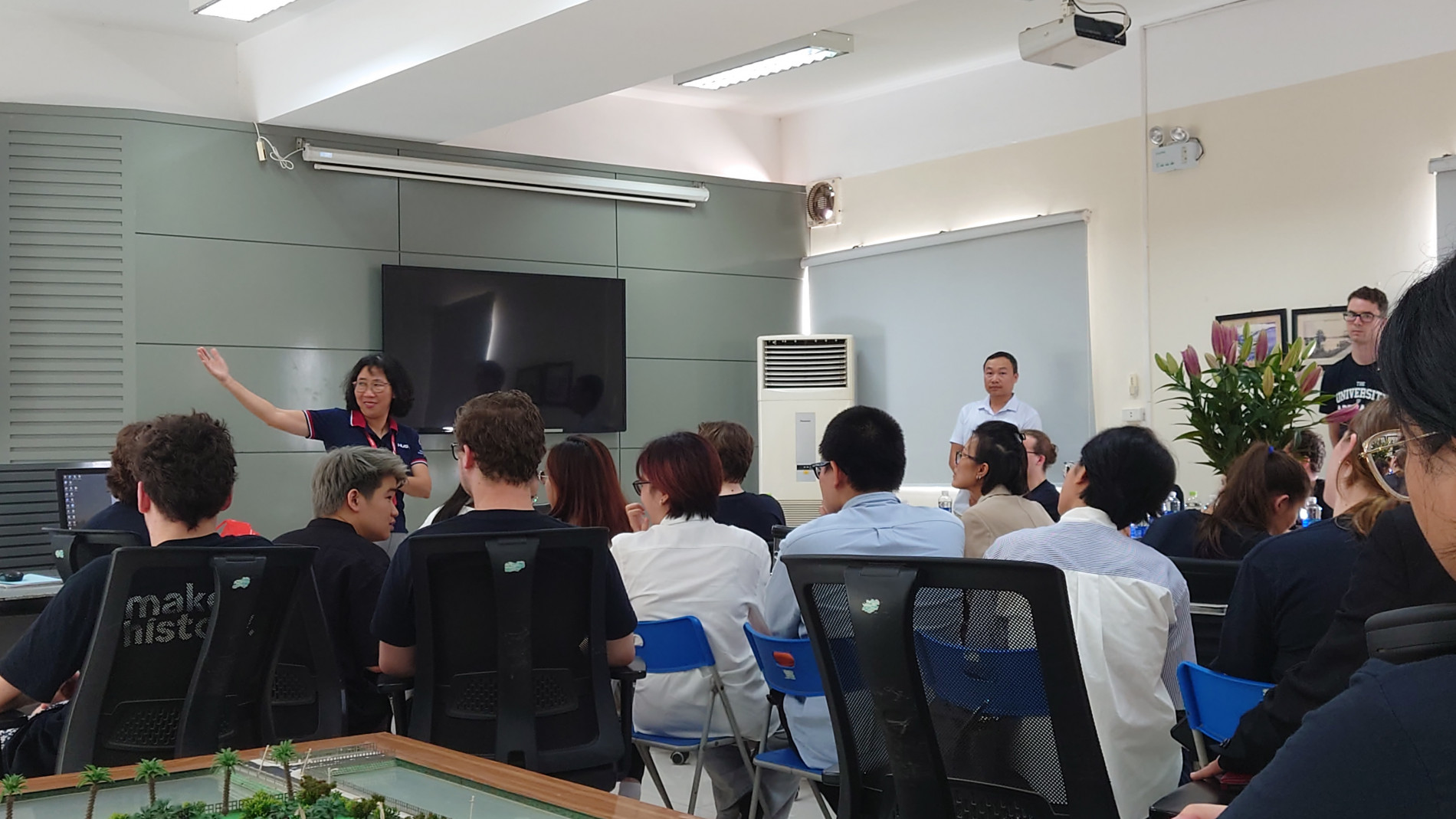 Emily, a third-year student majoring in chemical engineering, was surprised not only by how lovely, and welcoming the students at HUST had been, but also by how enthusiastic they were and how many common interests they shared with her. Because she has always wanted to visit Vietnam, Emily was extremely excited and wanted to fully utilize this opportunity to study new, practical knowledge to apply to her courses while exploring more about the Vietnamese people and their culture, especially the cuisine.
Cameron, a student majoring in civil engineering and applied languages, was exhilarated upon finding out he had been selected for the Study Tour. As water engineering was a particular interest of his, adding to the fact that he had never been to Vietnam, he wanted to experience not only the professional, and academic side of the program but also looked forward to having a great time with numerous exciting memories in this country. Additionally, he planned to interact more with his fellow Vietnamese students and soak up the culture as much as possible before the end of this program.
For HUST, this program is not just an opportunity for the two schools to collaborate, but it is also a vital chance for students and lecturers who come from different backgrounds yet have common interests to study, cooperate, and discuss with each other.
Chu Hoang
Photo: School of Chemistry and Life Science