https://hust.edu.vn/en/news/news/aun-qa-organization-confirmed-accrediation-is-a-continuous-journey-653893.html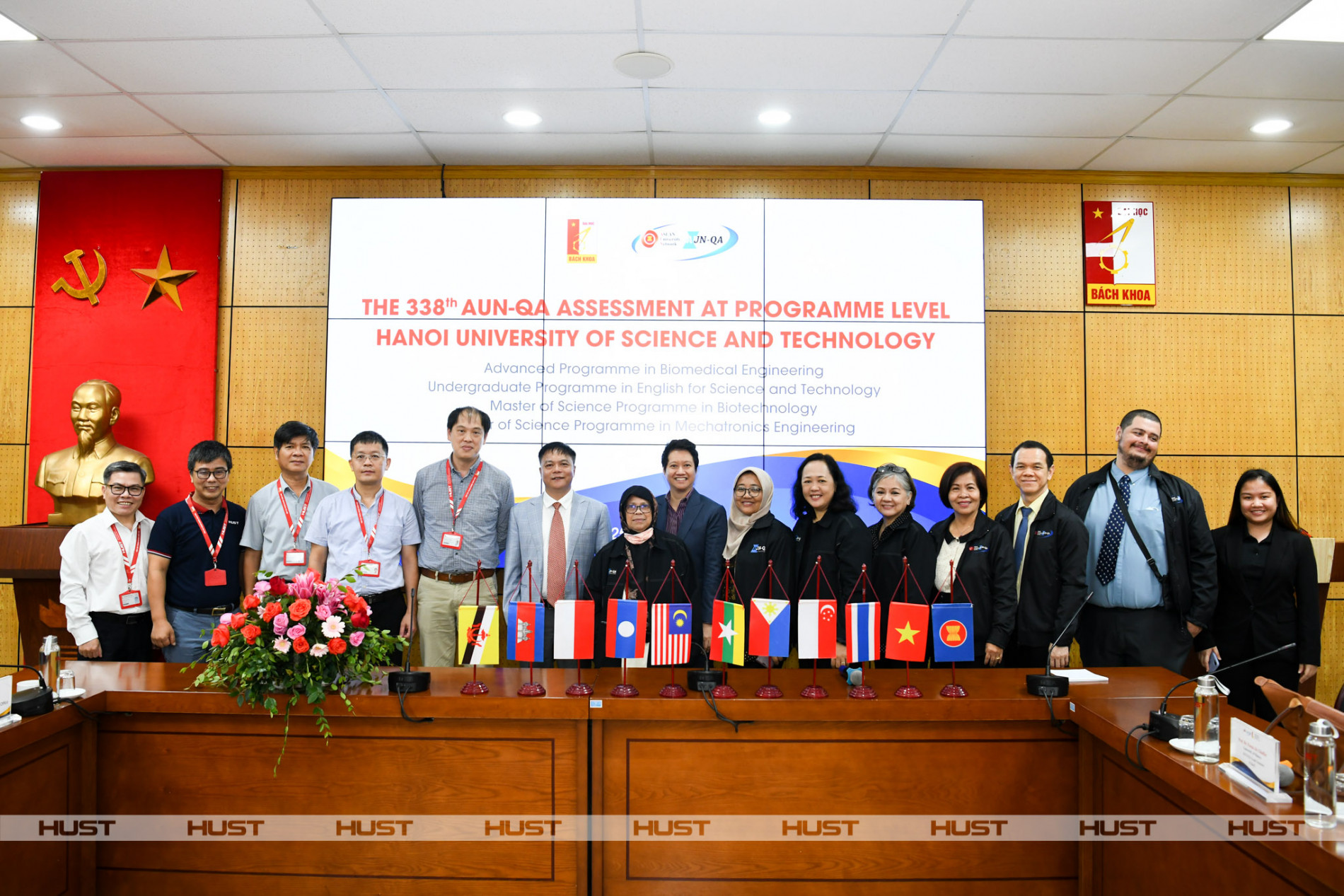 Hanoi University of Science and Technology is constantly changing and improving teaching methods to increase training quality to approach regional and international levels.
The 338th AUN-QA accreditation took place in 3 days, from July 25th to July 27th, with the participation of 4 training programs including Master of Mechatronics Engineering (School of Mechanical Engineering), Master of Biotechnology (School of Chemistry and Life Science) English for Science and Technology (School of Foreign Language), Advanced program of BioMedical Engineering (School of Electrical and Electronics Engineering).
International accreditation affirms the reputation and training quality of HUST
At the Closing ceremony, experts from AUN-QA gave comments on strength and improvement plans for the 4 training programs participating in this accreditation. AUN-QA organization has compared industrial needs and desired learning outcomes with program accreditation criteria such as content, structure, teaching, and learning approach methods, students' evaluation, and resources such as teaching staff, student support services, and infrastructures.
Experts from AUN-QA affirmed that Hanoi University of Science and Technology's training programs are all recognized as having a long-standing academic reputation, with the orientation to meet outcome standards. HUST also has a system of diverse, new teaching and learning systems inside and outside the campus.
HUST's staff have strong expertise and are dedicated to a positive working culture. Currently, most of HUST's lecturers are trained at prestigious universities around the world, with nearly 74% of lecturers having a doctorate or higher degree (reaching the highest rate among higher educational institutions in Vietnam).
The process of designing, improving, and evaluating training programs is accompanied by cooperative partners. Students graduating from HUST are highly appreciated by employers, with more than 95% of students having jobs or continuing to study immediately after graduation.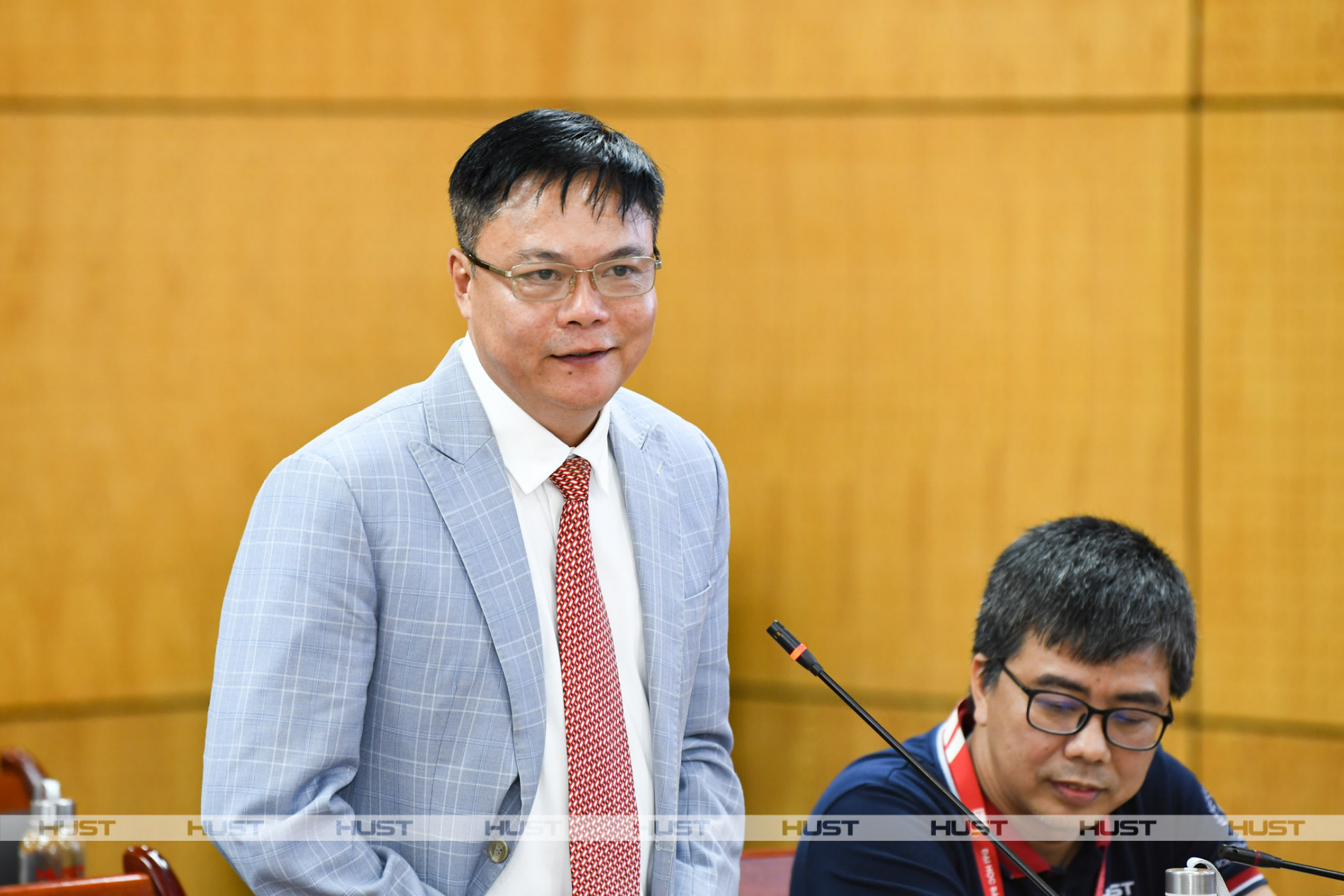 Assoc. Prof. Nguyen Phong Dien, HUST's Vice Dean, said that those comments and assessments in the summary session are very important in developing an action plan to continuously improve the training quality of HUST. He also confirmed that this accreditation has created a strong motivation for HUST to pursue the university's mission and vision, affirming the quality and reputation of HUST domestically and internationally.
Accreditation is a collective responsibility
Biotechnology is one of the first two Master's programs of HUST participating in international accreditation. Assoc. Prof. Truong Quoc Phong, Vice Dean of the School of Biotechnology and Food Technology, which is now a part of the School of Chemistry and Life Science. Mr. Phong said that the awareness of lecturers, staff, students, and businesses has been enhanced while joining in the accreditation preparation. The assessment process also received a lot of support: A businessman from Thai Nguyen and alumnus from Phu Tho did not hesitate to come to Hanoi to provide comments during the meeting with the AUN-QA organization.
"A lot of efforts are being made with the ultimate goal: providing students the best training program which meets the requirements of employers". He also said that HUST will be by the businesses's side to complete the training program in the coming time.
According to admission data, the Bachelor's degree training program in Biotechnology of HUST has the highest entrance exam score in this field in Vietnam for 7 consecutive years. This year, the advanced program for Biotechnology (BF-E19) with pharmacy orientation, began enrolling students after consulting businesses' feedback about future employment needs. Teaching programs in English will train students to adapt to the environment and recruitment needs in the 4.0 era.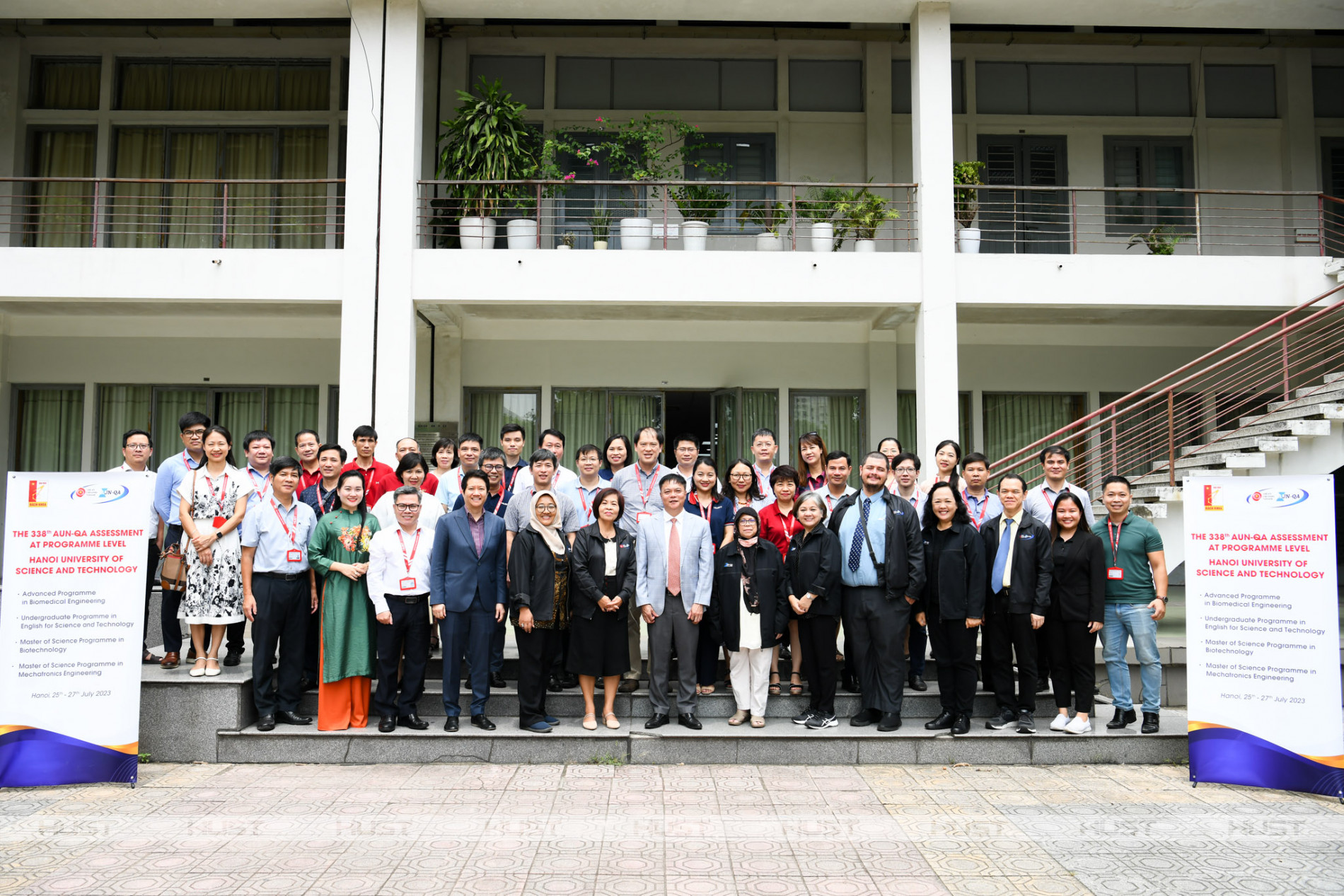 According to Dr. Nguyen Thai Ha, Director of the BioMedical Engineering training program, participating in the accreditation activities is very meaningful in ensuring and improving the quality of training programs. Through the accreditation, with a set of strict standards together with objective comments and analysis from experts, participants will identify strong and weak points of their programs, hence continuously updating and adjusting properly with social development and the international integration process.
The advanced program of BioMedical Engineering (ET-E5) has the highest score among programs accredited by AUN-QA in 2017. This is a program with good graduation quality, in which graduated students can use English fluently with high career opportunities. According to Dr. Nguyen Thai Ha, students who graduated from the Advanced Biomedical Engineering program received good feedback from employers.
Preparing for the accreditation/re-accreditation process requires the establishment of SAR. For the next few months, SAR teams must regularly organize meetings to learn and research AUN-QA's standards, serving the work of collecting data, and evidence to complete and submit reports to the accreditation council in May 2023.
After the accreditation process, those involved in the preparation have deeply understood the important role of the accrediting training program periodically.
"The quality of training is decisive to the scale and the quality of enrollment as well as labor market and international integration", said Dr. Nguyen Thai Ha – Director of the BioMedical Engineering training program. The accreditation process with strict standards and criteria is the basis for completing the program, increasing training quality, and affirming the position of the training program.
Among over 60 university training programs, 95% of those have met accreditation criteria, of which 65% achieve international accreditation. Unaccredited programs will be implemented in the coming years.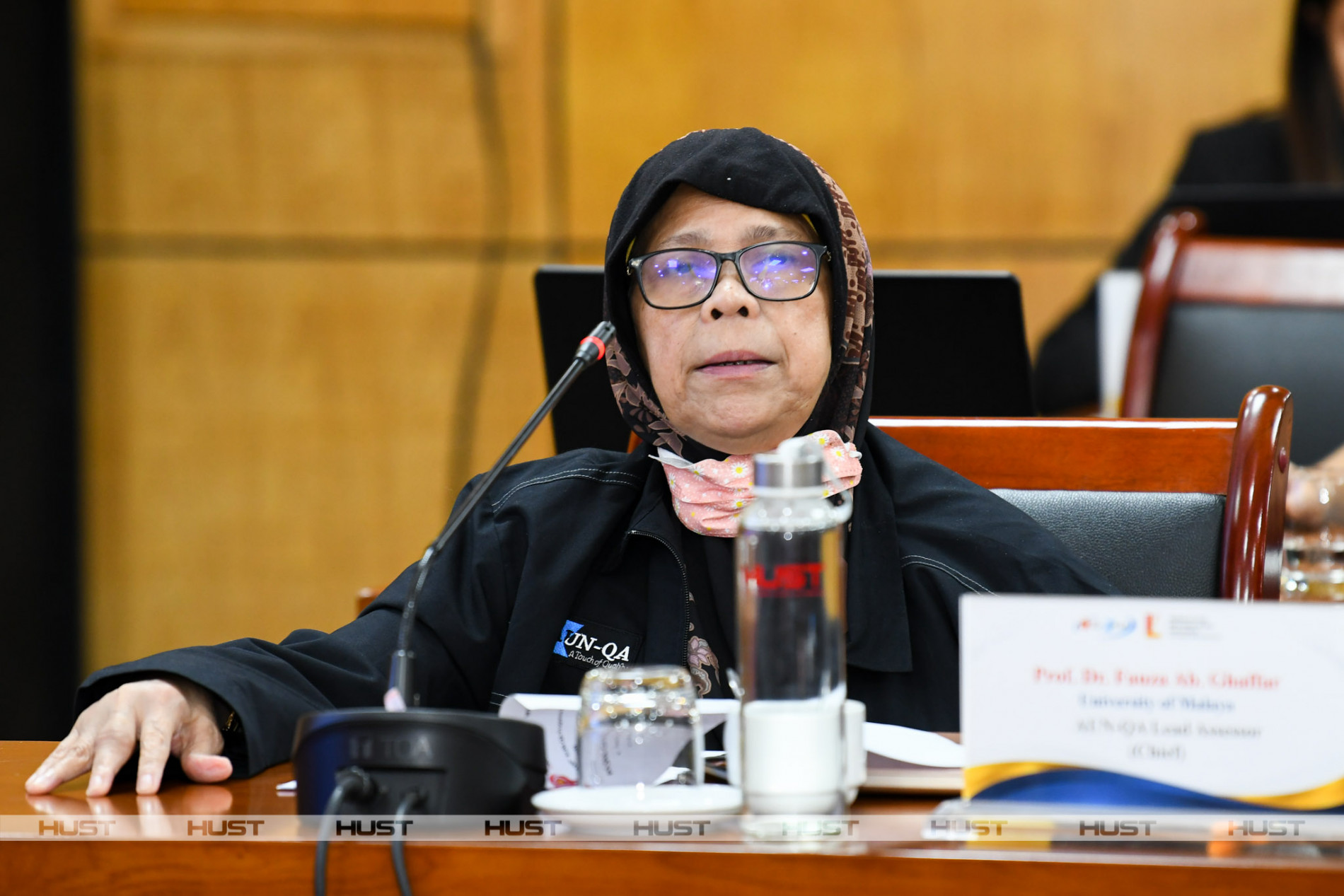 Prof. Fauza Ab. Ghaffar, Head of the AUN-QA Accreditation Team, highly appreciated the efforts and dedication of HUST through positive changes compared to the previous accreditation. "I hope that the comments of this accreditation would help HUST to continue to develop and become a more successful university", she said.
"Accreditation is not the responsibility of an individual but of everyone: every staff, lecturer, student, business and community. This is the journey of continuous innovation. Be ready and take action for a more advanced and successful university.", said Prof. Fauza Ab. Ghaffar, Head of AUN-QA Accreditation Team at the 338th AUN-QA Accreditation Closing Ceremony.
Reporting by Ha Kim - Translating by Dieu Linh - Editing by Ha Kim
Photo: Duy Thanh