https://hust.edu.vn/en/news/news/delegation-of-members-of-the-national-assembly-of-south-korea-visit-hust-653891.html
https://hust.edu.vn/uploads/sys/news/2023_09/doan-nghi-si-quoc-hoi-han-quoc-den-tham-trung-tam-nghien-cuu-quoc-te-ve-tri-tue-nhan-tao-hust-naver.jpeg
"I'm very honored to visit one of the most prestigious universities in science and technology in Vietnam", said Mr. Park Byung Sik - National Assembly Member, Head of the Korean National Assembly Delegation during his visit to Hanoi University of Science and Technology on July 24.
During the working trip of the Korean National Assembly Delegation at Hanoi University of Science and Technology, the National Assembly Representatives Ambassador of the Korean Embassy and the Leadership Board of KOICA Vietnam Office (Korean international Cooperation Agency) and Representatives of Hanoi University of Science and Technology discussed cooperative projects between Vietnam and Korea and future development potential.
At the meeting, Assoc. Prof. Huynh Quyet Thang, HUST's President, said that international cooperation will gather the strength of research and technology transfer for the development of HUST. "We are proud to have the opportunity to carry out many projects with Korea Universities and corporates with KOICA's support. These collaborations create momentum for university research and contribute high-quality human resources to businesses in both countries".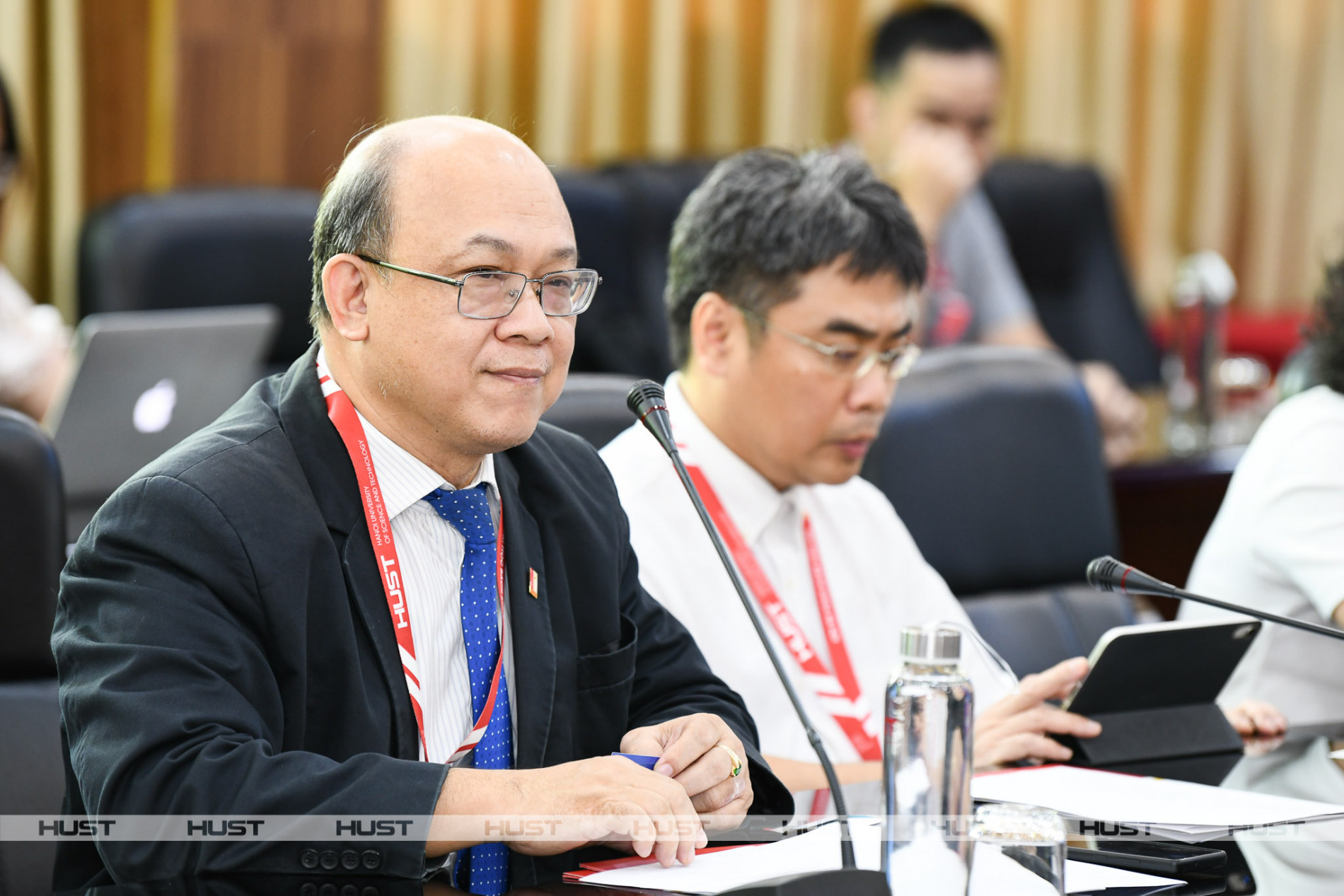 South Korean President Yoon Suk Yeol has previously emphasized the importance of digital partnership and science and technology cooperation between Korea and Vietnam. After the visit of the President of South Korea to Vietnam this June, HUST had many meetings and signed cooperation agreements with major Korean universities and enterprises such as NAVER Technology Group, LG Innoteks Company,...
National Assembly Member Park Byung-sik also said the government will implement the Future Partnership in R&D and Innovation program with a total grant of up to $30 million over 10 years. He expressed his hope that HUST would pay attention and coordinate the implementation of the project in Vietnam.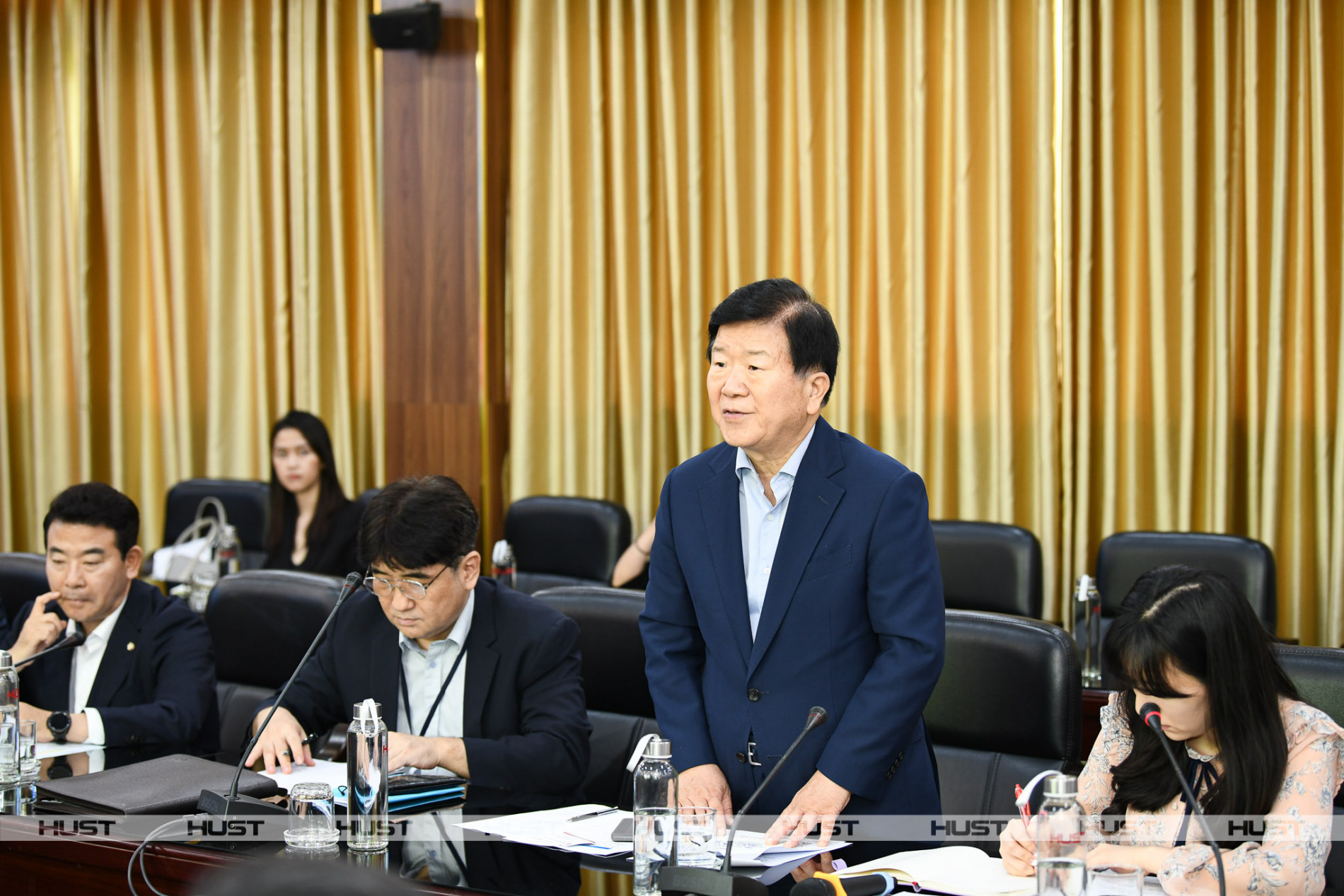 4 successful research cooperation projects of the School of Chemistry and Life Sciences, School of Materials, School of Information and Communication Technology and Korean partners were presented at the meeting.
In the report of the Project on Capacity Building for Research, Development and Technology Transfer of Waste Recycling in Vietnam, Prof. Huynh Trung Hai, Dean of the School of Materials shared that the content of the project includes the establishment of a Waste Recycling Laboratory, on-the-job training and the organization of a joint research group on e-waste recycling.
He said that the management of e-waste will be suitable to change material into valuable resources. This project was sponsored by KOICA from 2014-2016 with the aim of founding the Center of Researching renewable wasting. 3 Ph.D and 9 Master have participated in researching and training of the project.
A successful collaboration between HUST, DuduIT company and KOICA - Project of Cyber Safety was carried out from 2019-2021. The purpose of this project was to provide advanced knowledge of Cyber Safety for more than 500 students and government officials in Vietnam. Prof. Tran Quang Duc, Director of Bach Khoa Cyber Security Center, School of Information and Communication Technology said: "The most interesting thing is the impact after the end of the project".
On the basis of the project, this university built a bachelor's program to train Cyber Safety and begin enrolling from 2021. Later this year, the Winter School about Information Safety are also organized with the purpose of forming a culture of protecting safety information in online space for Vietnamese people.
Before that, NAVER group of Korea and School of Information and Communication Technology founded an international research center for AI training and research on the campus of this university. This center was predicted to be the best research center of Vietnam in this field.
Early this year, The center for Research and Application of Nanocellulose was established with collaboration between HUST and CelluFab Co. with the support of KOICA.
Director of CelluFab affirmed that this collaboration is a typical example in the development of eco-technology, contributing to the process of protecting the environment and decreasing global emission.
Prof. La The Vinh, Vice Dean of the School of Chemistry and Life Sciences said the project will focus on application producing concrete and other building materials which use nanocellulose from bagasse – agricultural by-products of sugarcane production. This technology will play an important role in opening up new markets for environmentally friendly products, thereby significantly reducing the greenhouse effect.
In this meeting, Prof. Nguyen Duc Hoa, the Dean of Materials School talked about the content of project "Capacity building in the field of advanced Materials for HUST and Vietnam. The purpose of this project is to improve the training and researching capacity about Advanced Materials and Semiconductor Industry, with further aim to form a national research center of excellence in IC manufacturing.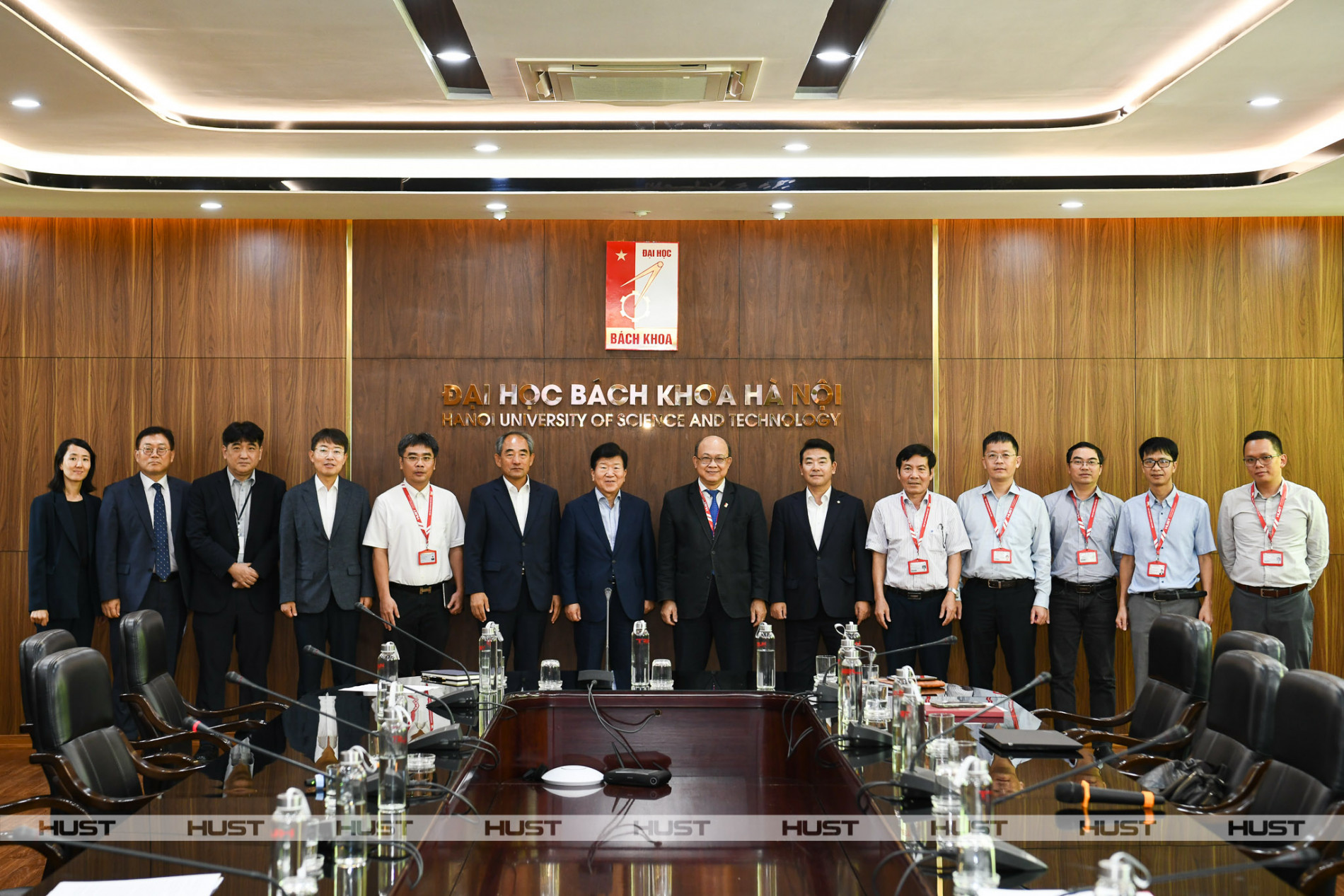 Currently, HUST is the first and only educational institution in Vietnam with a training program on microchip production. Hanoi University of Science and Technology has about 100 teachers who have studied and received PhD. degrees in Korea. With a stable relationship of two governments about science and technology, the University's President shows belief in the potential of collaborating and development between 2 countries in innovation and technology transfer.
Reporting by Ha Kim - Translating by Thuy Linh - Editing by Ha Kim