https://hust.edu.vn/en/news/campus-life/hust-was-honored-with-the-highest-award-of-ipstar-2021-618397.html
This year, in the category of patent owners who are research institutes and universities, HUST honorably gained the top 1 IPStar 2021. This is an award aiming to recognize the contributions of patent owners who are individuals, research institutes, universities and enterprises with the greatest number of patents issued by the National Office of Intellectual Property of Vietnam over the period from January 1, 2016 to September 1, 2021.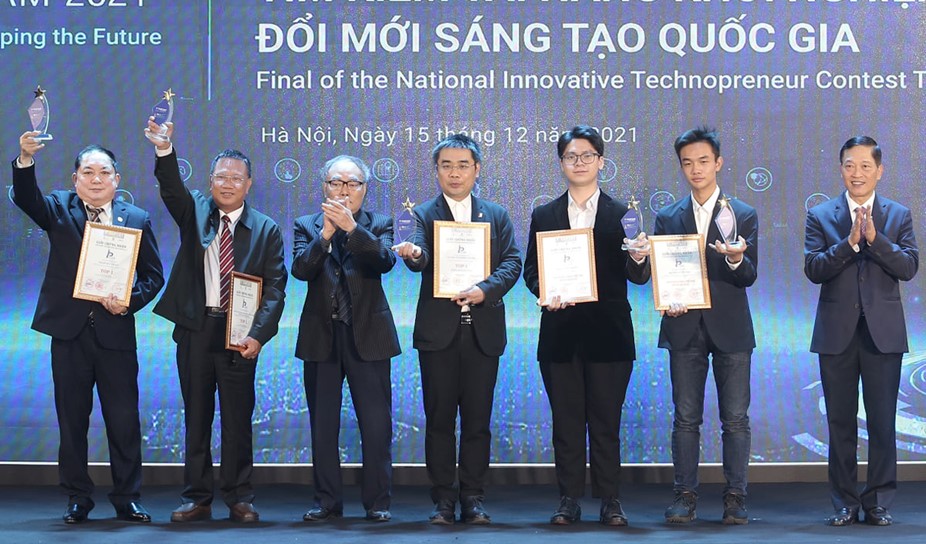 Assoc. Prof. Huynh Dang Chinh – HUST Vice President (4th from the left side), on behalf of HUST, received the IPStar 2021's award
According to statistics, from 2016 to 2021, there are 63 patents granted by the National Office of Intellectual Property of Vietnam to HUST scientists. Only in 2021, the number of patents granted is 11.
The inventions of HUST scientists are imbued with an academic but innovative spirit. Many helpful solutions to tackle problems in life such as inventions of the School of Biotechnology and Food Technology:
Method of extracting "Gac" fruit oil directly from "Gac" fruit membrane fresh – Author group of Nguyen Ngoc Hoang;
Process of producing glucose from cassava residues – Author group of To Kim Anh;
Salt-tolerant lactic acid bacteria strain Tetragenococcus halophilus V7-3 – Author group of Le Thanh Ha;
Recombinant yeast strain Pichia pastoris biosynthesizes bovine lactoferrin and process to create this strain - Author group of Truong Quoc Phong…
Another invention bears a typical feature in the field of information technology: Method to detect a device infected with DGA malicious code - Author group of Tran Quang Duc - School of Information and Communication Technology, HUST.
We should also mention to scientists from ITIMS, School of Mechanical Engineering, School of Physics Engineering and School of Chemical Engineering of HUST who are also very persistent in research and innovation with inventions on:
Mixing chamber, mixing nozzle water - compressed air mixture used in cooling dust suppression technology – Author group of Luong Ngoc Loi;
High-efficiency power supply using gan-fet transistors applied to LED street lighting systems/factories integrating solar photovoltaic cells and rechargeable batteries – Author Nguyen Ngoc Trung;
Hybrid plasmon waveguides with variable transmission distance – Author group Chu Manh Hoang;
Radius measurement system by optical method – Author group Vu Thanh Tung;
Production of heat-resistant inorganic yellow powder from ilmenite, chromite and antimonite ores – Author group La The Vinh;
New method of synthesizing HKUST-1 microphones with high thermal efficiency and durability – Author group Ta Ngoc Don.
Not only HUST lecturers, HUST students are also very passionate about doing research at the lab as well as creating research groups to invent useful products for life.
Regarding the student-level scientific research competitions, many inventions have shown the students' innovation passion, such as: Smart parking; glove translates hand gestures into handwriting for deaf-mute people; end-to-end security solutions for mobile networks, drones, or medical-related applications such as vital index systems for dengue patients; rehabilitation equipment for children with cerebral palsy…
In the face of complicated COVID-19 situation, a group of students from the School of Chemical Engineering - HUST found out a solution to help doctors and nurses to combat the heat while wearing hot protective suits in severe weather against the Covid-19.
In 2020, HUST was in the top 400 of the world's leading universities in technology and engineering, as well as placed in the top 500 in the field of computer science. Therefore, HUST always pays high attention to Intellectual property and technology transfer.
Since 2008, BK-Holdings Company was founded to serve for technology transfer. A technology transfer committee has just been established lastly.
HUST's investment fund called "BK Fund" not only pours investment but also mobilizes "grey matters" from the network of more than 200,000 HUST alumni. By seasoned experiences of businessmen, HUST alumni both financially and intellectually support startups by giving them their precious advice.
Recently, HUST is the only university in Vietnam honored by Clarivate in the category of Higher Education Institutions to win the Innovation Award in 2021. According to the Times Higher Education (THE) Rankings, HUST ranked in the top 1201+ best universities in the world in 2022.
EAO - HUST