https://hust.edu.vn/en/news/campus-life/round-table-discussions-between-special-presidential-envoy-for-climates-john-kerry-and-hust-s-scientists-and-students-617590.html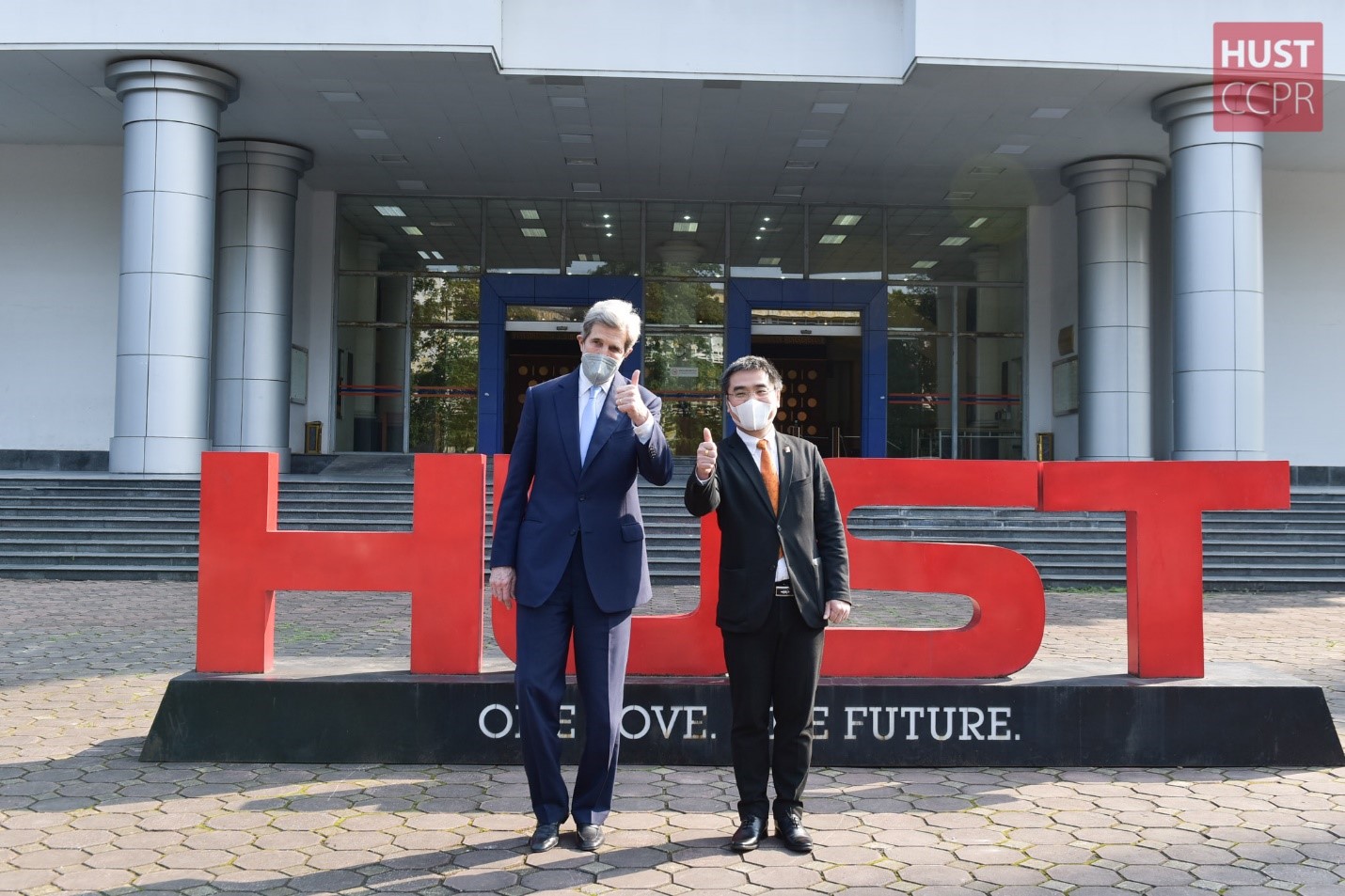 On 24th February 2022, Hanoi University of Science and Technology had an honor to welcome Secretary John Kerry to visit and participate in the climate change round table. Assoc Prof. Huynh Dang Chinh was pleased to show Secretary Kerry and his delegation research projects related to the environment led by three scientists: Associate Professor (A. P). Hoang Thi Thu Huong, Assoc Prof. Doan Thi Thai Yen, and Dr. Han Huy Dung.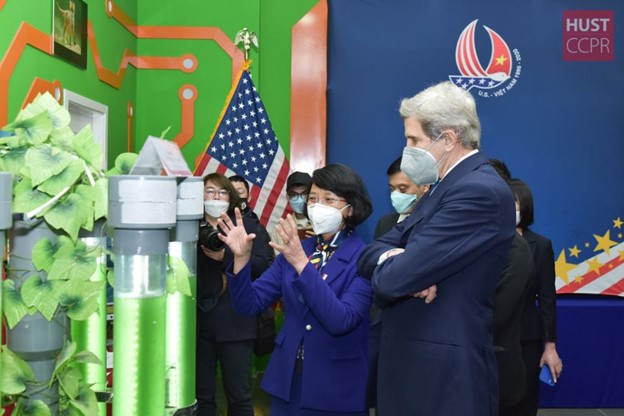 Secretary Kerry discussed with A.P. Doan Thi Thai Yen on her research project
Secretary Kerry was excited about all the presented projects. He believed projects would significantly contribute to improving environmental conditions in Vietnam.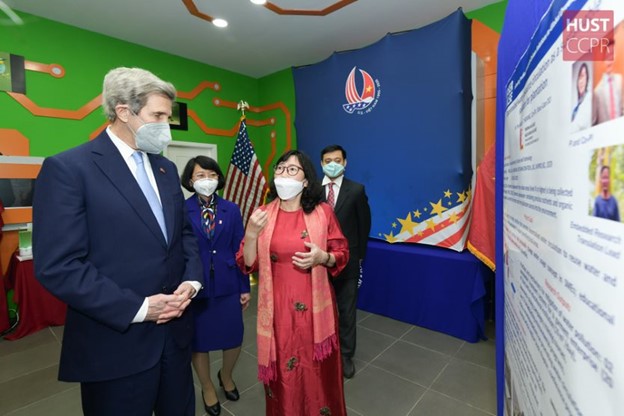 Secretary Kerry listen to A.P. Hoang Thi Thu Huong present on her project
Secretary Kerry also participated in the roundtable to hear directly from active Vietnamese youth about the initiatives they are working on. He was pleased to know that Vietnamese youth have created responsible and creative solutions to tackle environmental issues.
Some remarkable projects were presented at the roundtable. The project funded on the YSEALI program focused on marine ecosystem conservation and waste management to sustainable consumption.
Secretary Kerry also had a chance to listen and interact with the winning team from the global Zoohackathon competition which focused on designing an app reporting instances of wildlife trafficking to NGOs and law enforcement departments for action.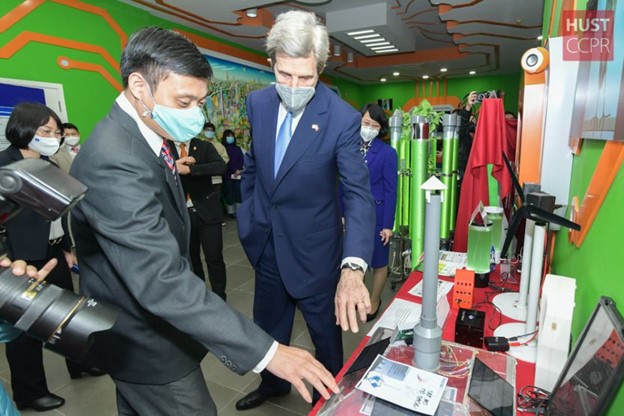 Secretary Kerry with Dr. Han Huy Dung's project
Secretary Kerry also showed his interest in a group of HUST students who have undertaken research in air quality monitoring, even helping design devices to measure and filter air using solar energy.
When being asked about his feeling about the importance of addressing air quality issues in Hanoi and his hope for the monitors his team developed, Nguyen Son Ha, on behalf of his team, expressed that he and his team designed a system to measure and filter air with the assistance of solar irradiation because they have great concern for the air quality in Hanoi and would like to come up a solution to help his loved ones and people around. He also expressed his hope to continue working on the project and designing more sophisticated devices for better air solutions.
In closing, Secretary Kerry encouraged young Vietnamese students to keep work on meaningful and important projects and collaborating with each other as a way to take responsible action to climate change. He affirms that climate change is truly a problem for our generation, and we must solve it together.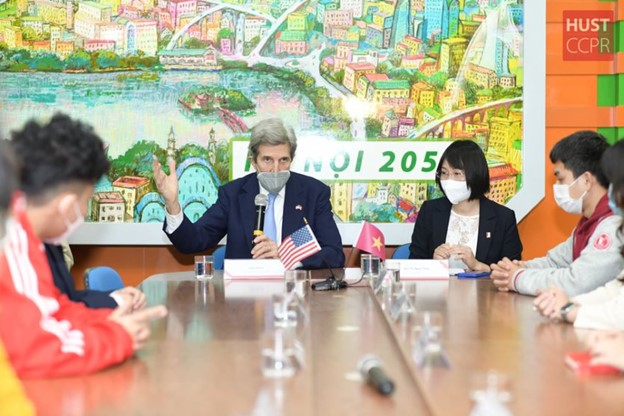 Secretary Kerry participated in the roundtable with active Vietnamese youth
Secretary Kerry's visit is an excellent source of encouragement to the Hanoi University of Science and Technology. HUST has been committed to working on many environment and climate change initiatives together with global partners, which shows our scientists' creative and responsible contributions towards eliminating climate change.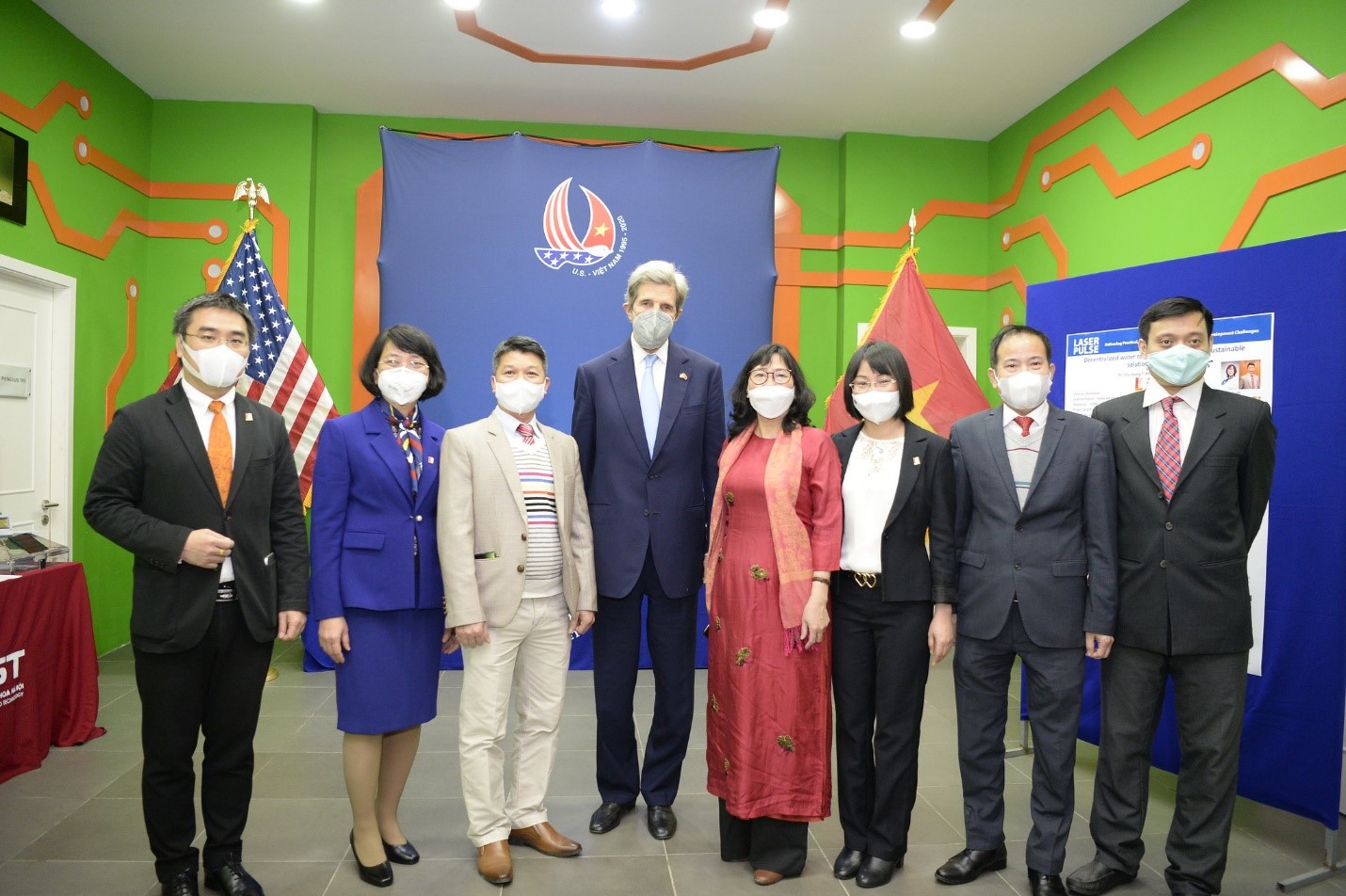 Some information about HUST's climate change related projects showcased in Secretary Kerry's visit.
Dr. Han Huy Dũng
Project: Technical Design Contests on Smart Solutions in Environmental Science: Response to climate change"
Funded by US Embassy Hanoi, 2021.
Assoc. Prof. Hoang Thi Thu Huong
Project: Decentralized water resource circulation as a sustainable solution for plantation
Funded by USAid through LASER PULSE program (LASER (Long-term Assistance and Services for Research) - PULSE (Partners for University-Led Solutions Engine)
Time: Oct 2021 - Aug 2023
Assoc. Prof. Doan Thi Thai Yen
Project: Research on pilot production of the algae-based device (algae lamp) toward improving indoor air quality (for air purifying, effective CO2 sequestration)
Project led by students of Hanoi University of Science and Technology: Nguyễn Sơn Hà, Dương Nam Khánh, Lê Chí Tuyền:
The students designed a system to measure and filter air with the assistance of solar energy. The product with compact size, suitable for use in locations such as parks, office premises has the function of filtering the air and measuring the percentage of fine dust, temperature, humidity, the concentration of gases such as CO2, VOC, etc.
There are already products on the market with similar functionality, however, the system is designed to use most of the energy from the sun. Solar cells are installed at the bottom to power the air meter as well as the fan. The product's structure takes advantage of heat radiation from the sun to create convection currents for air filtration. When the convection air flow is not strong enough due to low light or polluted air, the system will turn on the exhaust fan to increase air learning.
This project is developing products that take advantage of the ultraviolet region of sunlight to help disinfect. According to the theoretical calculation results, the products are expected to be able to filter 50% - 70% of the dust.
EAO - HUST