https://hust.edu.vn/en/news/campus-life/how-one-startup-benefited-from-vietnam-s-ecosystem-609831.html
What was missing was funding and, more importantly, expert mentorship, which is where BK Holdings, under the Hanoi University of Science and Technology, and Swiss EP stepped in.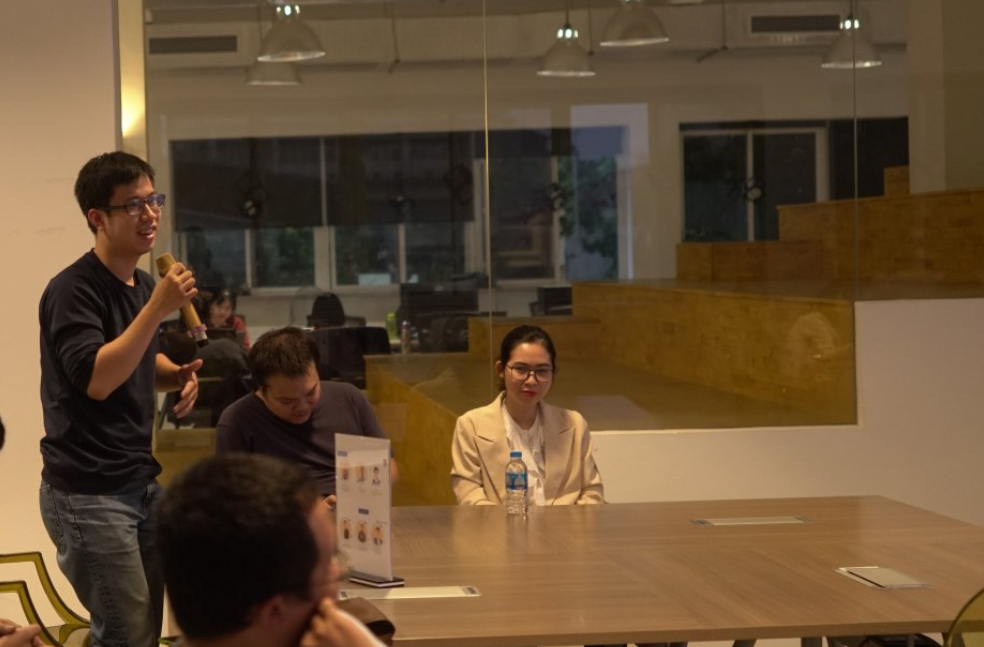 Phong, N2TP's co-founder and CEO, speaking at a Lab2Market networking session.
For some startups, putting a team together is a challenge, but that was no issue for N2TP. The founders, Ho Hai Phong, Dang Thi Minh Nguyet, Duong Thi Hong Nhung and Do Ngoc Tuan, went to high school together and knew they worked well as a team.
They also had an aim.
"N2TP is a startup founded in 2020 that provides technology solutions in the fields of healthcare and medicine," Phong, the CEO, said in a call. "Our goal is to create a precision healthcare ecosystem, and we want to spread it to developing countries."
And, they had a product.
"We had the idea for a long time to utilize research results in real-life applications," Phong shared. "But it had a lot of obstacles in terms of realizing it, and we're all young people, so when we hit the obstacles, we just stopped at the concepts and ideas."
What was missing was funding and, more importantly, expert mentorship, which is where BK Holdings, under the Hanoi University of Science and Technology, and Swiss EP stepped in.
"Interestingly, N2TP was introduced to us by Tran Tri Dung, from Swiss EP. Dung connected N2TP with BK Fund, managed by Pham Tuan Hiep - who is also the Incubator Manager of BK Holdings, so there were all these connections," said Jen Vuhuong, Lab2Market's manager.
These links led to Phong and his team taking part in Lab2Market, an incubation program held by BK Holdings, during which BK Fund announced that they had decided to invest in N2TP.
"There were three reasons for this investment," Hiep shared. "First, it's a technology solution from [university] alumni, and they directly develop core solutions based on IT and medical technology. Second, their solution is a new trend in Vietnam, and there's a good chance it will be a new theme in innovation."
And third, Hiep commended the energy of the N2TP team.
Jen emphasized Hiep's third point and praised the team's cohesiveness, something that isn't always present in a group of founders.
"We often talk about how N2TP is a team with great founding members because they know each other, they support each other, they can work well together, and they are very coachable," she said. "I think a lot of the success comes from the founding team, and that's very important."
Phong, for his part, found that he and his colleagues had a lot of room for improvement going into Lab2Market.
"Before joining the program, we mostly developed our skills in marketing and product development, but we still needed to improve a lot on business development and other aspects of the company," he said. "Lab2Market providing training on a lot of topics, for example financial management, business development, and intellectual property patenting, so that was a fresh view for us."
The experience also helped N2TP flesh out their first product, SmartDoseAI, which is now running in 12 hospitals in Vietnam. It is a clinical decision support software program that uses information from a drug's usage guidelines and individual patient variables to provide precise dosing figures to doctors, reducing the amount of time they spend calculating dosage.
With their investment in hand and Lab2Market experience, the next major goal for N2TP is international expansion. "Of course, this is going to be very challenging," Phong said. "But we can access the network that we entered through Lab2Market to help us solve the problems that we encounter during expansion."
This network is exactly what Jen wanted to see come out of Lab2Market.
"If we didn't have these strong connections, this process would be different," she said. "Because Hiep is both the manager of BK Fund and incubation manager of BK Holdings, and Dung from Swiss EP directly supports Lab2Market within the collaboration between Swiss EP and BKHoldings, everyone is moving in the same direction. That combination of a fund with an incubation program and an international organization like Swiss EP with the mentoring really made this a strong success story."
N2TP is one of 12 groups chosen to be incubated in the Lab2market program in 2021. The effectiveness of incubating N2TP sets a great example and provides strong motivation for BK Holdings and its partners to move forward with further editions of Lab2market to bring more research to life.
Source: swissep