https://hust.edu.vn/en/news/campus-life/hanoi-university-of-science-and-technology-became-chair-of-the-vietnam-uk-higher-education-partnership-vn-uk-hep-486718.html
Under framework of project "Strategy of Internationalizing Higher Education of Vietnam and United Kingdom" between Ministry of Education and Training (MET) and British Council (BC) in 2018, and project "Improving Higher Education Quality 2019-2025" granted by Vietnamese Government in January 2019, BC had organized seminar of "UK-VN HEP Project University Network" and "Promoting effective Enterprise-University cooperation – The Success of Vietnam and The UK" on 6th-7th, June 2019 in Ho Chi Minh City. During the seminar, Hanoi University of Science and Technology (HUST) had been elected to become the Chair of UK-VN HEP with a two-year term (2019-2021).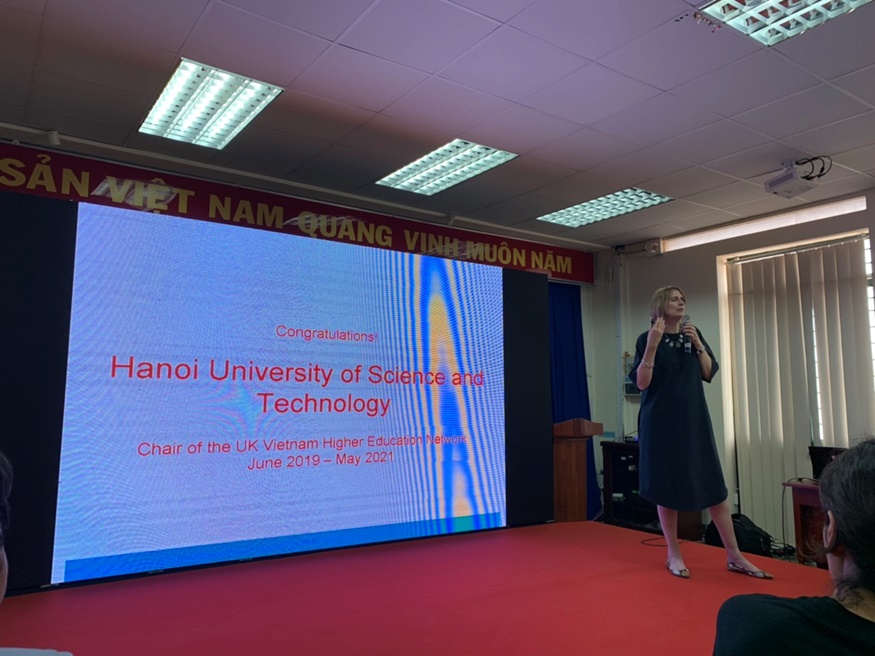 Ms. Donna McGowan - Country Director of BC in Vietnam congratulated HUST
for becoming the Chair of UK-VN HEP
As the Chair of UK-VN HEP, HUST will contribute to establish strategies suitable with development of BC and partner universities of both countries. The activities can be listed such as: Initiate and execute programs to maintain and expand the Network; Organize events, seminars, conferences under HEP's framework; Coordinate closely with BC, MET to implement higher education cooperation programs of Vietnam and the UK; Act as the connection and encouragement for both countries universities to work together.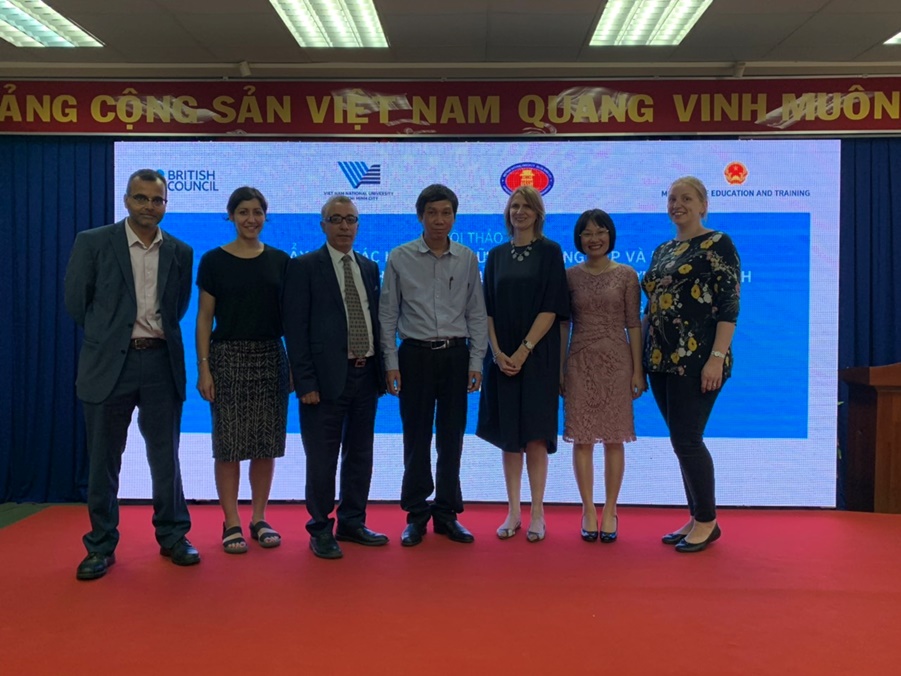 Prof. Dinh Van Phong, Vice President of HUST (4th from left-side)
with Ms. Donna Mc Gowan (3rd from right-side) and other colleagues taking picture after HUST became UK-VN HEP Chair
With experience in working as Chair of other international network like Asia – Oceana Top Universities League on Engineering – AOTULE; The Greater Mekong Subregion Academic and research Network – GMSARN; ASEAN University Network/Southeast Asia Engineering Education Development Network – AUN/SEED-Net; South East Asian Technical University Consortium – SEATUC; and ASEAN-Uninet, HUST is believed to be an active partner for UK-VN HEP, contributing more into the development and collaboration in higher education between universities of Vietnam and The UK.
About UK-VN HEP:
BC in Vietnam commits to work and support Vietnam over efforts of internationalizing education, technology and innovation, and promoting participation of The UK in higher education of Vietnam.
International seminars and conferences will be organized for partner universities to join and discuss about global issues and exchange the results achieved over UK-VN HEP Network; as well as bringing more impact of the Network and other higher education collaboration programs, support the establishing and implementing the general plan of Vietnam's higher education development 2021-2030, vision of 2035, with following activities:
Improving Higher Education Institutes of Vietnam (HEIs) in ability of administration and operation, in order to guide Vietnamese HEIs into better international participation;
Promoting and executing global partnership over research and workforce exchange;
Assisting Vietnamese and UK HEIs in promoting transnational education, encouraging academic and students exchange, and improving quality assurance with transnational education programs;
Assisting The UK and Vietnam to better understand with surrounding aspects of cooperation between enterprise and university in each country, identifying cooperation opportunities of enterprise-university in the region and with The UK;
Providing input for the Government of Vietnam to initiate policies and create better condition to support internationalizing and transnational cooperation between enterprises and universities.
UK-VN HEP Project now has more than 20 partner universities from The UK and Vietnam.