https://hust.edu.vn/en/news/campus-life/courtesy-visit-by-israeli-ambassador-extraordinary-and-plenipotentiary-to-vietnam-to-hust-125438.html
On June 08th, 2016, H.E. Mrs. Meirav Eilon Shahar – Israeli Ambassador Extraordinary and Plenipotentiary to Vietnam paid a courtesy visit to Hanoi Univversity of Science and Technology and had a meeting with Prof. Hoang Minh Son – HUST President and leader representatives from International Cooperation Department, School of Biotechnology and Food Technology, School of Chemical Engineering and School of Information and Communication Technology.
Introduction to the country and people of Israel, H.E. Mrs. Meirav Eilon Shahar said Israel is a country with the highest number of population obtaining university qualifications, scientists and engineers per capital in the world. Israel is also ranked in top countries leading in the number of scientific publications, research services and development, with many world leading technology companies in the fields of information technology, chemistry, environment ... The Ambassador also mentioned modes of cooperation such as the exchange of scientific experts, students, technical internship & high-level training cooperation (MSc, PhD) and hoped to host students from HUST to study in Israel soon.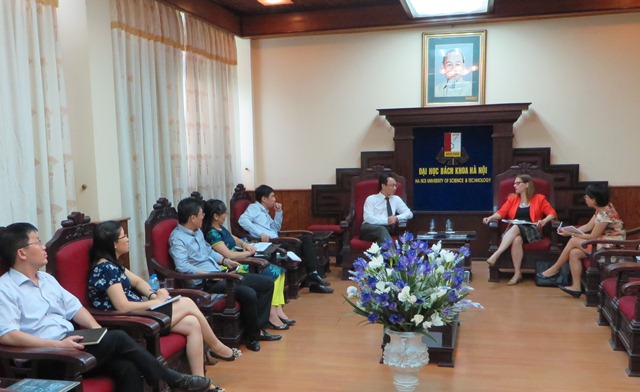 During the meeting, H.E. Mrs. Meirav Eilon Shahar promised to send experienced experts from Israel in the fields of biotechnology, environmental technology and chemical engineering to give lectures & exchange their experiences at HUST based on HUST's request. The Ambassador strongly emphasized the importance of University Start-UP experience in her stories..
On behalf of HUST, Assoc. Prof. Hoang Minh Son acknowledged with thanks to the Ambassador for spending her precious time and kind support to staffs and students of HUST. The President hoped that many fruitful cooperation activities will be carried out in the coming time between HUST and Israeli partners and HUST will receive the continuous supports from Israel in training, technology transfer and applications of state of the art technologies.
After this visit, H.E. Mrs. Meirav Eilon Shahar will arrange separate meetings with relevant schools and departments at HUST.