https://hust.edu.vn/en/news/campus-life/digital-transformation-in-higher-education-opportunities-and-challenges-588070.html
On September 21, 2021, Hanoi University of Science and Technology together with British Council Vietnam, Global Wales and the UK Department of International Trade proudly organize the conference "Preparing higher education for Digital Transformation". The event is supported by the Ministry of Education and Training.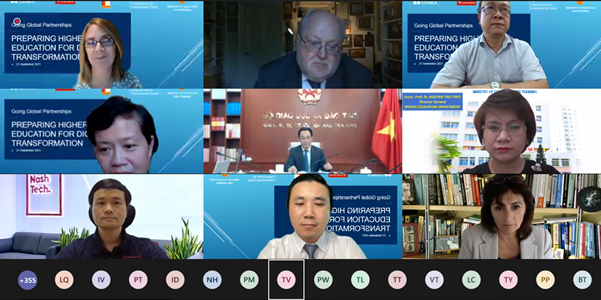 The conference has brought UK and Viet Nam government officers, HE leaders to discuss challenges and opportunities for digitalisation of higher education to respond to HE sector growth in both countries and how policy development helps address those issues.
The event welcomed the participation of A/Prof Hoang Minh Son, Vice Minister, Ministry of Education and Training; Sir Steve Smith, UK International Education Champion; Prof Iwan Davies, Vice Chancellor, Bangor University, and Chair of Global Wales; A/Prof Nguyen Thu Thuy, Director General, Department of Higher Education, Ministry of Education and Training; Dr Nguyen Thi Thanh Minh, Deputy Director General, International Cooperation Department, Ministry of Education and Training; Ms Donna McGowan, Director, British Council Vietnam; A/Prof Huynh Quyet Thang, President, Hanoi University of Science and Technology and more than 600 UK and Viet Nam higher education senior leaders, deans, vice deans, lecturers, researchers, business (EdTech), students.
Speaking at the event, Vice Minister Hoang Minh Son said 'The conference today has very important meaning for higher education in the context of global pandemic which strongly affects our life and education system. This is the opportunity for UK and Vietnamese universities to share experience, to discuss issues in digitalisation in teaching, learning, research, industry engagement as well as in quality assurance. The content discussed today will help the Ministry of Education and Training and universities to review and contribute to the strategic planning process for digitalisation in future. The event also opens up collaboration opportunities for UK and Vietnamese higher education – one of the main pillars of the strategic partnership plan of the UK and Viet Nam.'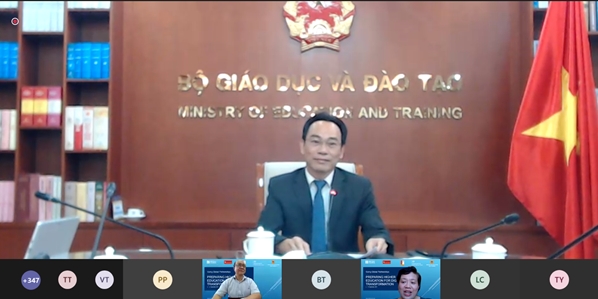 Professor Sir Steve Smith, UK International Education Champion, affirmed that the efforts and determination of the Ministry of Education and Training in the process of promoting digital transformation are giving Vietnam an advantage in the development of educational institutions. new learning methods, especially with the introduction of Circular 38 on training cooperation with foreign universities, masters and doctoral degrees in the form of online and direct form of online combination.
On behalf of UK government, Professor Sir Steve Smith, UK International Education Champion said 'Options for digital education, across all streams, have come increasingly to the fore since last year, and the pandemic has shone a light on the need for new, innovative ways to teach and assess, in all areas of education, particularly in HE. These 'new ways'; however, should also be considered a part of the offer for post-pandemic times, to enhance a more inclusive, high quality education framework that is accessible to all. I'm aware of the excellent work of the Ministry of Education and Training in the trialling of online teaching and assessment, specifically under Circular 38. In this, Viet Nam have certainly been on the front-foot to explore complementary methods to educate, and your government's ambition in making digital transformation, in all aspects of the economy, a key priority, of which HE plays an important part. And I'm also pleased to see the British Council working with the UK government's Department for International Trade, and local stakeholders, so as to best share our world-renowned experience in this crucial field. The UK stands ready to assist Viet Nam in supporting your goals.'
Ms Donna McGowan, British Council Vietnam Country Director, commented on the importance of digital transformation in higher education especially in light of the current global context. She said: 'The British Council is very keen to explore and develop more collaboration opportunities with the Ministry of Education and Training and to share best practices between the UK and Viet Nam. The global context requires the higher education sector to transform digitally to respond to industry 4.0, to cope with the disruption of teaching, learning and research due to Covid-19, and to adapt to the shifting needs of current and future generations in gaining knowledge and transversal skills that will prepare them for a changing world of life, study and work.'
Sharing about the collaboration in HE between Global Wales and Viet Nam, Prof Iwan Davies stated: 'Today's conference has demonstrated the value of international collaboration in response to the global issues we all face. Wales' higher education partnership with Vietnam is of huge importance to both countries and as Chair of Global Wales I am delighted to see the development and growth of this relationship and how it can enliven practice and drive reform through events such as this. This conference demonstrates the ongoing commitment to HE collaboration made in the MoU between Welsh Government and MOET and is another indicator of the strength of this relationship and its ambitious future. I very much look forward to seeing how the relationship between the higher education systems of Wales and Vietnam continues to grow and bring prosperity to both countries.'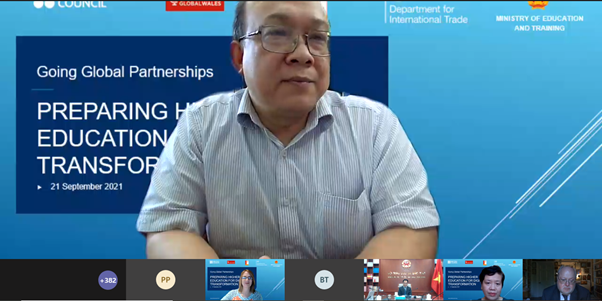 Assoc Prof Huynh Quyet Thang, President of Hanoi University of Science and Technology expressed his strong commitments to work with UK and Vietnamese universities on the digital transformation initiative. He is pleased to share that HUST is one of the pioneers in Vietnam in "going digital". He shared "At Hanoi University of Science and Technology, we have been implementing our own digital transformation management system which is called e-HUST. It is a one-stop digital service to help us have stronger governance, more comprehensive personnel system, and a greater support to lecturers and students".
Addressing this topic, Prof Iwan Davies shared his view on the question 'Why HE needs to transform digitally?' and Assoc Prof Nguyen Thu Thuy highlighted the necessity of digital transformation in higher education in Vietnam, especially in the post Covid-19 situation and policies.
Besides, four breakout sessions with the participation of guest speakers from different universities, organisations and industries have discussed shared institutional challenges and issues between UK and Viet Nam universities, including: Teaching and learning: capacity building; Research collaboration and industry engagement; Innovation in teaching and learning- Technology enabling platform and digital divide: ensure no one left behind, data protection; and Quality Assurance.
The conference also opens opportunities to share best practices and case studies on applying the innovative model in digitalising teaching, learning, and research, which will enable and support future partnership creation on digital transformation./.
EAO - HUST