On 6th September 2018, the Final Conference of ECORED Project took place at Hanoi University of Science and Technology (HUST) with a large number of participants from project partners and its stakeholders.
ECORED Project is a project under the Erasmus+ Programme (Capacity building in the Field of Higher Education) funded by European Commission for the period of 2015-2018 with 3 partner universities in Vietnam and 3 EU partners, coordinated by Sapienza University of Rome (UNIROMA1) in the field of renewable energy. After three years of implementation, the Project has successfully completed its starting objectives: Elaboration & delivery of 5 modules in Renewable Energy at 3 partner universities in Vietnam (Hanoi University of Science and Technology, Can Tho University and Ho Chi Minh City University of Technology); Elaboration of 2 e-modules uploaded in MOOCs; equipping Vietnamese Universities with some new training equipment as well as video-conference tools.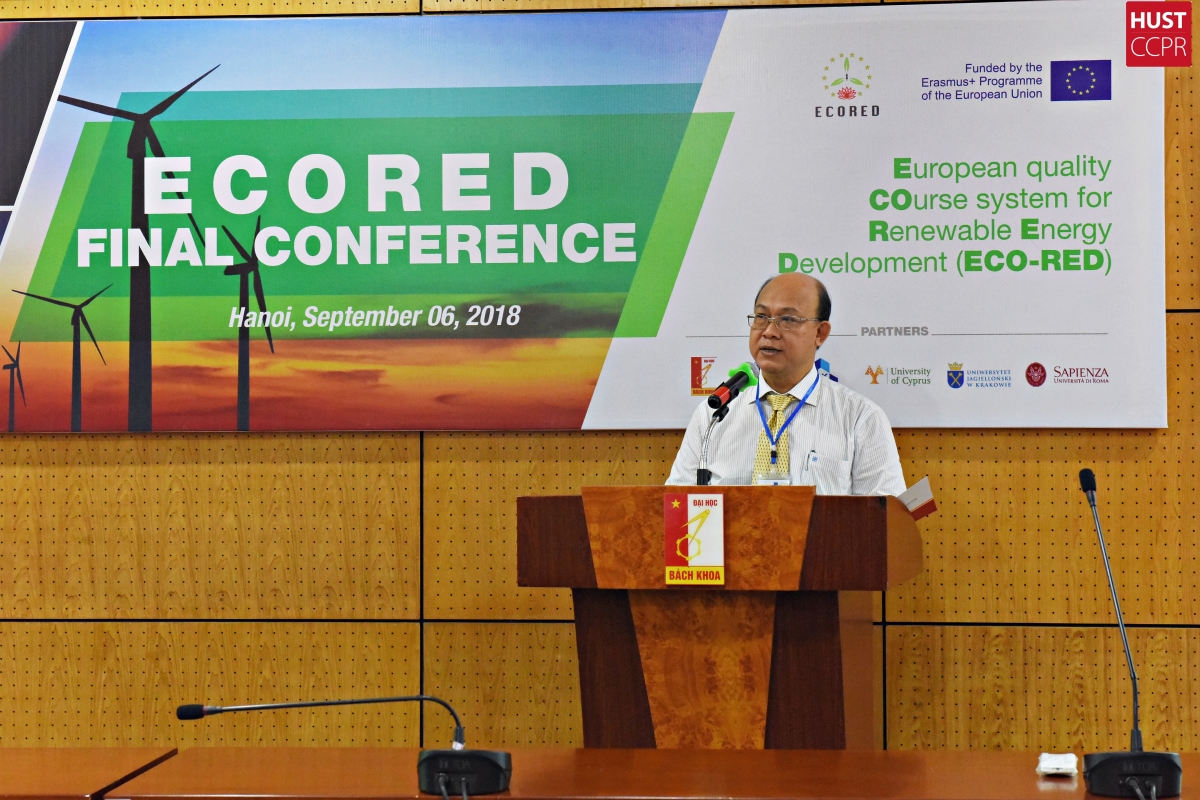 With the aim of disseminating project results and promoting the next ECO-RED courses editions as well as spreading the use of renewable energy, the ECORED Final Conference was organized at HUST on the 6th of September 2018. The Conference also allowed the meeting between ECORED students with all project members and stakeholders to share their experiences and contributing ideas for better running of next ECORED courses in Vietnamese universities.
Attending the Conference were managerial representatives from governmental offices and organizations namely EU Delegation to Vietnam, Italy Embassy in Hanoi, Uni Italia in Hanoi, industrial representatives from Electric Vietnam, project members and some ECORED lecturers from European Partners (Sapienza University of Rome, Jagiellonian University and University of Cyprus) as well as Vietnamese Partner Universities (HUST, Can Tho University and Ho Chi Minh City University of Technology). More than 60 interested students including ECORED students attended the event.
After the welcome speech by Prof. Huynh Quyet Thang, HUST Vice President,the Conference officially started with the presentation on the overview of ECORED project's results presented by Dr. Katiuscia Cipri, Project Coordinator from Sapienza University, followed by remarks and sharing from Mr. Tom Corrie, Deputy Head of Cooperation and Development, EUD Vietnam and Mr. Mariano Anderle, Scientific Attaché, Embassy of Italy in Vietnam about ECORED Project and collaborative technological and research experiences and available funding resources from EU and Italy for the project sustainability and future collaboration promotion among project partners.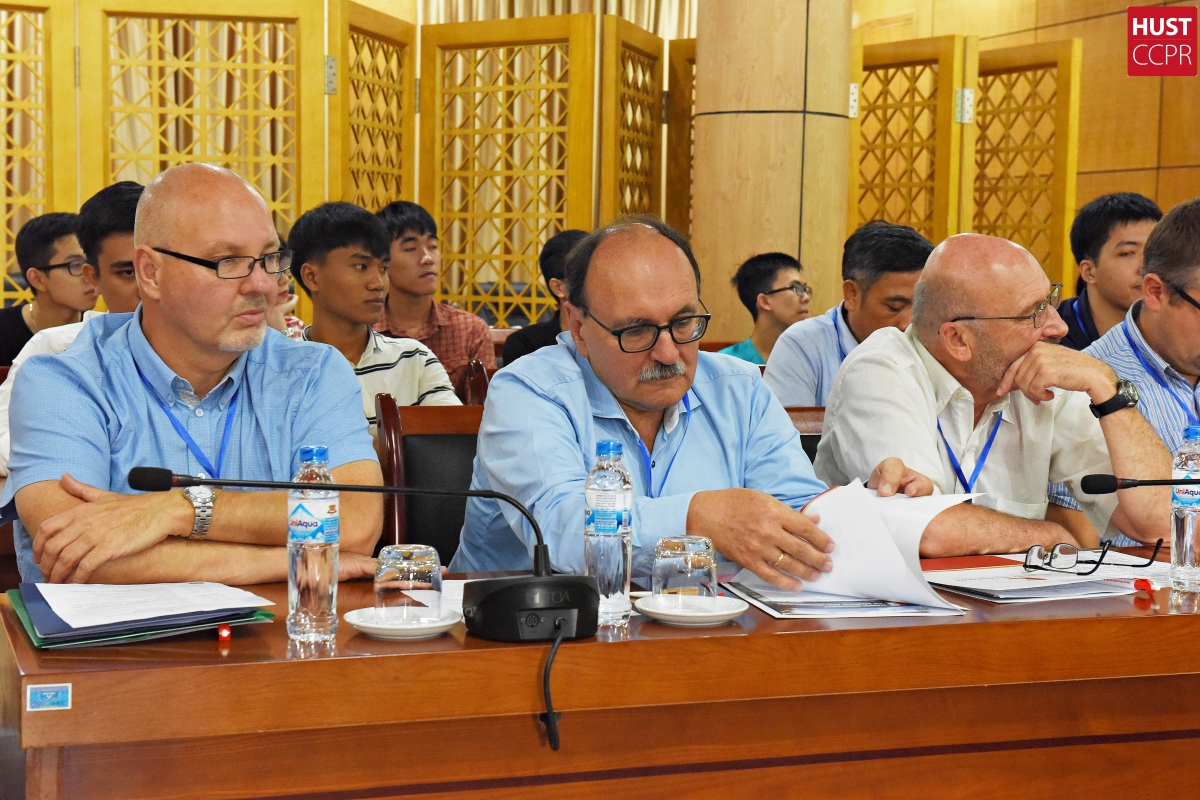 Besides presentations on Quality Assurance in International collaboration and Innovation in teaching: contents and methodology presented by EU members, the highlighted presentation which attracted a lot of interests from all participants was the presentation on the Renewable Energy Development Trend in Vietnam Power System given by Mr. Nguyen Quoc Trung – Head of Power Market Operation Department, National Load Dispatch Centre, Electric Vietnam (EVN). The most updated information about RE development in Vietnam was shared in his presentation.
During the Conference, students had opportunities to share their experiences in participating in ECORED Project. The ECORED students expressed their appreciation to the project for equipping them both basic and professional knowledge relevant to renewable energy such as energy audit, energy efficiency, the process of producing biofuels, solar system, wind energy … etc through 5 modules of ECORED delivered at HUST as well as 5-week intensive courses in Europe. A video clip about the ECORED intensive courses – experiences by HUST students was shown at the Conference.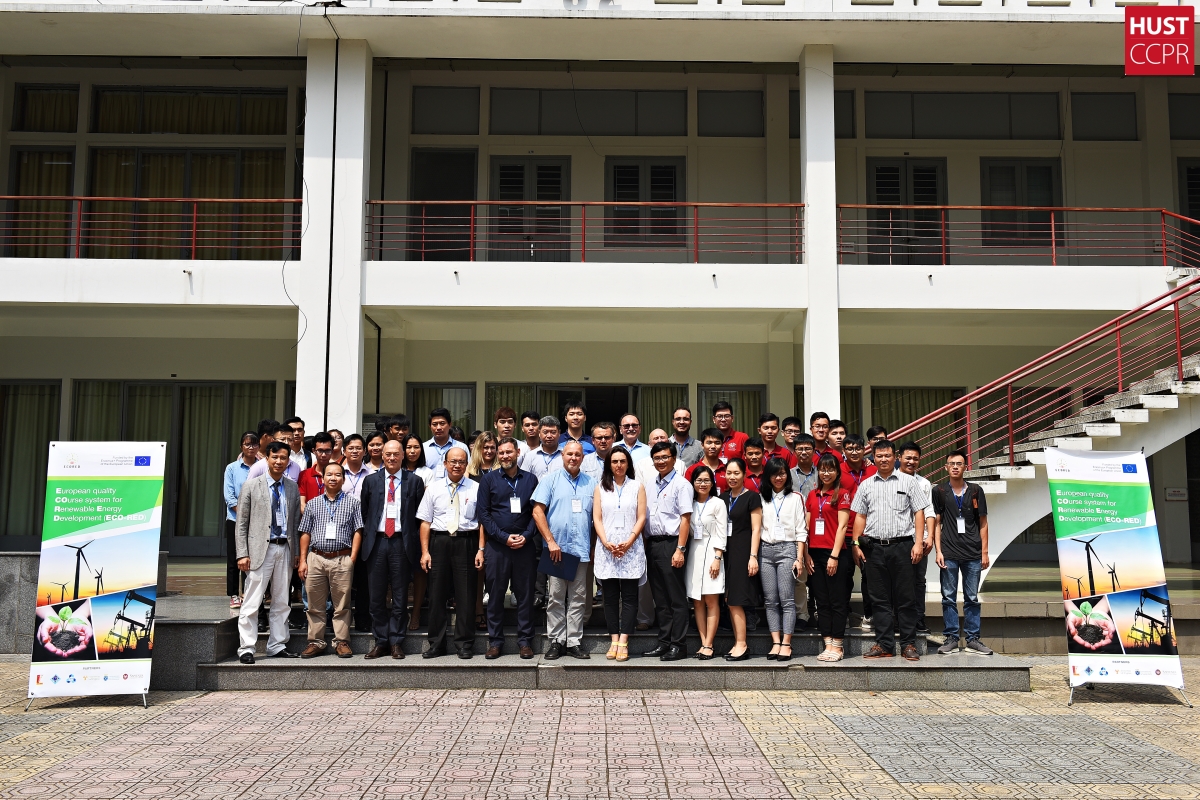 Also at the ECORED Final Conference, the students had chances to directly raise their questions and exchange their reviews and comments to representatives of all 6 project university members including ECORED lecturers regarding the content and running of next ECORED courses. Many questions were passed to representatives from EU Delegation and the Embassy of Italy regarding the students' opportunities to join in other projects and training programmes funded by EU in general and Italy in particular.
The Conference ended with the awarding of attendance certificates for ECORED students who completed ECORED modules at HUST.
The ECORED Final Steering Committee Meeting was organized at HUST in the afternoon of the same day, officially closed activities of ECORED Project in Vietnam.