https://hust.edu.vn/en/news/campus-life/hust-ctu-launching-a-model-farm-to-promote-sustainable-pangasius-supply-chain-in-vietnam-168325.html
On January 17th 2017, Hanoi University of Science and Technology (HUST) in collaboration with Can Tho University (CTU) held a ceremony to launch a Model Farm at Centre for Research and Development of Advanced Technical Application for Fisheries, CTU in the framework of a EU funded project "Establishing a Sustainable Pangasius Supply Chain in Vietnam" (SUPA).
Attending the ceremony were the Vice President of HUST - Prof. Tran Van Top, the Rector of CTU - Prof. Ha Thanh Toan; and representatives from the two University's Departments and implementing partners of the project namely: Vietnam Cleaner Production Centre Ltd - Hanoi University of Technology (VNCPC), Vietnam Association of Seafood Exporters and Producers (VASEP) and the World Wide Fund for Nature (WWF).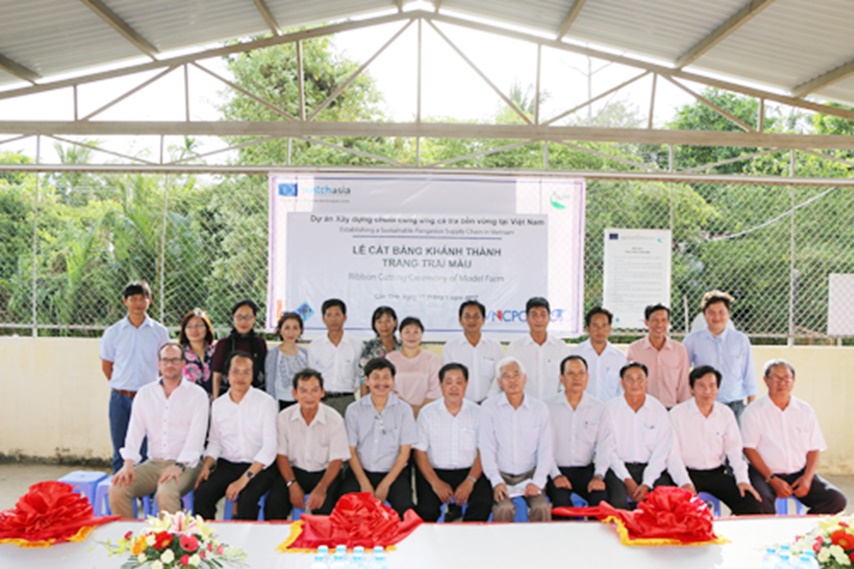 Participants attending the launching ceremony
The SUPA project is worth €2.4 million, of which the European Union finances €1.9 million under the EU SWITCH-Asia Programme. The project is implemented in Vietnam by VNCPC -HUST in partnership with VASEP, WWF-Vietnam and WWF- Austria, running from 2013 to 2017 with the objective of improving competitiveness of the pangasius industry in Vietnam on the global market. Through this project, the EU directly supports the entire supply chain from hatcheries, feed manufacturers and processors in Vietnam to EU traders and end-consumers, in which, EU is the largest market for exports of tra and basa from Vietnam.
The Model Farm is jointly established by HUST (VNCPC) and CTU (Department of Fisheries) in the campus of CTU with the aims of implementing training and research activities as well as technology transfer in the Mekong Delta Area in the framework of the SUPA, towards building the conditions for the provision of services regarding science and technology under the self-control mechanism after the project completes.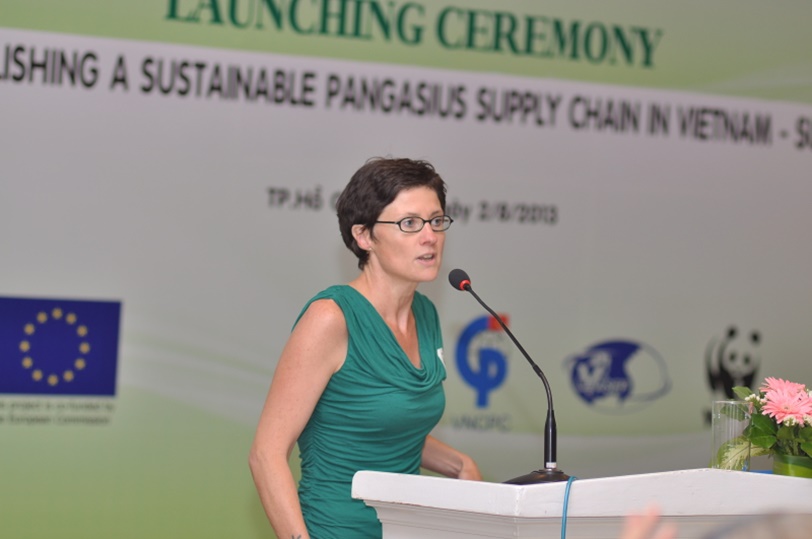 Ms Sabine Gisch – Boie, Project Coordinator of WWF Austria in
Launching Ceremony of SUPA Project
In the framework of SUPA, HUST and CTU have jointly conducted researches and developed some advanced technologies which have been applied for the entire pangasius supply chain in Vietnam; enhanced dissemination of research's results, replicated the application of the Model Farm to the local Mekong Delta region and provided scientific and technical services to sustain the development of pangasius supply chain. The Department of Fisheries - CTU and VNCPC – HUST also coordinated to support undergraduate & graduate students and fellows to conduct research on the farms, processing SMEs or pangasius hatcheries in the area.
It is expected that by the completion of the SUPA project, at least 70 per cent of the targeted middle to large Pangasius producing and processing enterprises, together with 30 per cent of the feed producers and small independent production SMEs will be actively engaged in Resources Efficiency and Cleaner Production (RE-CP), and at least 50 per cent of targeted processing SMEs will be provided with sustainable products compliant with the ASC standard to EU and other markets.