https://hust.edu.vn/en/news/campus-life/stemcon-conference-in-vietnam-promoting-the-scientific-technological-engineering-mathematical-development-190118.html
On March 1st and 2nd, 2017, Science – Technology – Engineering – Mathematics Conference (STEMCON Vietnam) was held at Intercontinental Hotel with the theme of "STEM - Advancing the Future of Vietnam: Inspiring Students, Makers, Educators & Entrepreneurs to Innovate" This is the fifth conference in Vietnam and the first time co-organised in Hanoi under the framework of HEEAP program by Arizona State University, Hanoi University of Science and Technology and other partners.
The Higher Engineering Education Alliance Program (HEEAP) at Arizona State University, and its partners have been hosting the annual Vietnam Engineering Education Conference (VEEC) in different cities throughout Vietnam (Ho Chi Minh, Da Nang, Can Tho) for four consecutive years for the demand of a more competitive, more innovative workforce, and both public and private universities across Vietnam and the region are under pressure to expand and enhance their academic programs in the quickly evolving fields of Science, Technology, Engineering and Math.
In 2017, HEEAP's 5th Annual Conference has been renamed, the Science, Technology, Engineering, and Math Conference, or STEMCON, and was held at Intercontinental Hotel in Hanoi on March 1st - 2nd 2017 with the recognition that HEEAP had expanded beyond Vietnam into other regions of Southeast Asia, and that our programs had evolved to encompass not only Engineering, but also the vital fields of Science, Math, and Technology.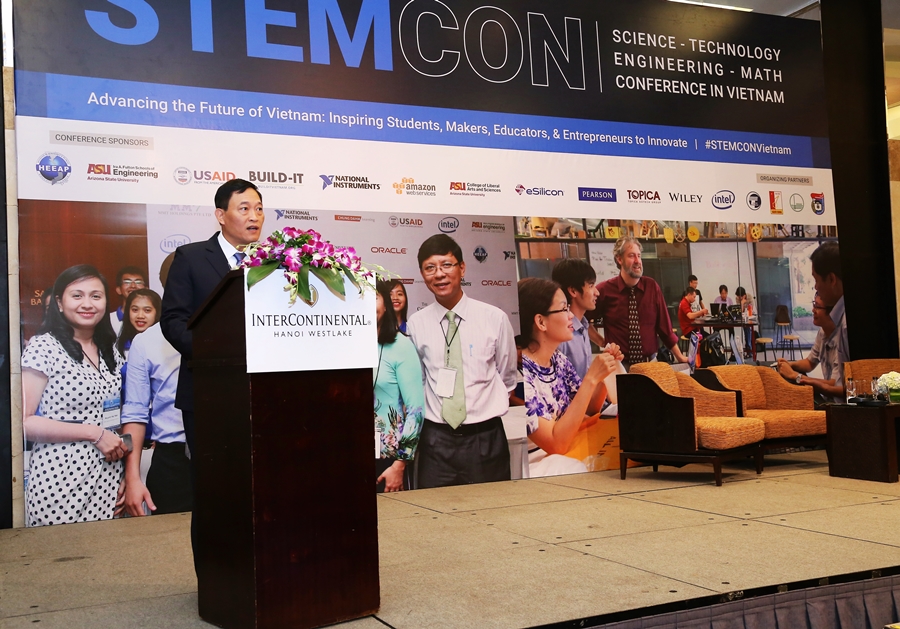 Deputy Minister of Sciences and Technology Mr. Tran Van Tung in STEMCON
Delivering his welcome speech in the STEMCON, Deputy Minister Mr. Tran Van Tung, Ministry of Science and Technology said that the competitive advantages of resources and labor are no longer sustained and instead of these, the competitive advantages of education, science and technology development and IP enhancement in national products are booming. The Deputy Minister appreciated of the STEMCON 2017 Conference: "this is a good and practical topic to discuss, contributing to the industrialization, modernization and development of Vietnam."
"The experiences, case studies from developed countries have shown that STEM model is one of the important tasks in creating high-quality human resources for Science-Technology and engineering research. As a result, it is essential to get more attention from the government to promote" the Deputy Minister emphasized.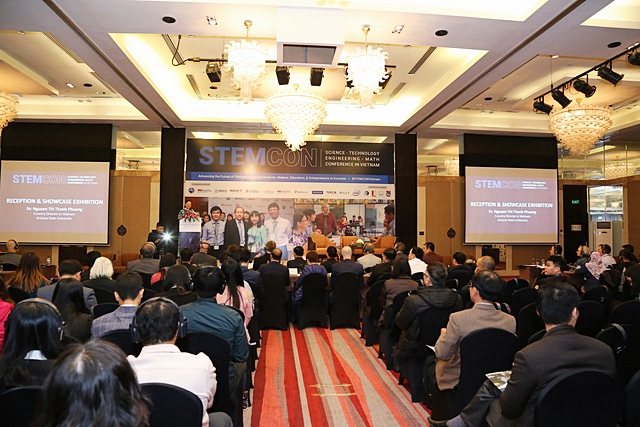 STEMCON conference in Interncontinental, Hanoi
The STEMCON conference with the theme "Advancing the Future of Vietnam: Inspiring Students, Makers, Educators & Entrepreneurs to Innovate", co-organized by HEEAP (Arizona State University) and its partners in Vietnam, including HUST in 2017, was the emphasis for two days of interactive plenary and technical sessions, panel discussions, exhibits and seminars. Assoc. Prof, Dr. Huynh Quyet Thang, Vice President of Hanoi University of Sciences and Technology represented HUST in the conference and joined Technology Innovation Panel - Public-Private Partnerships driving rapid development of S&T innovation and research in Vietnam.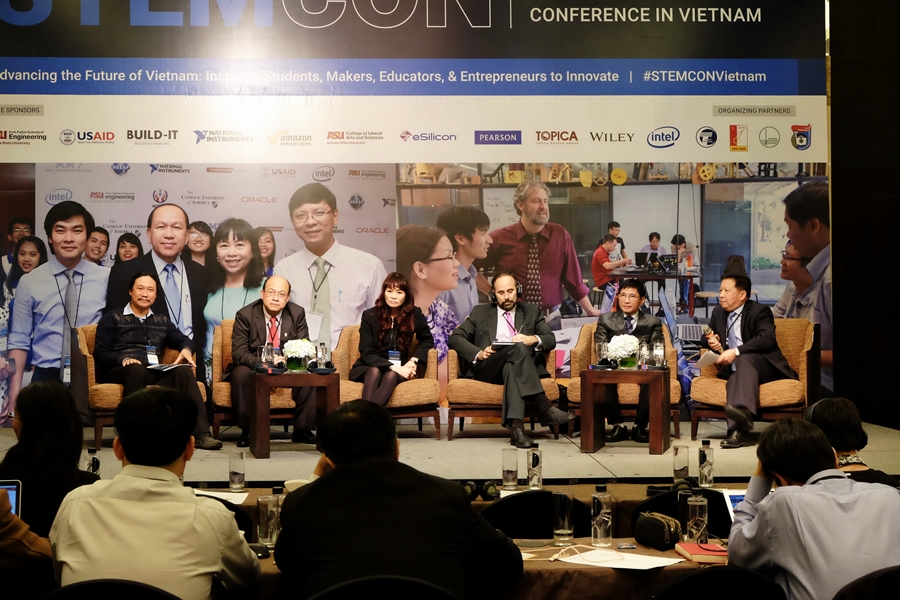 Vice President Huynh Quyet Thang in Technology Innovation Panel
HUST faculty members who got 6-week training at Arizona State University within the framework of the HEEAP program and other HUST staffs also actively participated in the conference. There are 06 presentations delivered and presented by HUST in the afternoon technical sessions on March 1st and 2nd 2017 with topics of building research consortium through linkage between universities and industries, problem-based learning, "Engaging Women in STEM+", "Professional Skill and Language Development in the Classroom", which have been applied in School of Electrical Engineering, Mechanical Engineering, Electronics and Telecommunication.
In addition, HUST also participated in introducing faculty-student products, start-up results at the STEMCON exhibition based on the STEM model. Some products (Etadi, Flying cam) were presented and introduced by HUST student groups.
The STEMCON 2017 conference was truly successful and it promises to continue to organize in 2018 with further contributions and participation from universities, industries and HEEAP partners.
The Higher Engineering Education Alliance Program (HEEAP) was established in 2010 by the United States Agency for International Development (USAID) and Intel Corporation, in collaboration with the Department of Engineering, Ira A. Fulton of the Arizona State University (ASU). HUST is a member of the HEEAP program, with 35 HUST faculty members assigned to study an academic and innovative teaching improvement course at ASU and about 200 HUST members joined in the in-country HEEAP training programs. HEEAP supports the partner universities in cooperation with Siemens, Danaher, Cadence, National Instruments and Pearson, and focuses on training students with professional and soft skills to "ready to work" as well as providing high quality human resources and on-site training for high-tech industries in Vietnam.