https://hust.edu.vn/en/news/campus-life/vietnam-united-kingdom-higher-education-collaboration-connect-oppoturnities-establish-sustainable-education-363469.html
Hanoi, October 30, 2018. Organized by Ministry of Education and Training (MOET) and British Council, Vietnam, United Kingdom Higher Education Collaboration Conference started with the topic of "The global landscape in internationalising higher education – in favor of quality over quantity".

Participated in the event were Mr. Nguyen Van Phuc – MOET Vice Minister; Kirsty Williams AM – Cabinet Secretary for Education of Wales; along with 150 delegates from institutions of higher education internationalising research from MOET, more than 60 universities from Vietnam and the UK. On behalf of Hanoi University of Science and Technology (HUST), President of HUST, Assoc. Prof. Hoang Minh Son, delivered impressive sharing with the views from practice of HUST.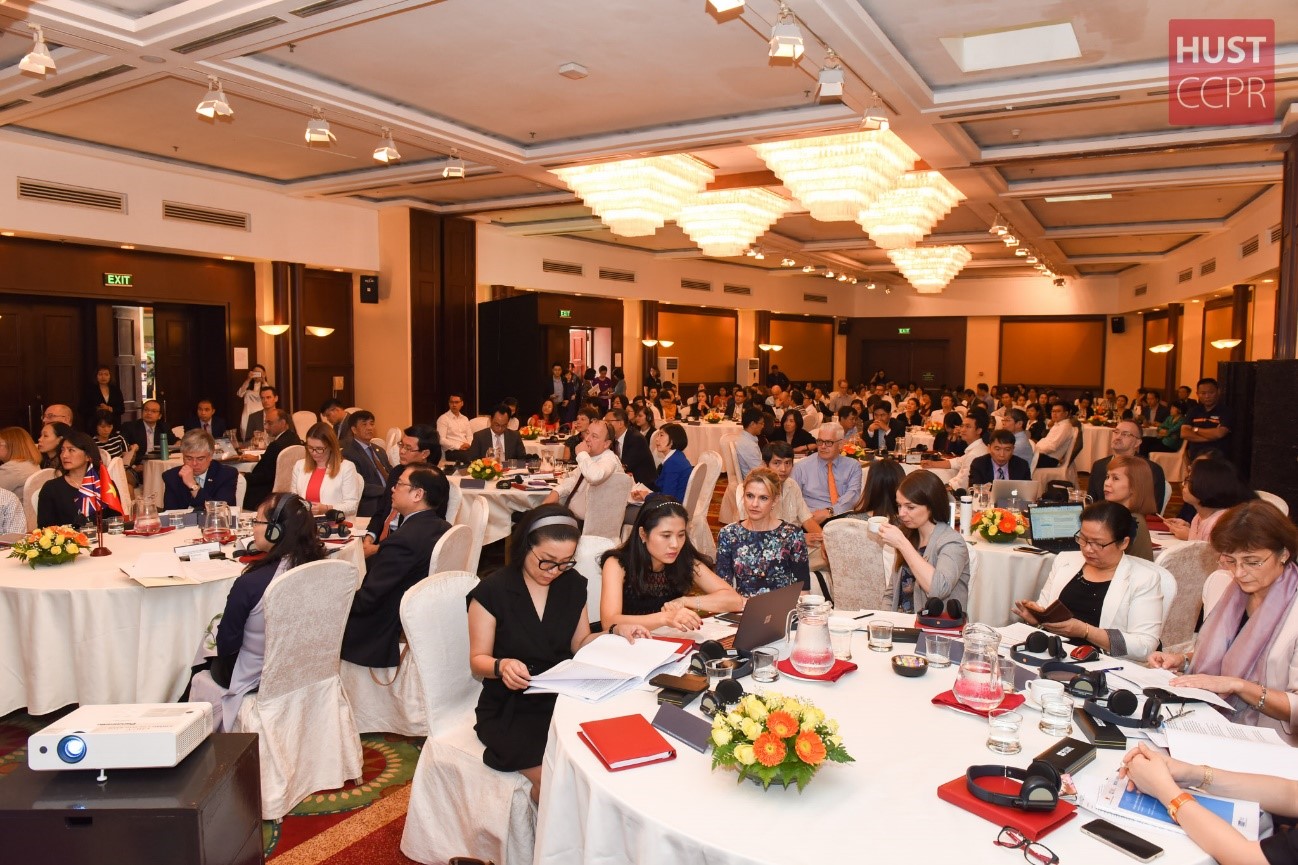 Many experts participated the conference
In 2015, the British Council in Vietnam worked closely with the Ministry of Education and Training (MOET), and the Vietnam Embassy in the UK to successfully organize the first UK Vietnam higher education collaboration forum "Connecting Opportunities for Sustainable Education Partnerships" in London. This year, the second UK Vietnam Higher Education forum takes place in Hanoi on the anniversary of 45 years of diplomatic relations between the UK and Vietnam, and 25 years of the British Council in Vietnam.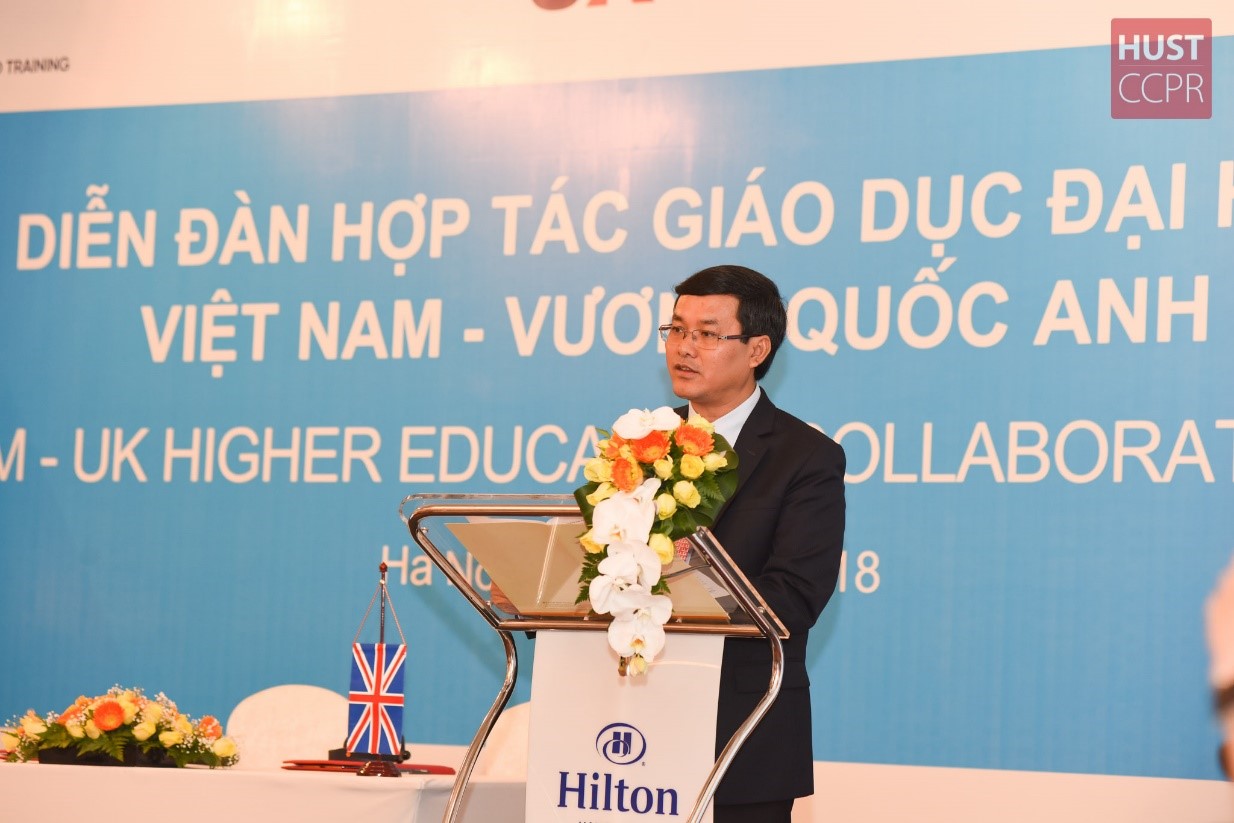 Mr. Nguyen Van Phuc spoke at the Conference
At the Conference, Mr. Nguyen Van Phuc stated the more and more complexity of Vietnam's educational internationalising with global economy, in which education and training play an important role for developing high-quality workforce, contributing to the nation's growth. During the past of more than 30 years, since the Reform, Vietnam has achieved significant milestones in international collaboration of education and training. There are many successful projects between Vietnam's universities with international and UK ones in cooperation of training, sponsorship, scholarship with ODA-funded, scientific exchange, students and lecturers exchange, joint-training programs. According to the Vice Minister, the Conference is a connection for higher education leaders from the UK, the world and Vietnam to join and discuss about issues and challenges for higher education internationalising (HEI), along with sharing modern HEI trends while ensuring the quality and set the higher education into a new leap of development.

Speaking at the event, Kirsty Williams AM – Cabinet Secretary for Education of Wales confirmed: "HEI carries principal role in enhancing the international cultural – diplomatic relations. Especially, the collaboration relation between Wales and Vietnam universities and students is more and more tighten. The Cabinet of Wales commits its cooperation with MOET to cope up the arising of international challenges in HEI."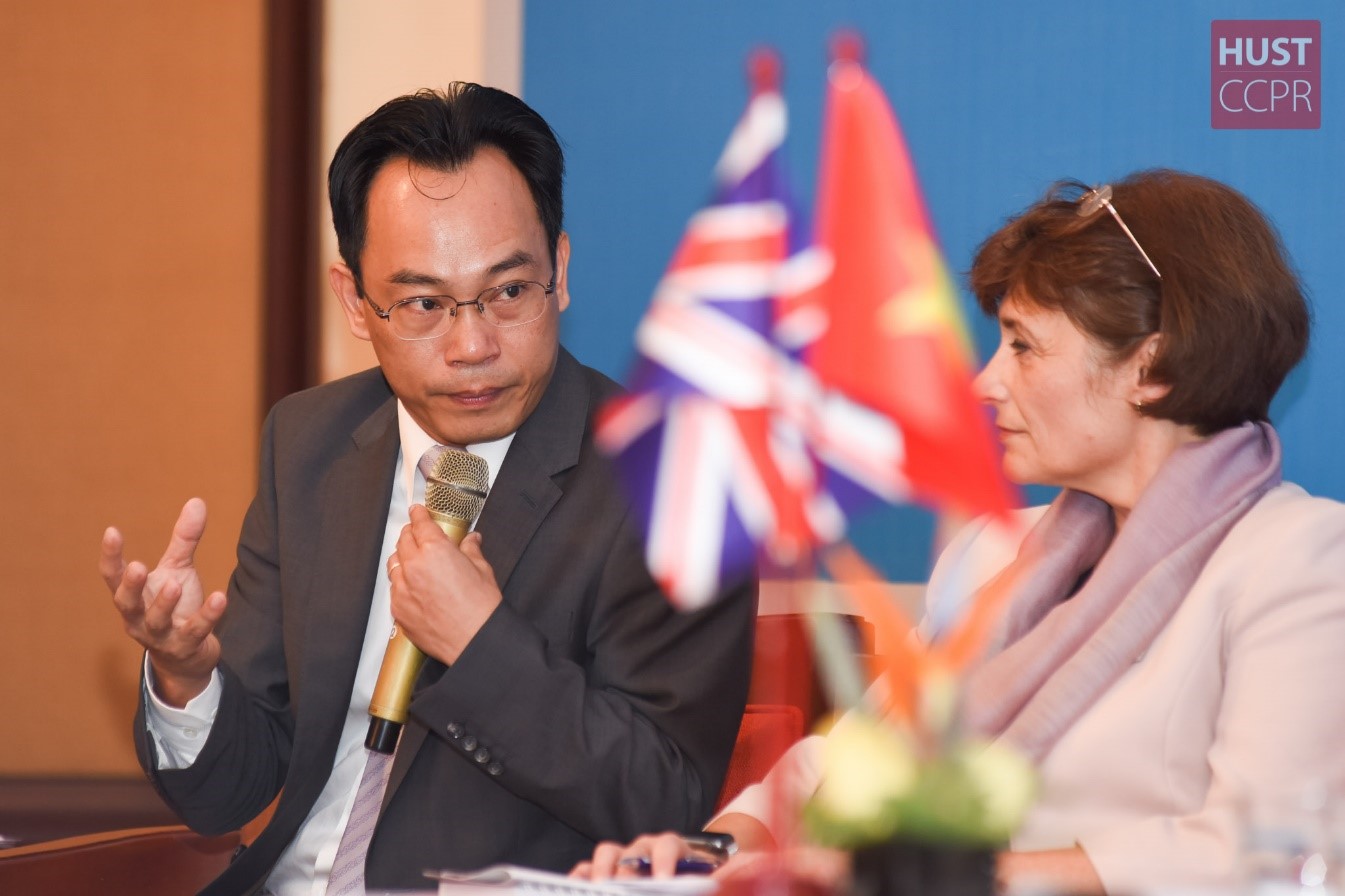 Assoc. Prof. Hoang Minh Son during a workshop
Together with representatives from other universities of Vietnam, Assoc. Prof. Hoang Minh Son delivered meaningful discussion from HUTS's practice. Thus, to match with the HEI waves, HUST has been encouraging international cooperation network, establishing the community for training and research, and cooperating with enterprises in Vietnam and around the globe. Additionally, other international activities such as student exchange, joint-training and joint-research programs have also been paid more attention.

Vietnam – UK Higher Education Network had officially introduced with ten collaboration projects according to the four targets and priorities in HEIs. The Network currently has the participation of 56 universities and enterprises from Vietnam and the UK.
CCPR