https://hust.edu.vn/en/news/campus-life/hust-organized-lunar-new-year-2020-meeting-for-international-students-505590.html
On Jan 03rd, 2020, HUST held a meeting for international students on the occasion of Tet – Vietnamese Lunar New Year. Celebrating the Year of the Mouse, this event introduced Vietnamese culture to foreign students while bringing international students, local students, and HUST lecturers together on a meaningful night.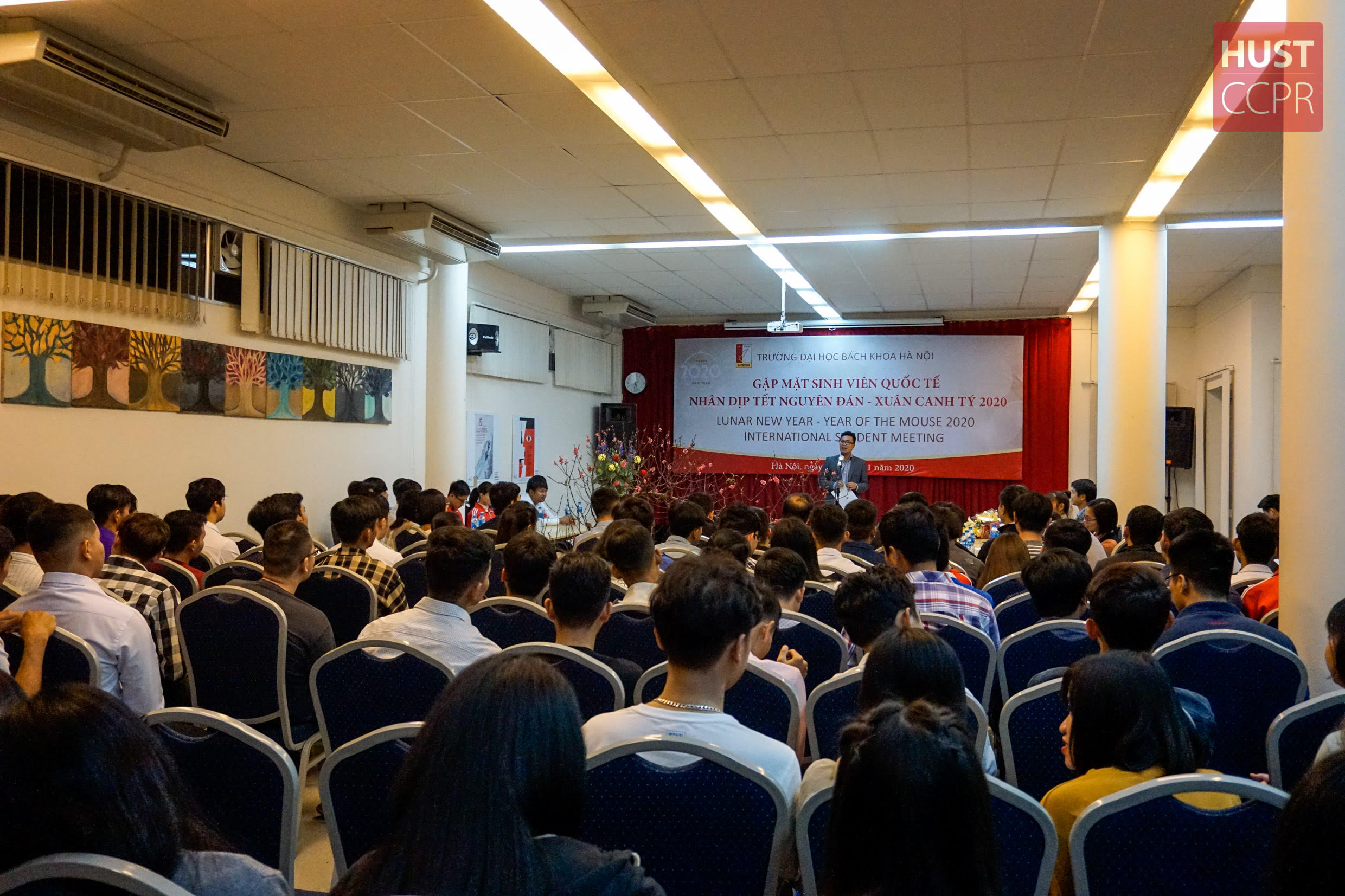 Lunar New Year 2020 Meeting for International students
At the beginning of the meeting, Assoc. Prof. Dr. Dinh Van Hai delivered the report on the statistics and activities for international students held in 2019 and 2020. He expressed his happiness with the great results of activities in 2019, especially with "HUST International Student Festival 2019" and Studying support programs for international students. In 2020, other activities will be launched including Homestay programs and Vietnam sightseeing tours for international students.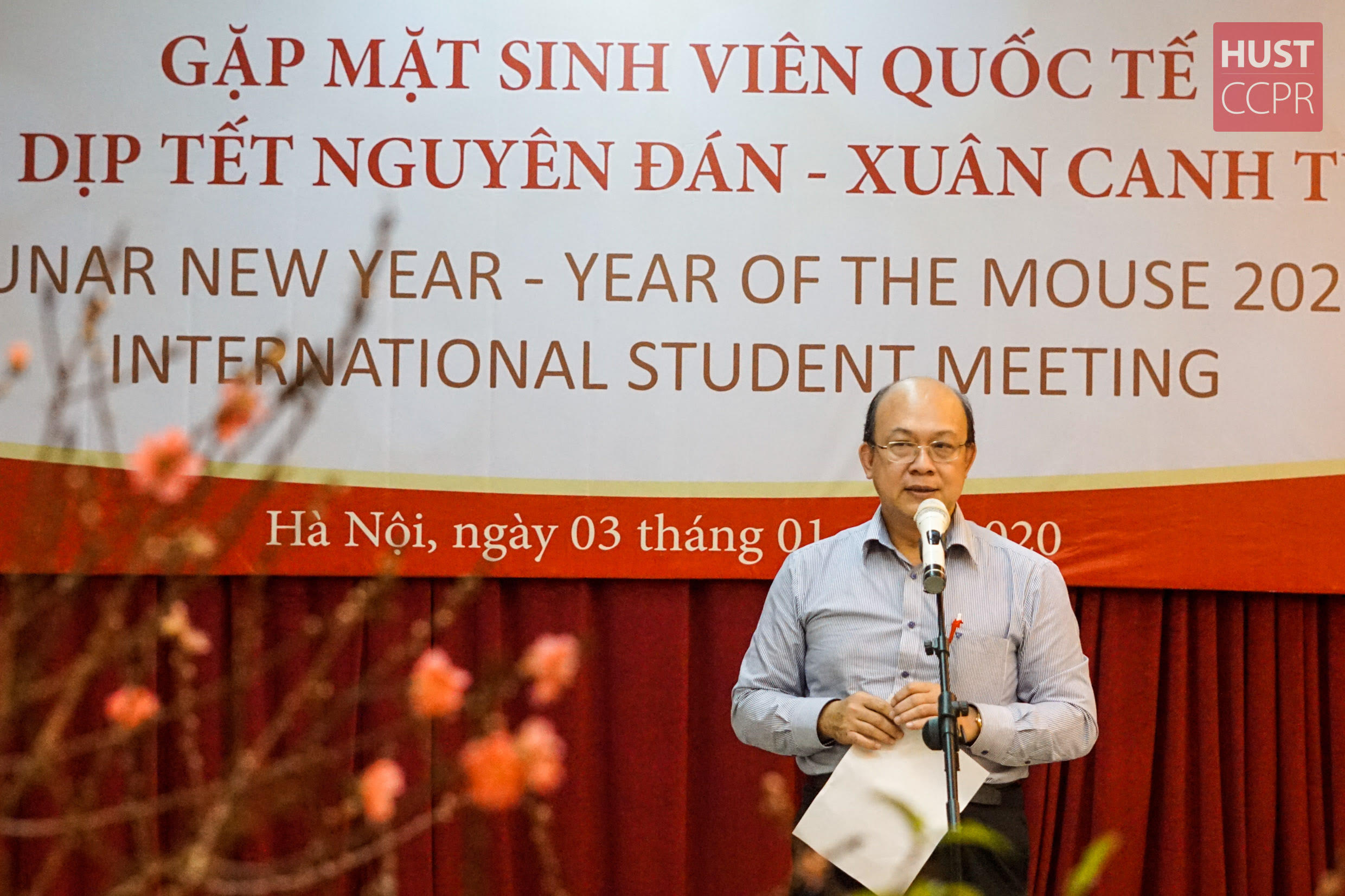 Assoc. Prof. Dr. Huynh Quyet Thang delivered his speech
Assoc. Prof. Dr. Huynh Quyet Thang said: "2019 has been a wonderful year for HUST. We received many great news, one of which is a great position on THE - a reputable world university ranking. This cannot be achieved without the presence of foreign students. I hoped that you (international students) will become an ambassador for HUST and Vietnam, and keep the beautiful memories of HUST at your heart.".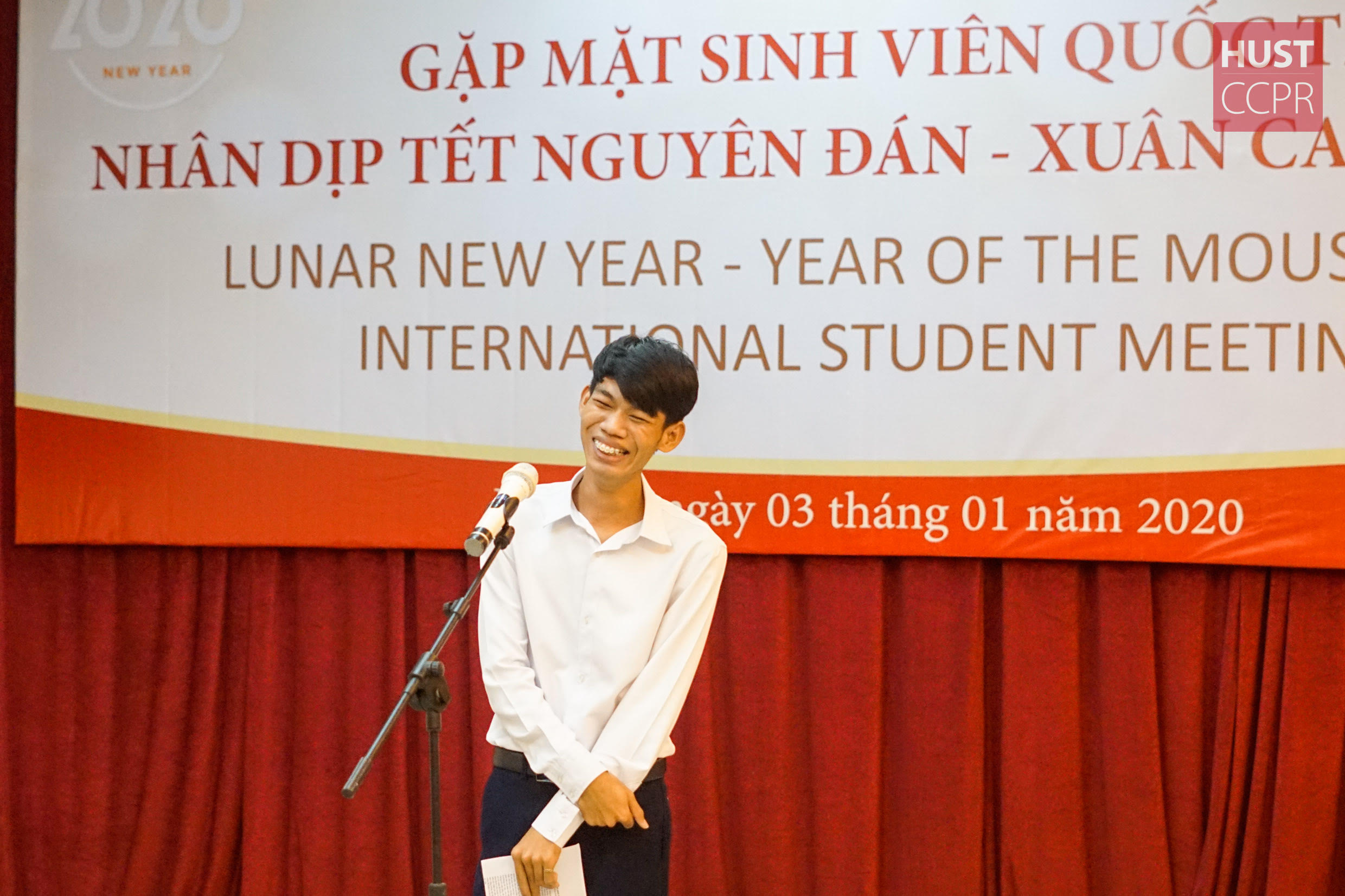 Vun Liem, a Cambodian student, represented international students
Representing the international students, Vun Liem, a Cambodian student who is currently majoring in Mechanical Engineering, clearly and loudly, gave his speech in Vietnamese: "Despite the difficulties, I and all the overseas students feel very lucky to have a chance to experience living and studying here. I received a lot of support from my lecturers and other university staff. I remembered when I was so disappointed because I could not follow the lesson in class, my teacher gave me encouragement and advice about prioritizing studying Vietnamese. This helped me to mix in and finally achieve good results."
The event went on with traditional dances including "Lam Salavan" from Laos and "Riem Vong dance" from Cambodia. The room was heated up by the "Diliwale Girlfriend dance" from Sri Lanka students with cheers and standing ovations for the three girls. That night, laughter was in the air and bond was much strengthened. The party ended with a famous song - "Happy new year" - when everyone held hands and sang together: "May we all have a vision now and then/ Of a world where every neighbor is a friend…".
Some images at the meeting: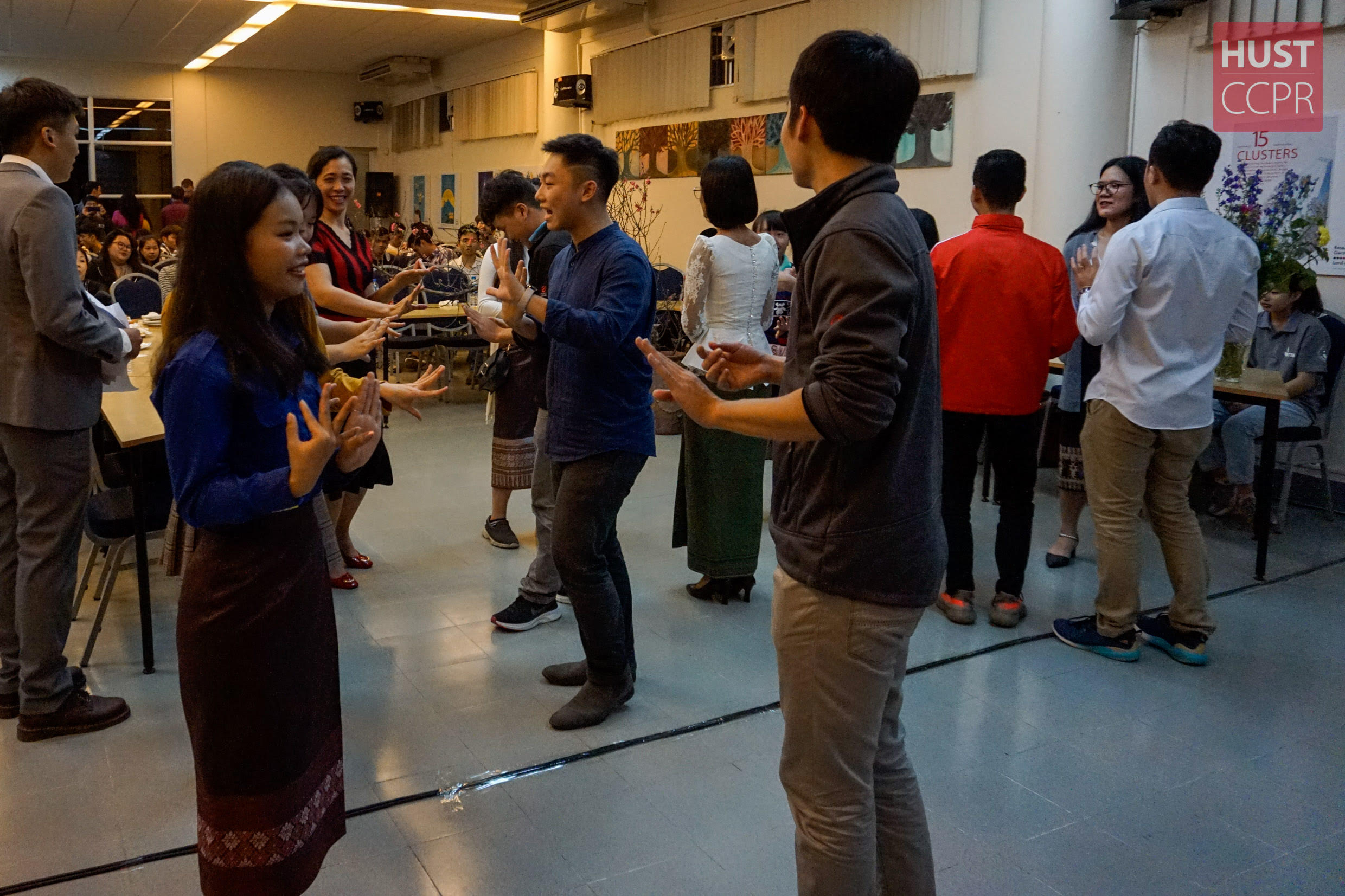 Laos traditional dance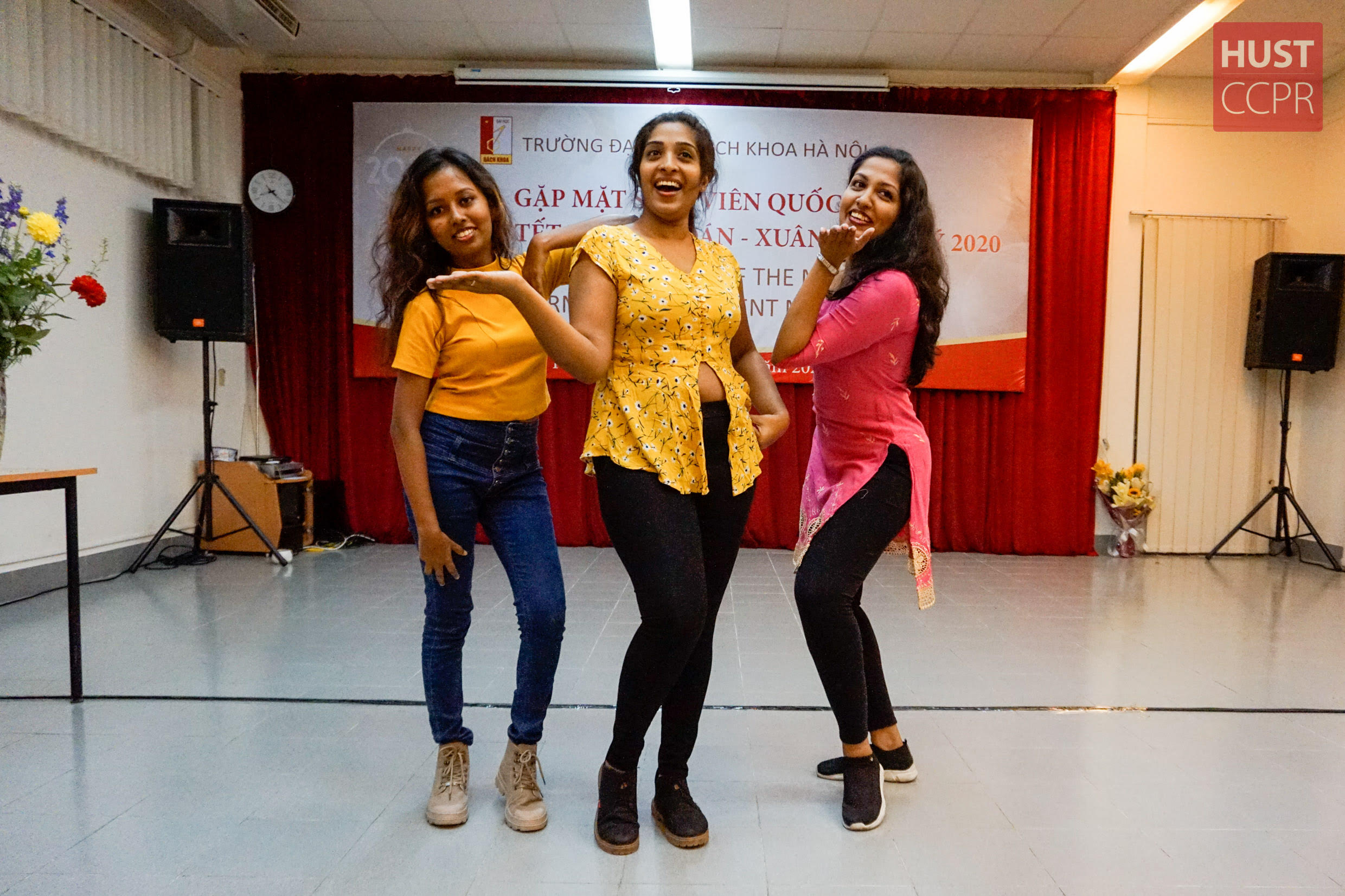 Sri Lanka girls danced "Diliwale Girlfriend"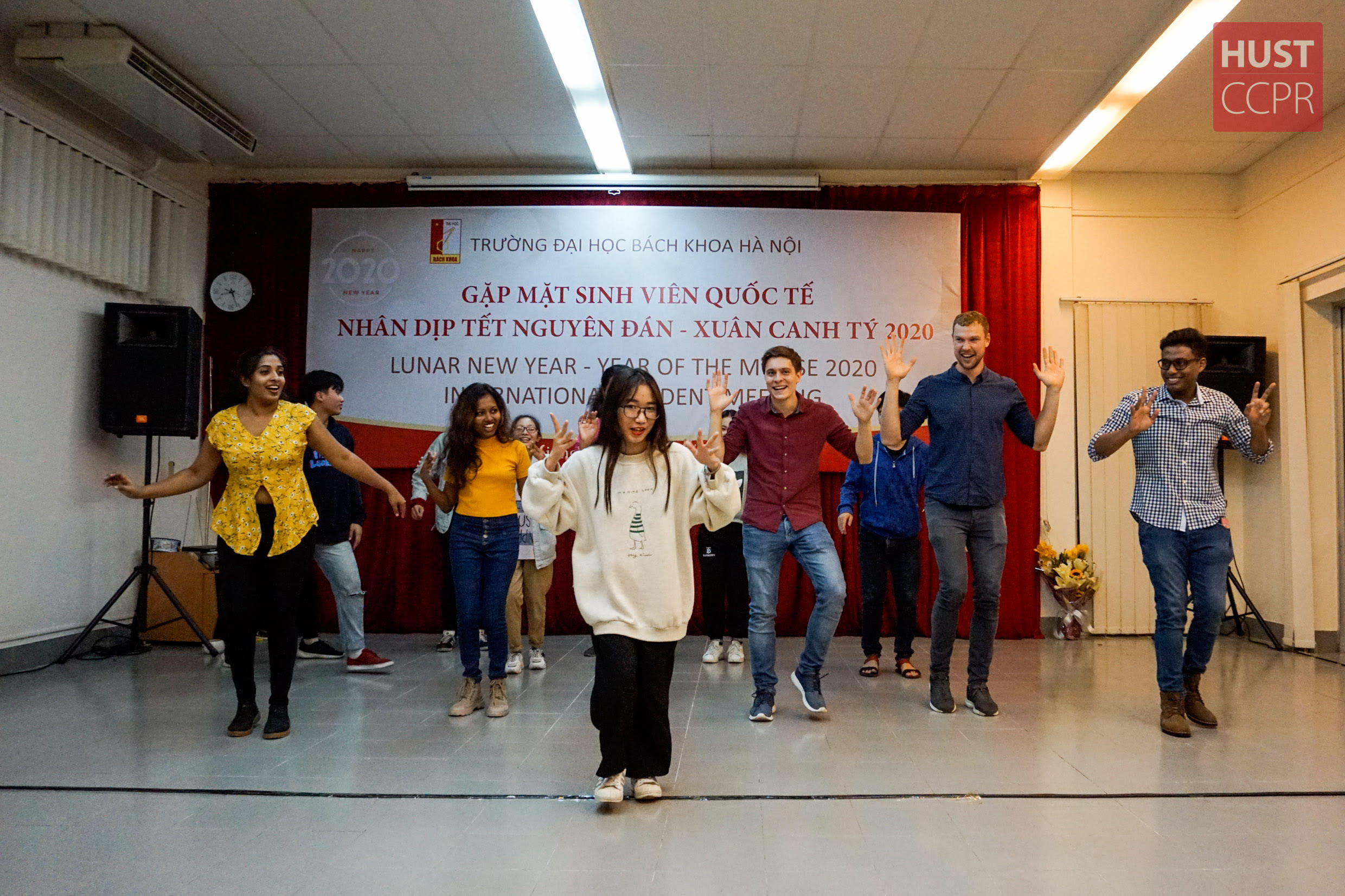 International students joined Vietnamese students on "Trong com" dance
Sonxay Luangoudom (Laos) – Ph.D. at ICT: "I have been here for more than 10 years so to me Vietnam is my second country. To live and to study at HUST is my honor. At the same time, it is a hardship as studying in HUST is not an easy task. I hope the Laos students can successfully graduate to proudly present about HUST and Vietnam when coming back to Laos."
Daniel Josson (Sweden) – Exchange student at ICT: "I have been very welcomed by all students and teachers when I am here. Another thing I really like is that many events for students such as Bach khoa got talent or other events for international students, are run by the students.".
Yorn Chanthong (Cambodia) – 4th-year student at BFE: "I want to thank HUST for taking care of us by holding a New Year event for International students. I wish everyone health and success."
Mayomi Chandima (Sri Lanka) – 2nd-year student at Electrical Engineering: "I'm really proud to be a HUST student. I love activities at HUST, especially the International Students' Festival since I have made a lot of friends there. Even though we have a language barrier, I tried hard to talk and fit in with my Vietnamese friends.".
Thu Ha