https://hust.edu.vn/en/news/campus-life/isu-vietnam-2018-closing-ceremony-355670.html
On July 27th, 2018, the closing ceremony of International Summer University (ISU) 2018 had been organized at Hanoi University of Science and Technology (HUST). The program is a collaboration between HUST, National Economic University (NEU) and Vienna University (WU), with the participation of 40 students (twenty from WU, ten from HUST and ten from NEU). ISU 2018 started from July 8th to July 27th.

Under the framework of ASEA-UNINET, ISU had been implemented during 2004-2011. However, due to financial issue from European Union (?), the program was on hold from 2012. During WU visit in ASEA-UNINET 2017 Summit, HUST, NEU and WU came to an agreement of relaunching the ISU from 2018.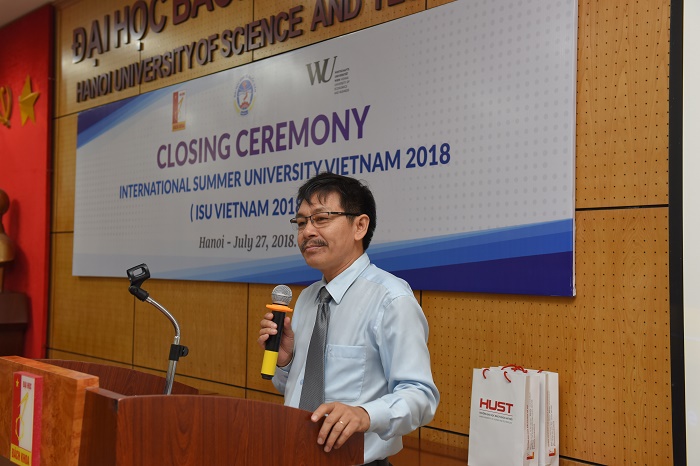 Assoc. Prof. Tran Van Top spoke at the ceremony
This summer course is a practical activity for lecturers and students to experience an international study environment and cultural exchange, helps to promote international cooperation between HUST and WU in particular and in ASEA-UNINET in general. ISU 2018 program is for economic students and organized in HUST and NEU.

This is an opportunity for Vietnamese and Austrian students to have unforgettable summer together. Joining the course, the students will improve their knowledge and skills over challenging activities and interesting classes. Being interacted with diversified topics, modern teaching method, teamwork and intellectual exercises, participants will be able to study at the fastest pace, express logical thinking, enhance communication reflex and English presentation skill.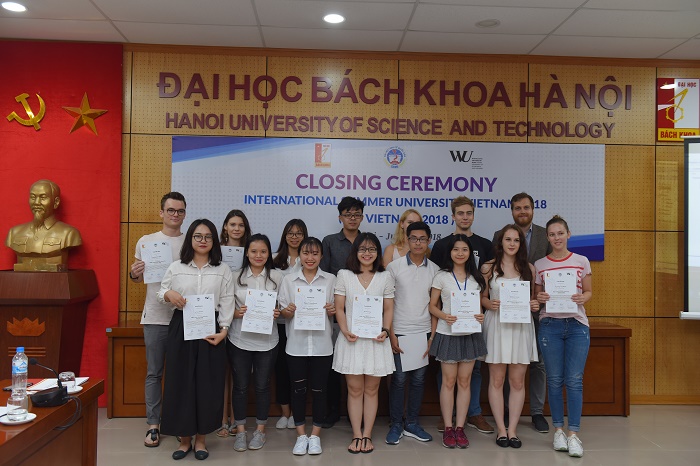 Speaking at the ceremony, Assoc. Prof. Tran Van Top – Vice President of HUST praised studying moral of students and appreciated the contribution of lecturers and coordinators for the program's success. He emphasized the importance of ISU program, an opportunity for students from both nations, not only to study about economy, but also to discover the political, cultural and people aspects of each nation, as well as establish friendship between Vietnam and Austria youth. Assoc. Prof. Tran Van Top believed that after the good result of ISU 2018, more and more Vietnam-Austria, Vietnam-EU joint-training programs will be implemented in the future.

Dr. Thomas Linder, on behalf of WU, expressed his contentment over the course's success and his appreciation for hospitability from Vietnamese lecturers and students.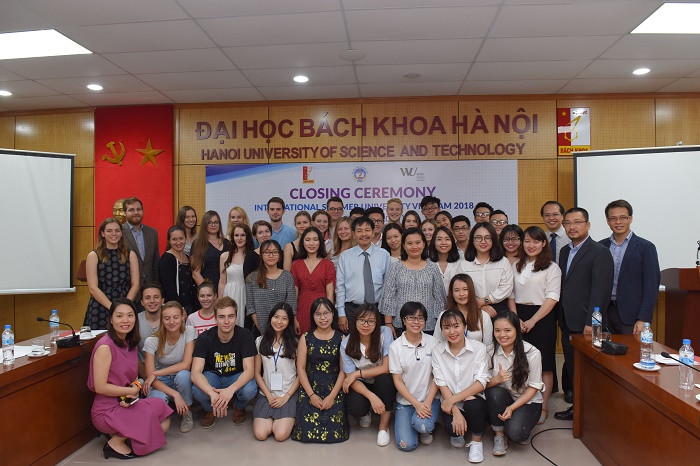 Do Duc Thanh Thuy (NEU), one of the participants, said: "I am very grateful to all of the good things that we have been able to experience during the past time. I would like to thank the new friends, a new culture, that help me to have more knowledge in economy and culture from their nation. This is a really sweet memory for my student life!"
CCPR