https://hust.edu.vn/en/news/campus-life/mou-signing-ceremony-between-hanoi-university-of-science-and-technology-hust-vietnam-and-the-asahi-glass-foundation-agf-japan-593435.html
On October 4th, Hanoi University of Science and Technology (HUST), Vietnam and the Asahi Glass Foundation (AGF), Japan did successfully organize the Memorandum of Understanding Signing Ceremony online mode via Microsoft Teams platforms and also livestreamed on the fanpage of HUST.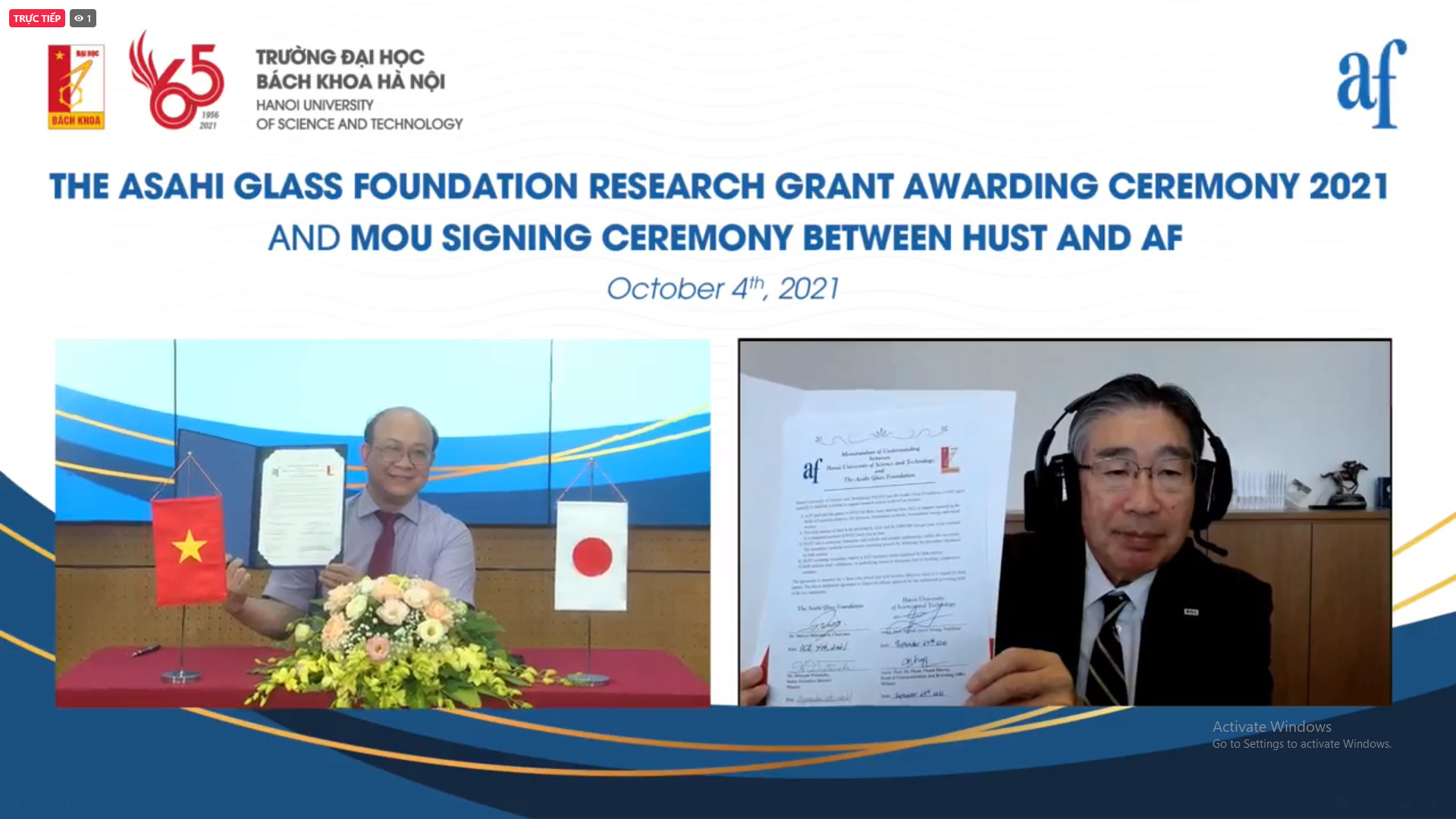 According to the MOU, Asahi Glass Foundation commits to provide Grants to HUST for three years starting from 2022, to support research in the fields of materials sciences, life sciences, information sciences, environment, energy and social science. The total amount of funds to be provided by AGF will be 3,000,000 yen per year
Eligible applicants must be researchers at HUST who are personally engaged in graduate-level research projects in faculties or research institutes respectively affiliated with HUST. Priority might be given to candidates with doctoral degrees, who have not had ministerial-level equivalent project or higher, the required output is at least one ISI / Scopus paper
Previously, in 2020, Hanoi University of Science and Technology and Asahi Glass Foundation also had signed the first MOU, which indicated that AGF would sponsor 2 million Japanese yen per year for 2 years period from 2020 -2021 for potential research proposal at HUST. During the Calls for AGF Granted Research Projects launched over the last 2 years, 41 research proposals have been submitted. Thanks to precious support from AGF, 6 and 7 research projects have been selected to be financed in 2020 and 2021 respectively with budgets vary from 200.000 - 400.000 yen per project.
In the Opening Address, Assoc. Prof. Huynh Quyet Thang, HUST President, conveyed his sincere thanks to Asahi Glass Foundation for the research-oriented supports. He stressed that: "this support should be a very meaningful starting point for young researchers at HUST, which motivate them to further develop their research path in the future"
During the AGF Grant awarding and MOU signing ceremony, Mr. Takuya Shimamura, the Chairman of Asahi Glass Foundation introduced 3 main programs of the Foundation, which are implementing by supporting advanced research and outstanding students, in addition by recognizing efforts to solve environmental problems that call for global solutions. He also sent his best wishes to HUST Researchers and expressed that: "I firmly believe in all of you, your future is bright, your potential is unlimited, and your possibilities are endless"
During the Ceremony, 7 new grantees have received the Grant Certificate and presented their research works. Dr. Nguyen Thi Thu, one of the AGF Fund grantees this year, introduce her project title "Influence of blank holder pressure on product quality in hydro static forming for sheet metal". Currently, Dr. Thu and her partners are doing research on thin shell forming applied in the automobile industry. This field has a lot of potential for development in Vietnam, which requires modern equipment to be able to study comprehensively. The young researcher is very proud to be selected for funding from AGF. She said: "I believe that, with the support from the Foundation, we can complete the research with remarkable results and have more contribution to the improvement of Vietnam's science and technology."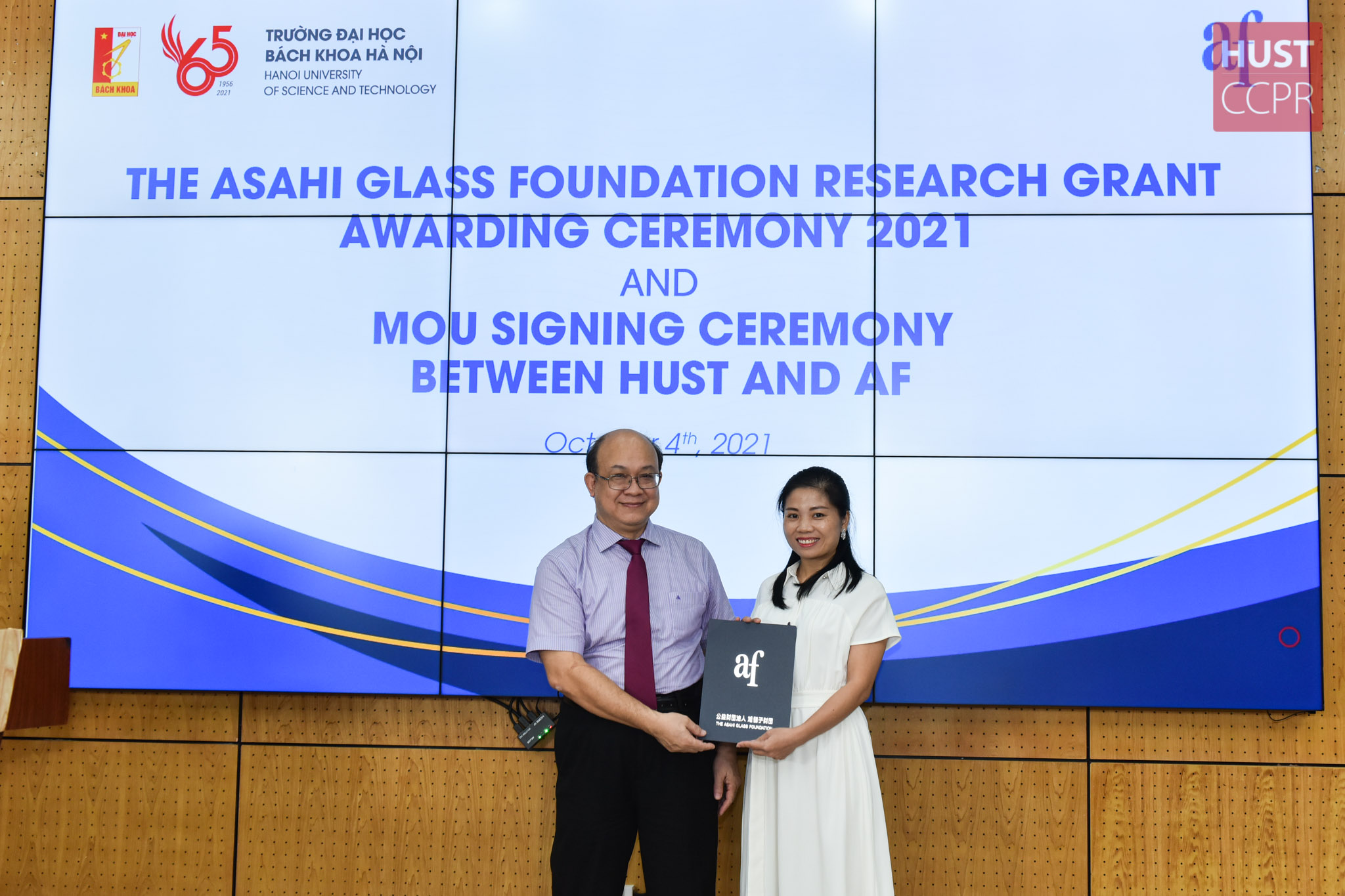 Dr. Nguyen Thi Thu, one of the AGF Fund grantees 2021
After the MOU signing ceremony, the report session has been organized, 6 promoters of selected projects have reported their research results. Most of them have achieved the registered research targets. Especially, Dr. Ha Bang Ban, School of Communications and Telecommunications has had 3 international publications, of which 2 are in the ISI/Scopus catalog.
The Asahi Glass Foundation has supported overseas research projects at Chulalongkorn University (CU) in Thailand since 1982, at the Institute Teknologi Bandung (ITB) in Indonesia since 1988, at King Mongkut's University of Technology Thonburi (KMUTT) in Thailand since 2012, and at Hanoi University of Science and Technology (HUST) in Vietnam since 2020. The Foundation hopes to contribute, through its programs for promoting science and technology, to the industrial, economical and social progress of these countries.
List of AGF Funded Projects at HUST 2020-2021:
No

Start
Year

Promoters

Affiliation

Title

1

2020

Nguyen Hoang Chung

Center for Polymer Composite and Paper Technology, School of Chemical Engineering

Production of nanocellulose-coated paperboard from sugarcane bagasse for the fabrication of food and drink self-biodegradable containers to replace single-use plastic items

2

2020

Ha-Bang Ban

Computer Science, School of Information and Communication Technology

Developing Metaheuristic Techniques for Solving Optimization Problems in Transportation for Post-Disaster Responses and Energy Savings

3

2020

Phan Thi To Nga

Department of Organic and Petrochemical Technology, School of Chemical Engineering

Synthesis of porous LaFeO3 with enhanced toxic gas sensing properties

4

2020

Luu Thi Lan Anh

Optics and Optoelectronics,
School of Engineering Physics

Synthesized and characterization of WO3 nanorod hybridization Gr application in environmental treatment

5

2020

Dao Quy Thinh

Department of Industrial Automation, School of Electrical Engineering

Development of a pneumatic artificial muscle based robotic orthosis for gait rehabilitation

6

2020

Nguyen Cao Son

Iron and Steelmaking, School of Materials Science and Engineering

Study on Ability of Basic Oxygen Furnace Slag recycling in Pre-treatment process

7

2021

Dao Quy Thinh

Department of Industrial Automation, School of Electrical Engineering

Development of a pneumatic artificial muscles based robotic orthosis for gait rehabilitation (Phase 2)

8

2021

Dao Huy Toan

Department of Pharmaceutical Chemistry and Pesticide Technology, School of Chemical Engineering

Semi-synthesis of new derivatives of zerumbone and their bioactivities against cancer

9

2021

Nguyen Thi Thu

Department of Metal Forming, School of Mechanical Engineering

Research of blank holder pressure on product quality in the hydrostatic forming for sheet metal

10

2021

Vo Le Cuong

Department of Electronics and Computer Architecture,
School of Electronics and Telecommunications

Social Distancing preventing Covid-19 spread based on computer vision and deep learning technology

11

2021

Do Xuan Truong

Department of Chemical Engineering, School of Chemical Engineering

Techno-economic and greenhouse gas emission analysis of bioethanol production from Cassava in Vietnam

12

2021

Nguyen Duy Dinh

Department of Industrial Automation, School of Electrical Engineering

A flux balancing technique for DC/DC converters in quick charging station applications

13

2021

Nguyen Cao Son

Department of Iron and Steelmaking, School of Materials Science and Engineering

Study on Ability of Basic Oxygen Furnace Slag recycling in Pre-treatment process, Phase 2: Role of Basic Oxygen Furnace Slag in Dephosphorization and Desulphurization of Hot Metal
EAO - HUST