https://hust.edu.vn/en/news/campus-life/sekisho-awarded-1-billion-vietnam-dong-to-hust-student-s-men-football-team-355720.html
On August 1st, for the first time in history, Hanoi University of Science and Technology (HUST) Men's Student Football Team received 1-billion-VND-Sponsorship from Sekisho Vietnam Co., Ltd.
Mr. Ngu Duy Anh – Head of Physical Education Department (Ministry of Education and Training) – Vice President – Secretariat of University and Professional Sports Association of Vietnam; Mr. Masaki Seki – General Director of Sekisho; Assoc. Prof. Hoang Minh Son – President of HUST; representatives from schools and departments of HUST, and members of the football team had participated the Ceremony.
Following this agreement, Sekisho shall sponsor the HUST men's student football team with a program of 1 billion VND, including one training trip for the team in Japan, training activities and programs and acquiring equipment.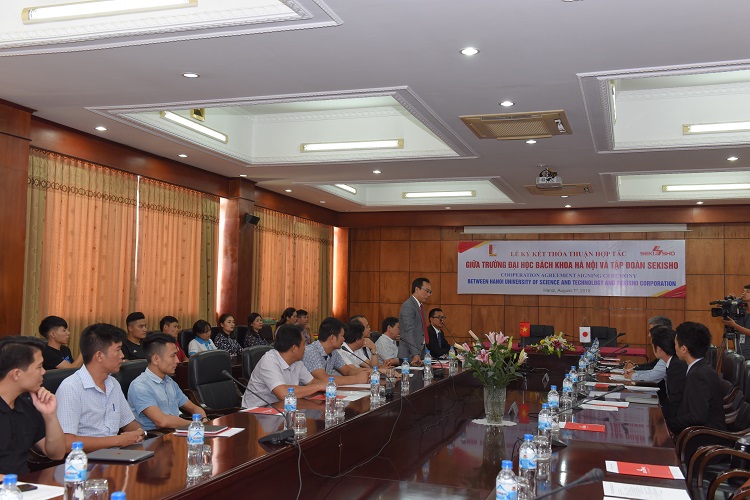 Representatives during the Ceremony
Speaking at the Ceremony, Mr. Masaki Seki expressed the happiness as finally the Company could deliver the sponsorship to the University Men's Football Team, after 2 years of cooperation: "I personally am a big fan of sport, especially football. In Japan, we have been supported for Kashima Antlers FC, which is currently playing the J-Leagues – the top league in Japan. We also organize a student football tournament named "Sekisho Challenge Series". In Vietnam, we look forward to having similar activities, and HUST is our solid trust. Me, as well as Sekisho Copr., hope that we can bring out the new development for young football players of HUST, help them to have better conditions for study and research".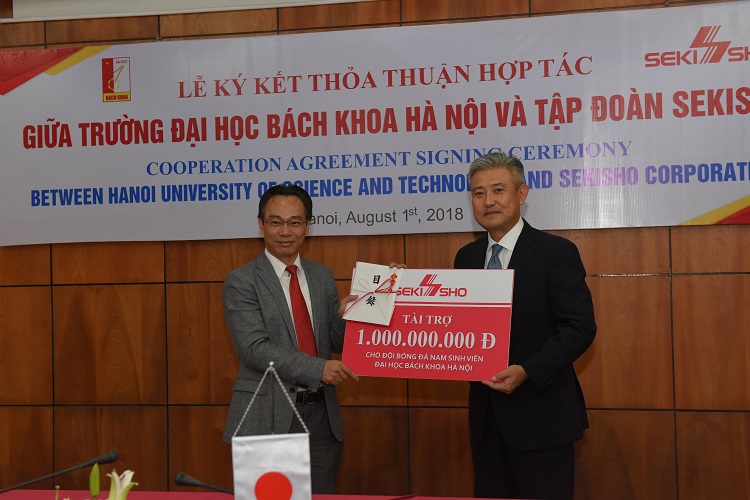 Assoc. Prof. Hoang Minh Son and Mr. Masaki Seki signed the sponsorship agreement.
While appreciating the contribution of Sekisho Corp. and Mr. Masaki Seki, Assoc. Prof. Hoang Minh Son added: "This cooperation is an excellent opportunity for HUST young players to exchange and learn from Japanese teams. Additionally, the team can improve their skills and physical conditions, thus improving their level and achievements in future tournaments".
CCPR
Email: ccpr@hust.edu.vn