https://hust.edu.vn/en/news/campus-life/university-leadership-in-asia-s-next-normal-southeast-asia-leaders-summit-2021-570746.html
Together with 15 other ASEAN University Presidents/Rectors, President of HUST - Assoc. Prof. Huynh Quyet Thang has joined the TF-NUS PLUM Southeast Asia Leaders' Summit 2021, held virtually from 26 to 27 April 2021. Since 2012, this Summit has been a gathering of top ASEAN university leaders to discuss priorities and challenges, as well as to exchange ideas and experiences among institutions in the region.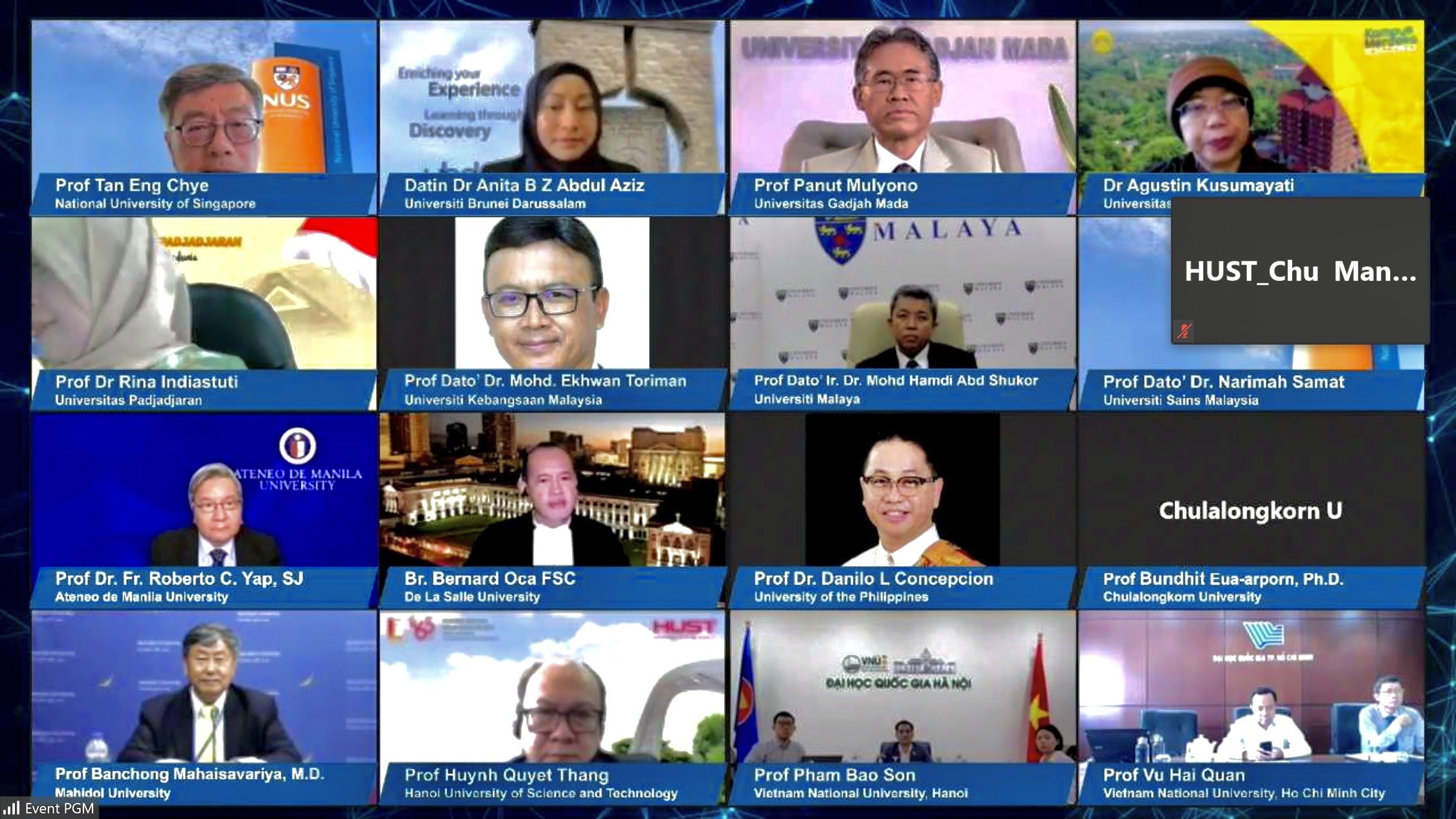 Assoc. Prof Huynh Quyet Thang, together with 15 other ASEAN University Presidents/Rectors, President
The Temasek Foundation - NUS Programme for Leadership in University Management (TF-NUS PLUM) is a flagship university governance programme organized by NUS since 2012. The programme serves as a platform for university leaders to discuss issues, share experiences, generate and advance breakthrough ideas on the governance and management of ASEAN universities.
This year's edition on "University Leadership in Asia's Next Normal" aims to reshape ideas and practices in higher education in response to the global disruption created by the COVID-19 and discuss ways forward for ASEAN higher education institutions as we navigate the next normal.
Themed "University Leadership in Asia's Next Normal", this year summit provides participants with:
Insights by thought leaders on how higher education institutions can better navigate the next normal, including speaker David de Cremer, one of 30 global management thinkers to watch in 2021

Roundtable & dialogues for University Presidents/Rectors to exchange views

Views from leading industry leaders on equipping our students for the next normal

Networking opportunities with other University Presidents/Rectors and the esteemed line-up of speakers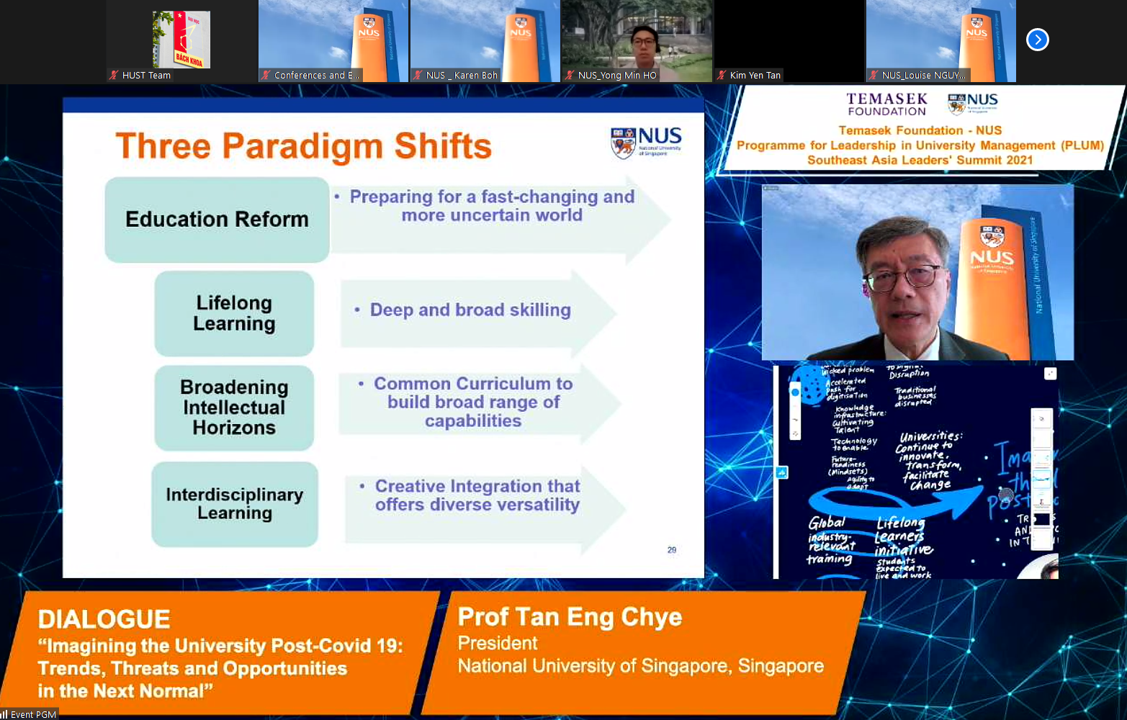 Prof. Tan Eng Chye, NUS President's sharing during the dialogue session of the summit
The summit has brought together leaders of many top universities in the region. In which, Vietnam has 3 representatives including HUST, VNU-HN, and VNU-HCM.
As a highlight of the event, in Presidents' Roundtable session, Prof. Thang, HUST President has mentioned HUST's top priorities in advancing the institution through the pandemic. In terms of academics, he shared "HUST has proactively planned teaching and learning in epidemic prevention conditions while ensured health safety and life assurance for students, staff, and lecturers". Supports from HUST and businesses (HUST alumni) have been promptly sent to students: nearly 400 students received laptops for online learning; and up to 6000 students whose families have been economically affected by Covid-19 are exempt from tuition fees. Moreover, HUST has produced and presented antiseptic solutions to many centralized quarantine areas.
Regarding research, besides encouraging HUST researchers' initiatives related to the Covid 19 pandemic, "we also promoted the domestic industry collaboration which enables HUST to maximize the potential in dealing with difficulties created by border limits", he stated.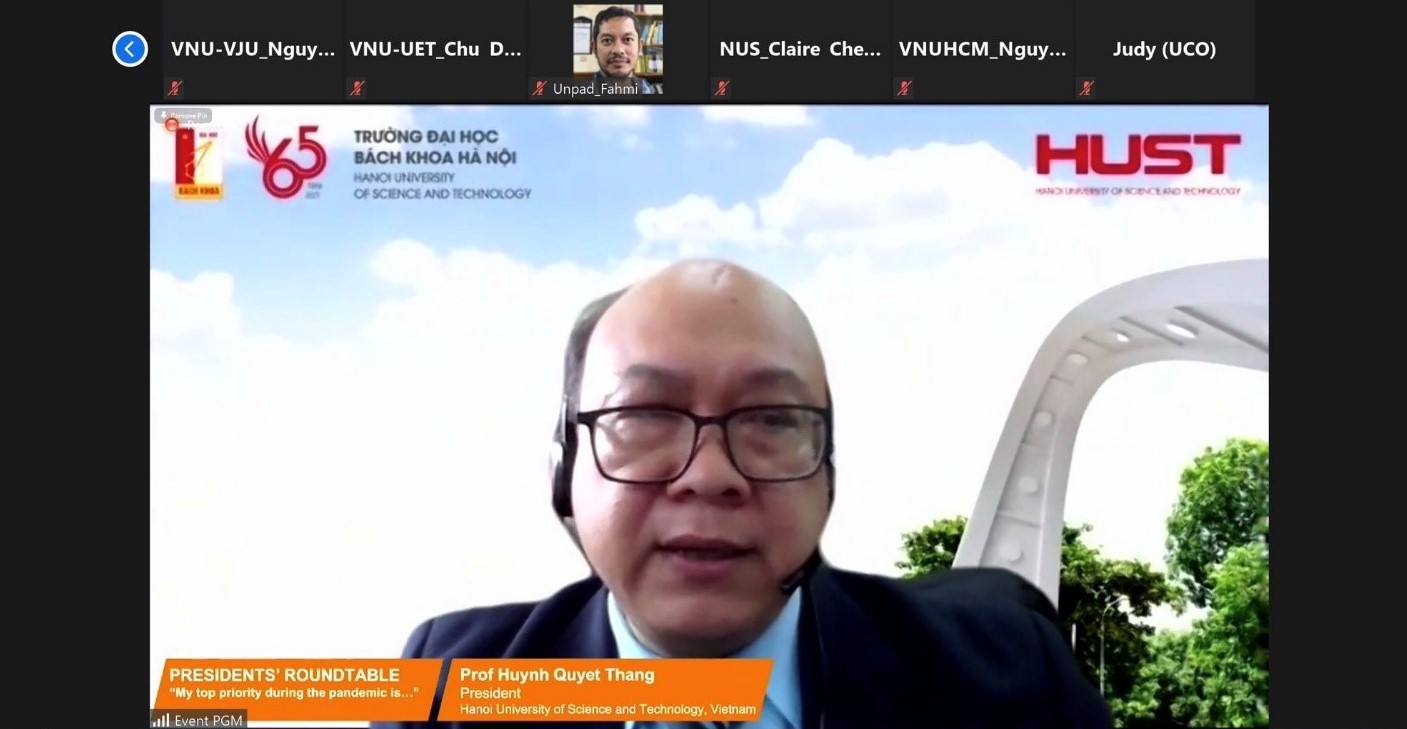 Assoc. Prof. Huynh Quyet Thang attends the 2-day summit
This meaningful gathering of ASEAN University Presidents, Rectors, and Vice-Chancellors has successfully served as a platform to advance institutions through the pandemic and build robust and future-proof education systems for the region.
EAO - HUST