https://hust.edu.vn/en/news/campus-life/hust-appointed-as-president-of-asea-uninet-2017-2019-218690.html
From 17 to 20 July 2017, the Plenary Meeting of ASEA-UNINET (Asean-European Academic University Network) took place in University of Music and Performing Arts Graz, Austria. At the invitation of ASEA-UNINET Executives, Assoc. Prof. Dr. Huynh Quyet Thang led HUST delegation to attend the Plenary Meeting and officially visited some Austrian partner universities.
In the framework of ASEA-UNINET, the Plenary Meeting 2017 with the theme "Sustainability" officially took place from 17 to 20 July 2017 in Graz, Austria with the participation of more than 110 representatives from member universities, OeAD & EU organizations. The Plenary Meeting also greeted the presence of Ambassadors of some ASEAN countries to Austria: Indonesia, Phillipines, Vietnam.
At the Plenary Meeting, activity reports & proposals for future collaborations among ASEA-UNINET members were presented by ASEA-UNINET National Coordinator of each member country. Reports and reviews on European and Austrian Funding Schemes such as OeAD funded projects, Erasmus Plus, EURAXESS, Asia – European Collaboration Program 2014-2020, ASEAN - European Dialogue, … were presented by keynote speakers. Participants focused on group discussions, sharing the mutual interests and building joint collaborative proposals in sustainable focal areas including: Water Resource Management, Sustainable Manufacturing, State Governance and Economics, Society & Health.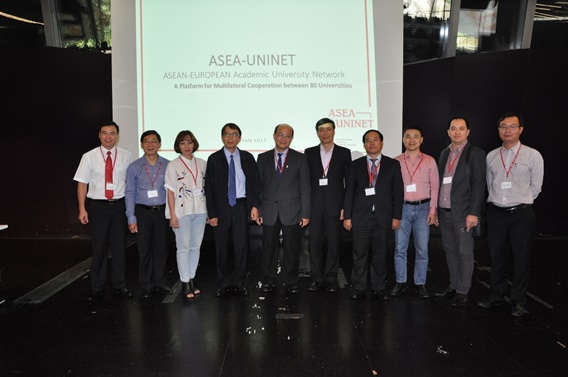 Vietnamese Delegation attended ASEA-UNINET Plenary Meeting 2017
At the end of the plenary meeting, representatives from partner universities participated in an election for ASEA UNINET National Coordinator and the Network President. Assoc. Prof. Dr. Huynh Quyet Thang, HUST Vice President was elected as ASEA-UNINET President and Assoc. Prof. Ngo Chi Trung was voted as Vietnam National Coordinator for the term 2017- 2019.
After the ASEA-UNINET Plenary Meeting, Assoc. Prof. Huynh Quyet Thang paid working visits to some close partner universities in Graz and Vienna including: Technical University of Graz, Vienna University of Technology (TUWien), University of Business Administration and Economics Wien (WU) and University of Life Sciences and Natural Resources (BOKU). During the visits to Austrian universities, many collaborations related to bilateral/ multi-lateral research projects, students and staff exchange programs, EU funded projects such as Erasmus Plus or Horizon 2020…were proposed and discussed in details.
Asean-European Academic University Network (ASEA-UNINET)
The ASEAN European Academic University Network (ASEA-UNINET) is a network of universities, consisting of European and South-East Asian universities with the goal of promoting the continuous internationalization of education and research. The Network was established in 1994 and currently consists of over 90 member universities from 20 countries across the world. Hanoi University of Science and Technology (HUST) has been active member of Asea-Uninet since its early establishment and is holding the position as Asea-Uninet President and National Coordinator for Vietnam.