https://hust.edu.vn/en/news/campus-life/mou-signing-ceremony-between-hust-and-siemens-limited-company-282798.html
A Memorandum of Understanding (MOU) between Hanoi University of Science and Technology (HUST) and Siemens Limited Company (Siemens) was officially signed on November 24th, 2017 to promote the development cooperation in the field of science and technology towards the Industry Revolution 4.0.
Under the MOU, Siemens and HUST will collaborate in the development of Digital Factory Lab at HUST. Specifically, Siemens will provide HUST with the required equipment and software towards the Industry 4.0 Training at the Digital Factory Lab and support HUST in the implementation of practical training courses and relevant industry 4.0 seminars at HUST. In addition, HUST will develop an industry 4.0 oriented training curriculum with the support of Siemens.
Addressing at the Signing ceremony, Assoc. Prof. Hoang Minh Son – President of HUST emphasized: "It is a great pleasure for the university to cooperate with a leading global corporation on digital technology like Siemens. This cooperation will not only help us to meet the needs of improving the quality of education and training, but also to be in line with the elite training program of HUST towards the 4.0 Industrial Revolution, namely ELITECH. Our students will receive tremendous benefits from the practical experience with advanced digital technology in the classroom that will give them significant advantage when they start working in the field of manufacturing".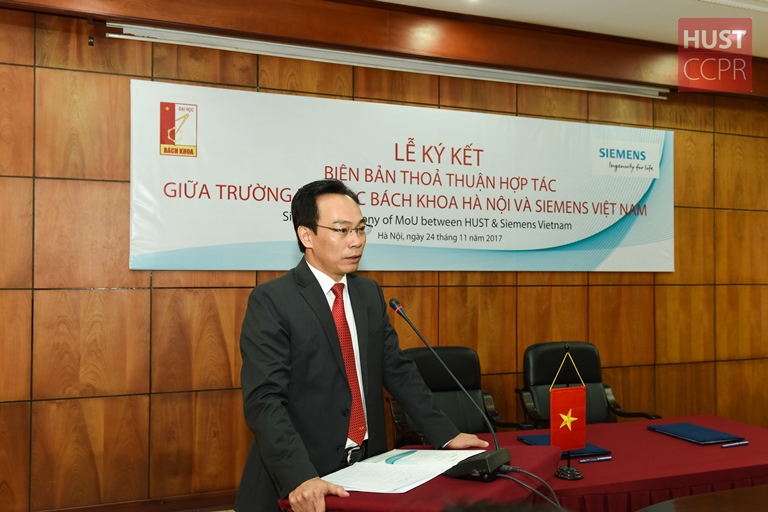 Assoc. Prof. Hoang Minh Son – President of HUST
In response, Dr. Pham Thai Lai - President and CEO of Siemens Vietnam affirmed that: "Education is the key of the sustainable development. We have been providing strong support for the education and training of young people around the world. Today, through the enhancement of cooperation with HUST, we are proud that Siemens can help HUST to develop the next talented generation of digital for Vietnam. "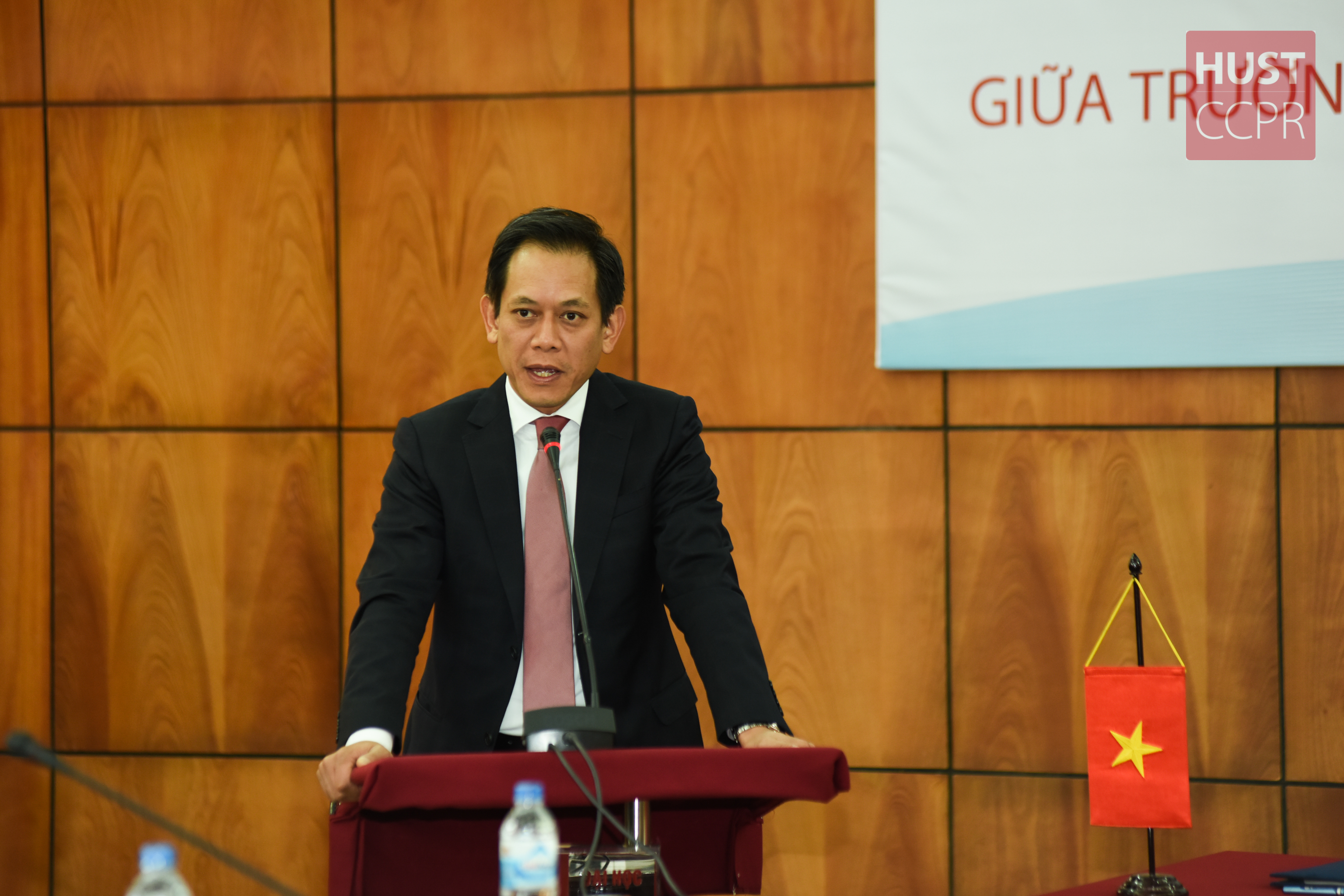 Dr. Pham Thai Lai - President and CEO of Siemens Vietnam
HUST and Siemens started cooperation in 1996, just three years after Siemens' official presence in Vietnam. At the same time, Siemens supported HUST to establish the Automation Training Center. Siemens has donated a wide range of automation equipment and Siemens software, including SIMATIC PLC, the Product Life Management (PLM) such as Tecnomatix - the industry-leading digital solution for the manufacturing industry, or the NX software - a comprehensive digital product development solution, or SINCAL.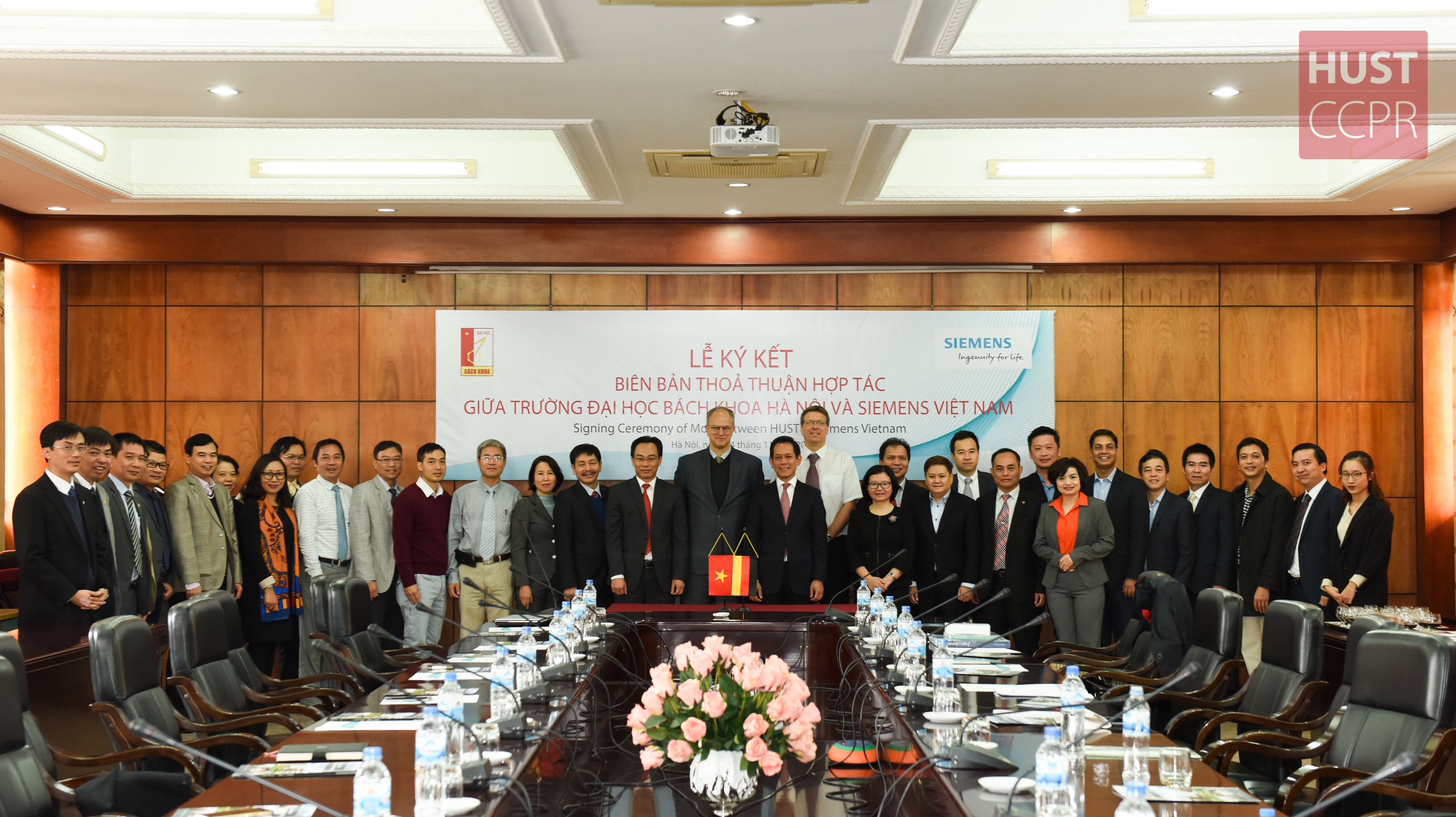 Delegates at the MOU Signing Ceremony
In the framework of the signed Agreement, Siemens will sponsor 200 software copyrights of Solid Edge 3D CAD to HUST with a commercial value of approximately $ 30,000 each. Siemens will also propose HUST a tailor-made "Train-the-Trainer Course" including training methods for comprehensive skill development in an Industry 4.0 related curriculum to ensure world class quality of HUST education and Training System towards Industry 4.0.