https://hust.edu.vn/en/news/campus-life/promoting-cooperation-in-joint-research-and-training-in-optics-and-optoelectronics-between-hust-and-haesung-vina-125403.html
Towards the 60th anniversary of University establishment (15/10/1956 -15/10/2016), in the morning of April 05th 2016, Hanoi University of Science and Technology and Haesung Vina, a branch in Vietnam of Haesung Optics (Republic of Korea) signed an MOU to promote opportunities for training high-quality human resources and enhancing scientific research cooperation in the field of optics and optoelectronics at HUST.
Attending the signing ceremony were Mr. Lee Eul Sung - Chairman of Haesung Optics; Mr. Lee Jae Sun – President of Haesung Optics, Mr. Seo Kwang Hee, President of Haesung Vina, Assoc. Prof. Dr. Hoang Minh Son, HUST President, Assoc. Prof. Huynh Quyet Thang, HUST Vice President and other representatives from relevant departments and schools at HUST.
The objective of the MOU between Haesung Vina and HUST is to enhance research capacity in the field of optics and optoelectronics, and technology transfer in high-tech electronic products; to train qualified human resources and establish laboratories, research centers to create potentials of research collaboration among faculty members, students with the engineers, and experts in Haesung Vina.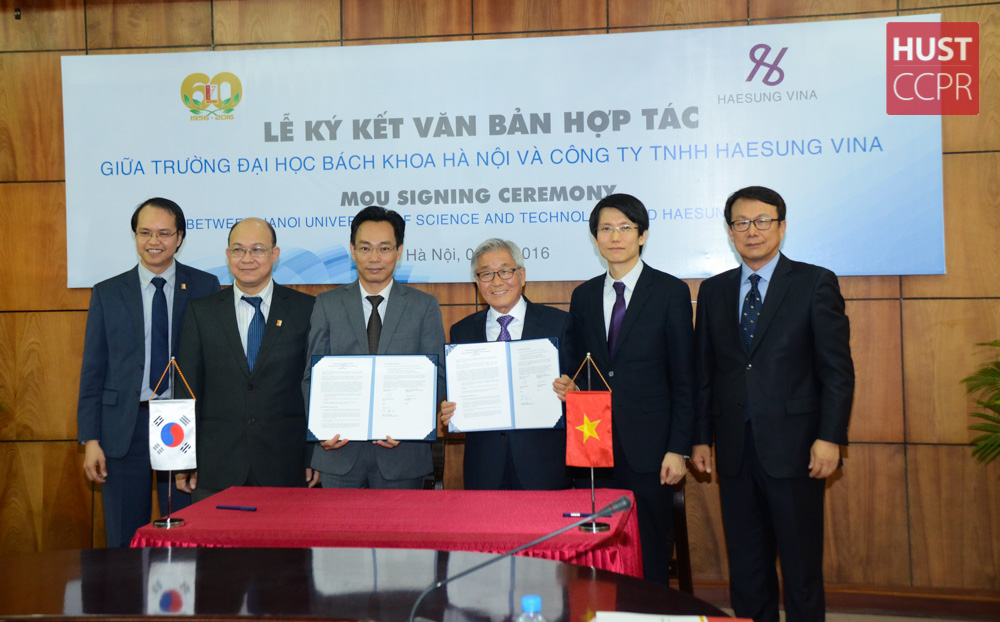 Prof. Hoang Minh Son and Mr.Lee Eul Sung official signed MOU
Delivering welcome speech at the signing ceremony, Assoc. Prof. Dr. Hoang Minh Son said: "Haesung Optics is one of the enterprises with strengths in manufacturing optical and optoelectronics devices which are also two specialized training fields focused in School of Engineering Physics at HUST. HUST appreciated and looked forward to cooperating with Haesung Vina under the umbrella of Haesung Optics to promote comprehensive cooperation development in training, research and technology transfer".
When the cooperation agreement was signed, Heasung Vina hoped the R&D center in the field of optics and optoelectronics will successfully be established and developed at HUST and would bring back many benefits for the parties to cooperate in particular and Vietnam – Korea in general.
Mr. Lee Eul Sung confirmed the importance and significance of the MOU signing in this time. He also considered this as a good opportunity for both sides to enhance collaboration in training specialized human resources from University; research and development in optics and optoelectronics in order to create breakthrough for Vietnam in the production of advanced technology products, then to meet the requirements of the domestic and international market.
In recent years, University and Industry linkage has always been paid attention and identified as one of the strategic solutions for long-term development by HUST. It is aimed to implement our University academic and research mission to meet the economic development needs in line with the international integration trend. In particular, Hanoi University of Science and Technology and the Korean partners have strengthened and tightened cooperation relationships, achieved many remarkable achievement. Since 2010, there have been 25 new MOUs signed with different partners from universities, research institutes, large, SME enterprises of Republic of Korea (Samsung, LG, Dasan Network, ACE ...) and more than 100 HUST faculty members are alumni trained from leading universities and Institutes in Korea as well.