https://hust.edu.vn/en/news/announcement/talented-lecturer-recruitment-653844.html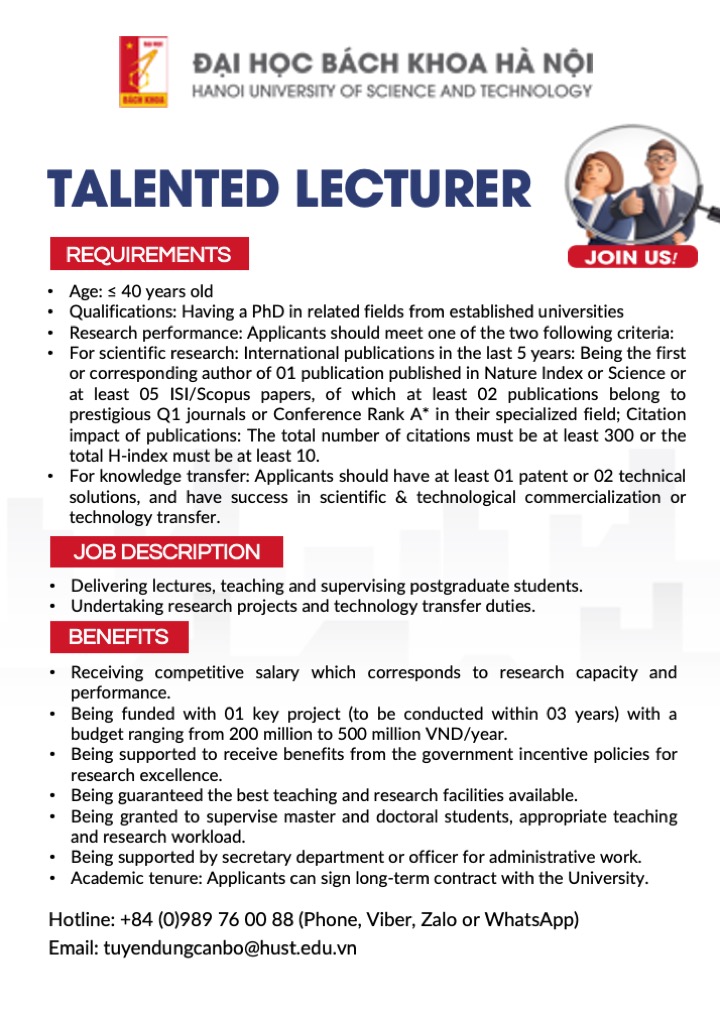 1. JOB DESCRIPTION
2. REQUIREMENTS
Age: ≤ 40 years old*
Qualifications: Having a PhD in related fields from established universities
Research performance: Applicants should meet one of the two following criteria:
For scientific research: International publications in the last 5 years: Being the first or corresponding author of 01 publication published in Nature Index or Science or at least 05 ISI/Scopus papers, of which at least 02 publications belong to prestigious Q1 journals or Conference Rank A* in their specialized field; Citation impact of publications: The total number of citations must be at least 300 or the total H-index must be at least 10.
For knowledge transfer: Applicants should have at least 01 patent or 02 technical solutions, and have success in scientific & technological commercialization or technology transfer.
3. BENEFITS
Receiving competitive salary which corresponds to research capacity and performance.
Being funded with 01 key project (to be conducted within 03 years) with a budget ranging from 200 million to 500 million VND/year.
Being supported to receive benefits from the government incentive policies for research excellence.
Being guaranteed the best teaching and research facilities available.
Being granted to supervise master and doctoral students, appropriate teaching and research workload.
Being supported by secretary department or officer for administrative work.
Academic tenure: Applicants can sign long-term contract with the University.
Contact information:
Hotline: +84 (0)989 76 00 88 (Phone, Viber, Zalo or WhatsApp)
Email: tuyendungcanbo@hust.edu.vn
*Calculated at the time of application submission.