https://hust.edu.vn/en/news/campus-life/2-000-to-join-vietnam-artificial-intelligence-day-488927.html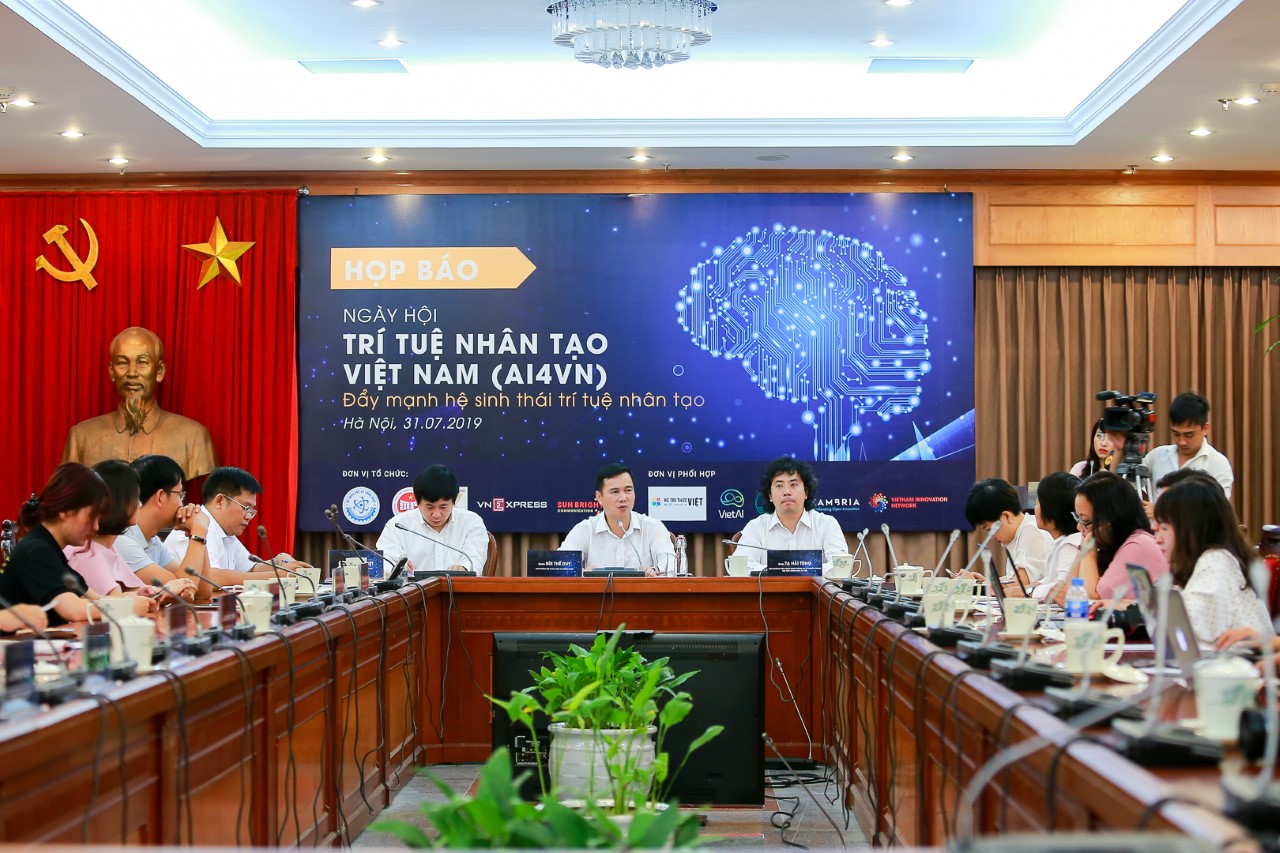 The 2019 Việt Nam artificial intelligence day is expected to attract 2,000 participants, the organiser said. — VNS Photo Hoa Vu
The Vietnam Artificial Intelligence Day (AI4VN) 2019 is slated to take place in Hanoi in the middle of this month, with a number of activities involving one of the hottest sectors of the tech industry.
The two-day event scheduled for August 15 and 16 at Hanoi University of Science and Technology in Hai Ba Trung District will also feature a coding competition.
AI4VN, organized by the Ministry of Science and Technology, Ministry of Planning and Investment, and Hanoi University of Science and Technology, is expected to gather hundreds of Vietnamese and foreign artificial intelligence (AI) academics.
Speaking at a press conference on Wednesday, Deputy Minister of Science and Technology Bùi Thế Duy said AI4VN aims to promote AI development in Việt Nam by connecting members of the ecosystem like research institutes, technology companies, and start-ups. "Vietnam has been considered as one of countries which have updates for the latest technologies of the Industry 4.0 including AI," Duy said.
"However, the country has not had sufficient resources to focus on developing a totally new technology like AI. It therefore requires supports from businesses, individuals and research units to establish an AI community in Vietnam. This could help Vietnamese people to have AI-based products."
He said AI has been considered as one of key technologies in the Fourth Industrial Revolution. Many countries have seen big affects of AI in all aspects of life. Vietnam would not be outside the trend.
Associate Professor Ta Hai Tung, Dean of the School of Information and Communication Technology - Hanoi University and Technology said AI helps to connect with people's diversified demands. In the trend of digital transformation, AI in combination with Big Data would create added values and conveniences for the future.
Currently, AI application has been widely used in education and transport sectors in the country.
Also planned are a series of workshops on AI in tourism, health, education, and finance, among others, to take place with the participation of Vietnamese and foreign experts, businessmen and researchers. Visitors will be treated to exhibitions and the showcasing of self-driving cars and robots.
Leading speakers in the world such as Dr Ulli Waltinger from Siemens, Stefano Ermon from Stanford University will be speaking. CEOs of leading Vietnamese technology firms such as FPT, VinAI and CMC will be discussing AI development in Việt Nam. One of the main guests is Peter Vesterbacka, co-founder of the popular Angry Bird Game.
According to Gartner Group, the world's AI industry in 2018 saw strong growth of more than 70 per cent in comparison with the previous year, reaching the value of US$1.2 trillion. AI would become one of the breakthrough technologies in the next 10 years thank to advances in calculation capacity, speed and diversified data.
In Vietnam, AI is listed among advanced technologies for prioritised investment in development. The Government considers it a spearheaded factor of the Fourth Industrial Revolution.
The agenda and list of invited speakers is now available at https://ai4vn.vnexpress.net/en
VNS