https://hust.edu.vn/en/news/campus-life/hust-scientist-in-lockdown-covid-19-changes-the-way-we-do-science-571583.html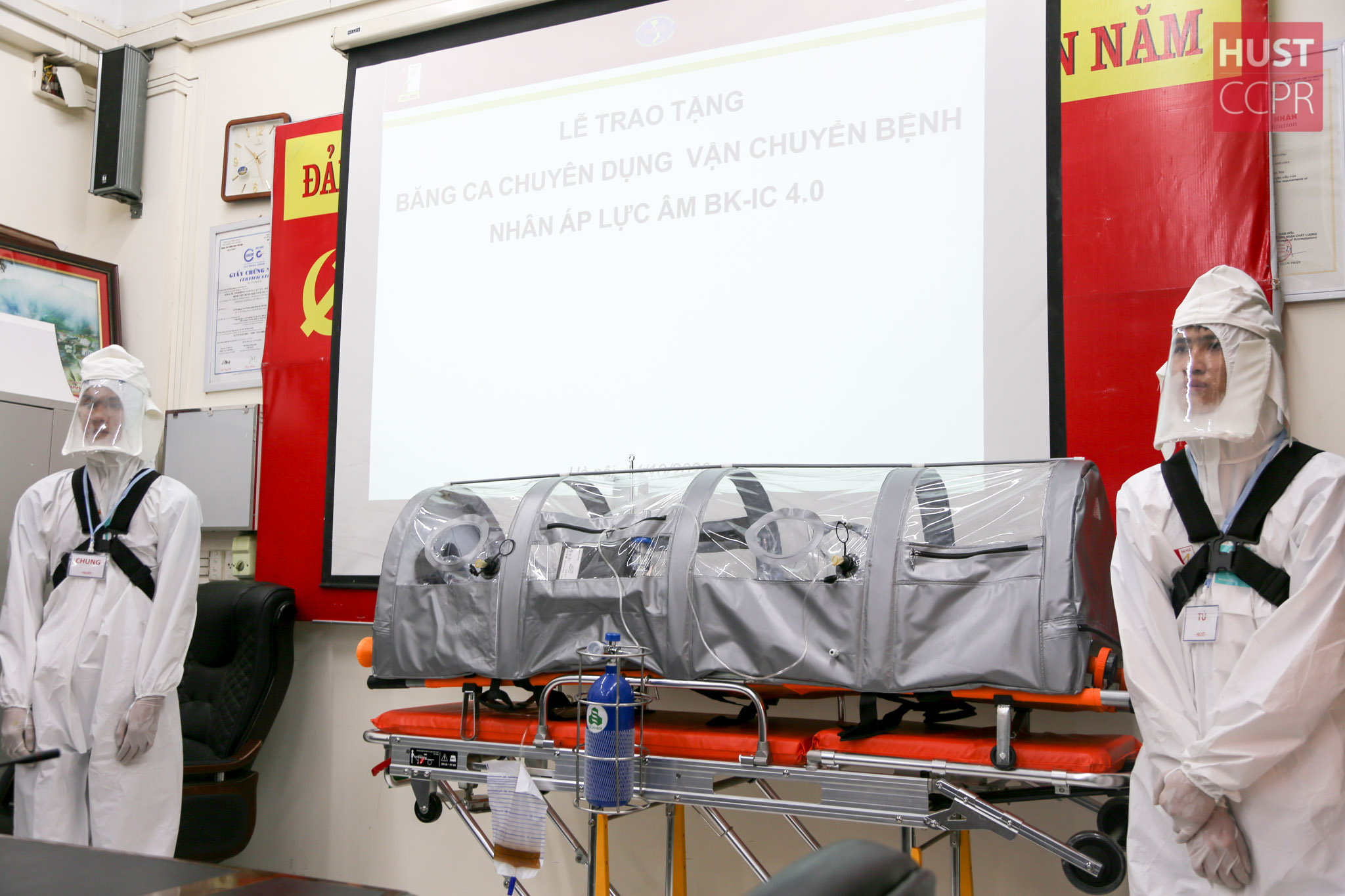 Associate Professor Phan Trung Nghia, Director of the Center for Rubber Science and Technology at Hanoi University of Science and Technology, who is the mastermind behind a series of medical devices for use against coronavirus, discusses how the Covid-19 pandemic has forced scientists to step back, change the way they do scientific research, what lessons they can take away from it.
Almost every aspect of life has been dramatically disrupted by the Covid-19 pandemic, caused by novel virus SARS-CoV-2. That is also true to the field of science and technology. It is inevitable there has been disruption in research work, especially for experimental scientists, Associate Professor Phan Trung Nghia told HUST News.
"We were forced to adjust ourselves to be more flexible and responsive so that we could adapt better to external changes," Associate Professor Phan said.
He shared personal experience of making use of his time during the lockdown period. "As scientists, we should think differently about what they could do during the crisis," he referred to the fact that all the laboratories were closed when Vietnam entered a three-week period of nationwide social distancing in last April to stem a wave of Covid-19 community transmission.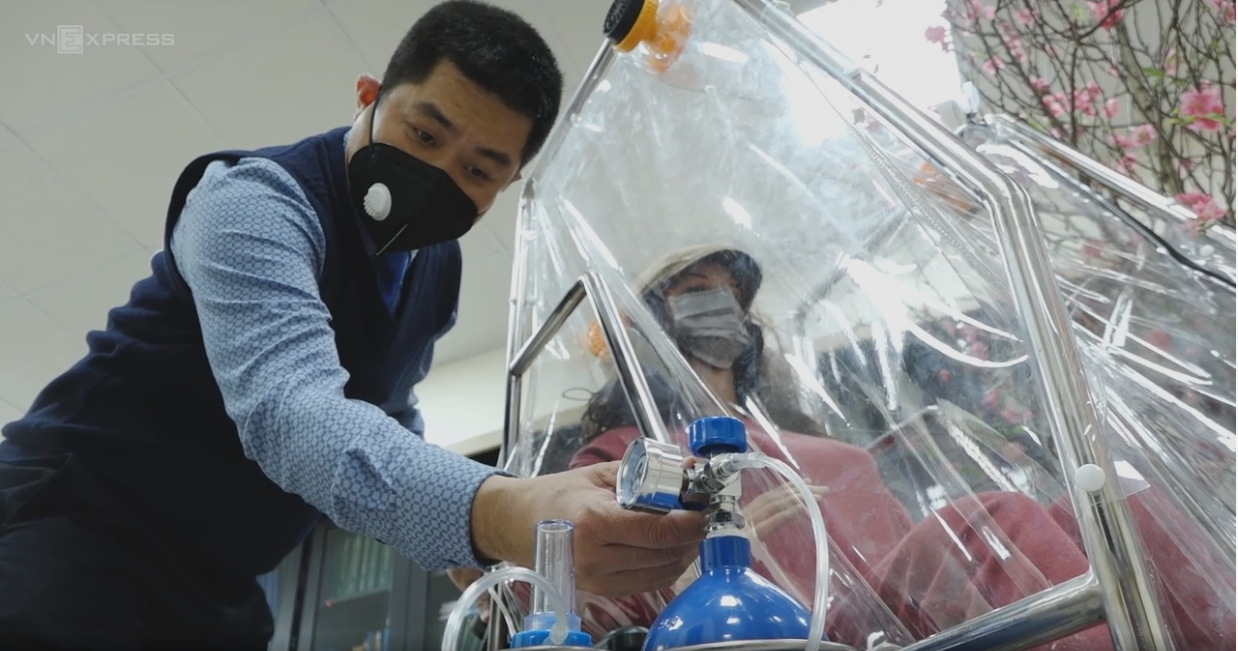 Associate Professor Phan Trung Nghia with the negative pressure wheelchair in his office in Febuary 2021. Photo by VnExpress.
He suggested scientists invest their time during lockdown in building theoretical framework, dissecting hypotheses, and examining multiple possibilities. Nowadays in a digital world, a steady stream of open data via pre-prints, expedited publications and online resources has made it easier for scientists and researchers worldwide to work from home, the associate professor said.
"When the laboratories are reopened, we would be more prepared to progress our research further," he said.
He added the only positive impact of lockdown was the absence of what he called "social obligations", referring to the fact that during social distancing he no longer felt the pressure to do things just for the sake of social etiquette such as reciprocating an invitation to a party.
The HUST's polymer chemist, whose research interests focus on the chemical synthesis, structure, and chemical properties of natural rubber, said along with challenges, the pandemic has brought about opportunities for scientists to try new ways to remain productive and contribute to society.
"Gone are the days when we did slow research," the polymer scientist pointed out how the Covid-19 pandemic has significantly changed the course of scientific research.
During the nationwide lockdown, Associate Professor Phan and his research group began building from scratch a set of 4 medical devices against coronavirus.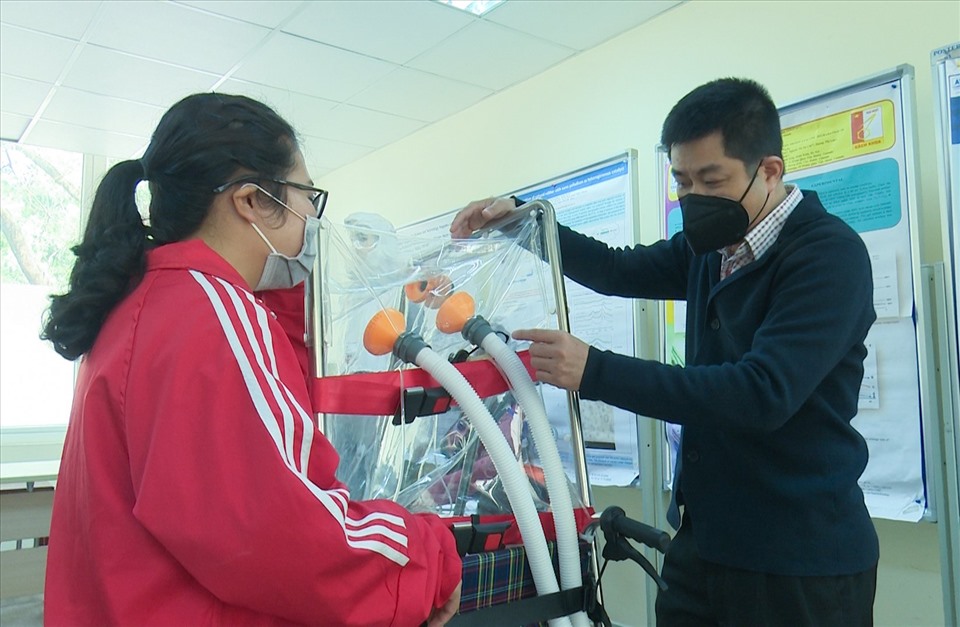 Associate Professor Phan Trung Nghia (right) tests the negative pressure wheelchair in his office in Febuary 2021. Photo by The Anh.
The idea for the first device, a negative pressure stretcher, came to his mind from the realization that in the unprecedented times as the Covid-19 outbreak, people in a hospital setting would be more vulnerable to airborne infections than others. And he highlighted the extent to which keeping health workers safe is vital to a functioning health system and a functioning society.
The negative pressure stretcher is used for patients with a confirmed infection of Covid-19 or those susceptible to the disease. It is negatively pressurized with respect to adjacent areas to prevent airborne contaminants from drifting to other areas and contaminating health workers, other patients, and sterile equipment.
Associate Professor Phan developed the product to include a mobile Ultraviolet High Efficiency Particulate Absorbing air purification system. The stretcher, fully covered with a sheet of non-invasive and transparent plastic, also has an electronic control system. Different from the same products available on the local market, this device can limit the escape of oxygen since it is activated and locked by a magnetic card.
His team then developed a negative pressure wheelchair to help move infected cases around with the irreducible minimum in cross-infection and cross-contamination. The device notably contains a powerful rechargeable battery that could keep the air purification system running for 4-5 hours non-stop.

Graphic Designing by San Le
While negatively pressured medical devices are for potentially infected COVID-19 patients, positively pressured devices are built to protect health workers from infection risks.
Cost as low as one-tenths of imported devices, the air respirator mask, built by Associate Professor Phan Trung Nghia, is equipped with Ultra-Low Penetration Air membrane which can filter out viruses on respiratory droplets. The air pressure inside the mask is greater than the pressure outside of it thanks to a purifier pumping in filtered and clean air. The product's technical quality has been approved by the Ministry of Health.
Last July, a flight departed from Hanoi to bring home 219 Vietnamese workers, of whom 120 were Covid-19 positive, from Equatorial Guinea. The narrow space on the aircraft, lack of ventilation and such a high number of infected patients made medical staff highly vulnerable to Covid-19 infection. It was Associate Professor Phan, along with his team, who set up 4 positive pressure chambers using plastic screens to separate the infected passengers from others.
Although Associate Professor Phan Trung Nghia is proud of his "minor contribution to the fight against the coronavirus", he does not wish his products to come into a wider use because "when that happens, it is obvious the environment we are living in is no longer safe," he said.
Reporting by Hong Hanh; Editing by Hanh Pham.