https://hust.edu.vn/en/news/campus-life/hust-student-creates-automated-device-to-detect-covid-19-578917.html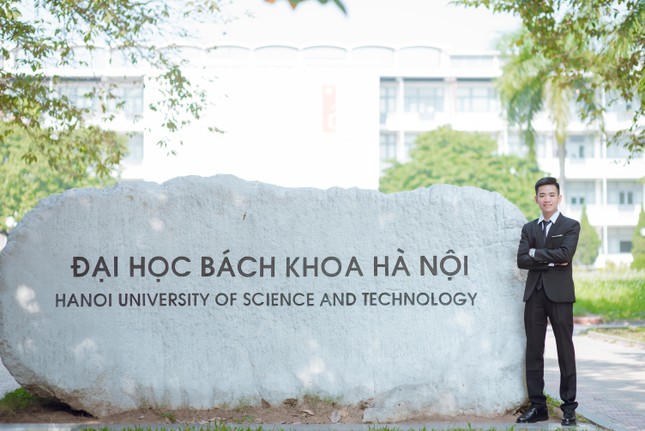 Trinh Thanh Tung, an undergraduate of the School of Electronics and Telecommunications of Hanoi University of Science and Technology, has managed to develop a set of equipment and applications which can detect pneumonia diseases including SARS-CoV-2 infected people.
Trinh Thanh Tung, who comes from Quang Ninh, is mentioned as a good student with many outstanding achievements. In addition to being passionate about Mathematics, Tung also loves technology. He has received a myriad of awards at technology competitions.
As a freshman, Thanh Tung faced many difficulties when he first left his hometown to study at HUST. Tung had difficulty adapting to new habits, especially the university schedule, learning style, and HUST examining style. However, Tung soon got acquainted with all of them due to his independence plus his parents' encouragement.
It is said that studying at HUST is quite hard. "I felt depressed and doubted myself when learning Math at HUST. My parents called to check on me every day but I didn't want them to worry about me so I told them that I was fine," Tung shared.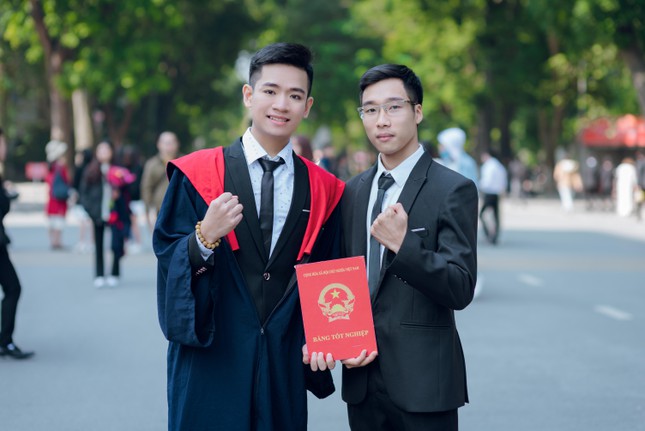 Trinh Thanh Tung (on the left) has just graduated with a perfect graduation project score of "10-10-10" (Photo by Tien Phong News).
Tung strived to learn to not let his parents down. He always took the time to "dig" the knowledge he had learned again and again. As a consequence, Thanh Tung received a deserved result, which was grade 10 in the first semester and the school's scholarship. Compared to his friends, Tung received a remarkable grade because not everyone could have that achievement in the first semester.
He always wanted to support his parents. He studied and did part-time jobs at the same time in the hope that his family condition would be better. He took many part-time jobs as a home tutor and shopkeeper. Tung himself struggled to overcome all difficulties with a filial heart towards his parents.
Tung won the AES Future Energy Scholarship 4 times in a row. These achievements have motivated Tung to come closer to many bigger successes and to become a HUST's outstanding student.
Trinh Thanh Tung is a big fan of science and research. He has joined lots of research labs. His most outstanding achievement is having the first scientific research paper on lung audio signal processing in the International Conference on Intelligent Systems & Networks ICISN 2021.
When the COVID-19 epidemic broke out, all students had to stay home to participate in online learning. At that time, Tung was working on the project that he expected to "leave something useful for society", as he had promised to his mother.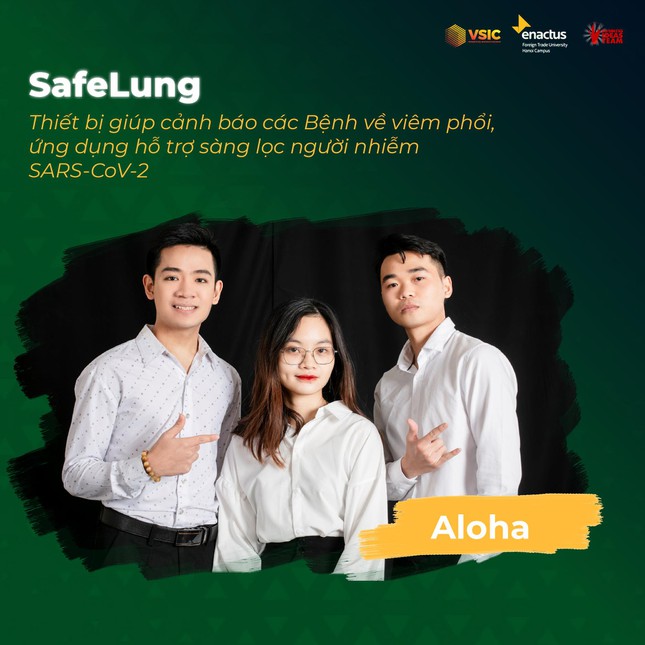 Trinh Thanh Tung (on the left) and his teammates, who researched and completed the SAFELUNG project (Photo by Tien Phong News).
With teammates' contribution as well as lecturers' instruction, Trinh Thanh Tung began to study lung sound signal processing. This method was said to be able to warn of pneumonia by using Machine Learning and Signal Processing in the time-frequency domains.
"The research process was very long, my team and I had worked for nearly a year but still couldn't get positive results. After that, we continued to do research and finally completed the project. At the end of 2020, this research method was combined with a set of devices including an electronic stethoscope and an accompanying simulation phone software app to participate in the startup competition "Vietnam Social Innovation Challenge," Tung said. SAFELUNG project ended up in the top 4 among contestants from the northern cities and provinces of Vietnam.
Trinh Thanh Tung graduated with a perfect project score of "10-10-10". He made a good impression on his professors and friends as people said he probably was a bright example for many generations of HUST students in the future.
Thanh Tung has received many job offers from large companies upon graduating. No matter what working environment Tung is in, he has promised himself that he would continue to develop his abilities to the fullest, learn more, and never give up his passion for scientific research and new technologies. "My goal is to study, work, and stay creative to bring and apply the latest technologies to the country," Tung added.
Reporting by Hoang Huong
Translating by Tran Trang