https://hust.edu.vn/en/news/campus-life/hust-successfully-produced-ventilators-for-the-treatment-of-pneumonia-by-covid-19-516963.html
On May 15th, National Institutes of Medical Device and Construction, Ministry of Health has measured, checked, and evaluated the main technical parameters of BK-Vent ventilator, manufactured by the lecturers of HUST, for Covid-19 disease treatment.
This is a grassroots-level research project in 2020, conducted from April 4th to 30th, 2020 by Assoc. Prof. Vu Duy Hai - Director of BioMedical Electronics Center, Hanoi University of Science and Technology. The research team comprised 10 members from different fields including Mechanical Engineering, Transportation Engineering, Electronics and Telecommunications, Biomedical Engineering, and Chemical Engineering.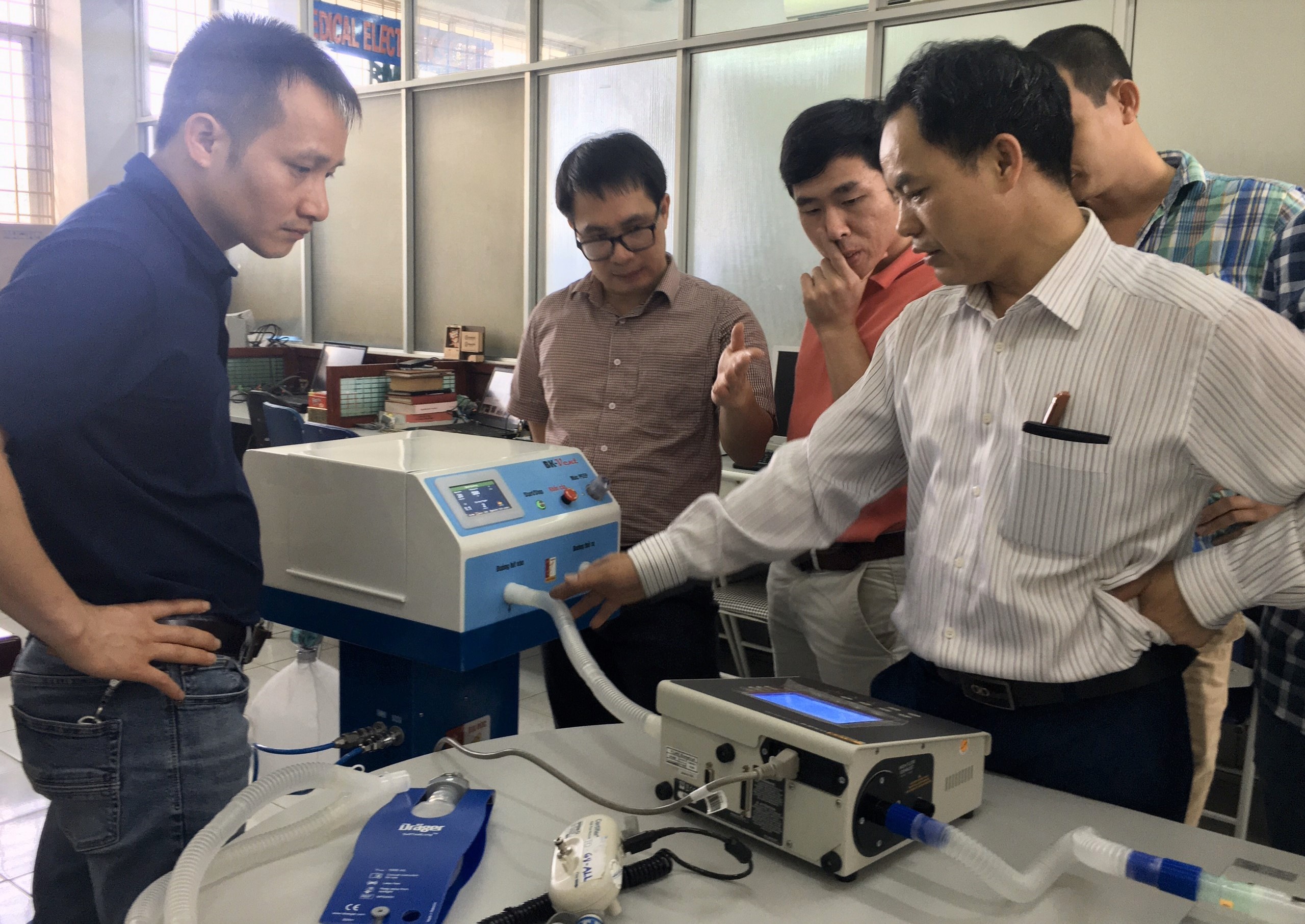 Based on the requirements and regulations of the Ministry of Health and announcements issued by The Association for the Advancement of Medical Instrumentation AAMI, HUST's lecturers and scientists aimed to support the treatment of pneumonia by SARS-CoV-2 (COVID-19) by researching and manufacturing ventilators, which requires simple operation using entirely domestically-produced core components.
The whole process of researching and manufacturing did not take much time, with the capability of producing large quantities upon request. In case the pandemic breaks out and there is a lack of ventilators, HUST can produce and supply medical facilities in large quantities and quickly to medical institutions. It is expected to produce 300-500 ventilators per month.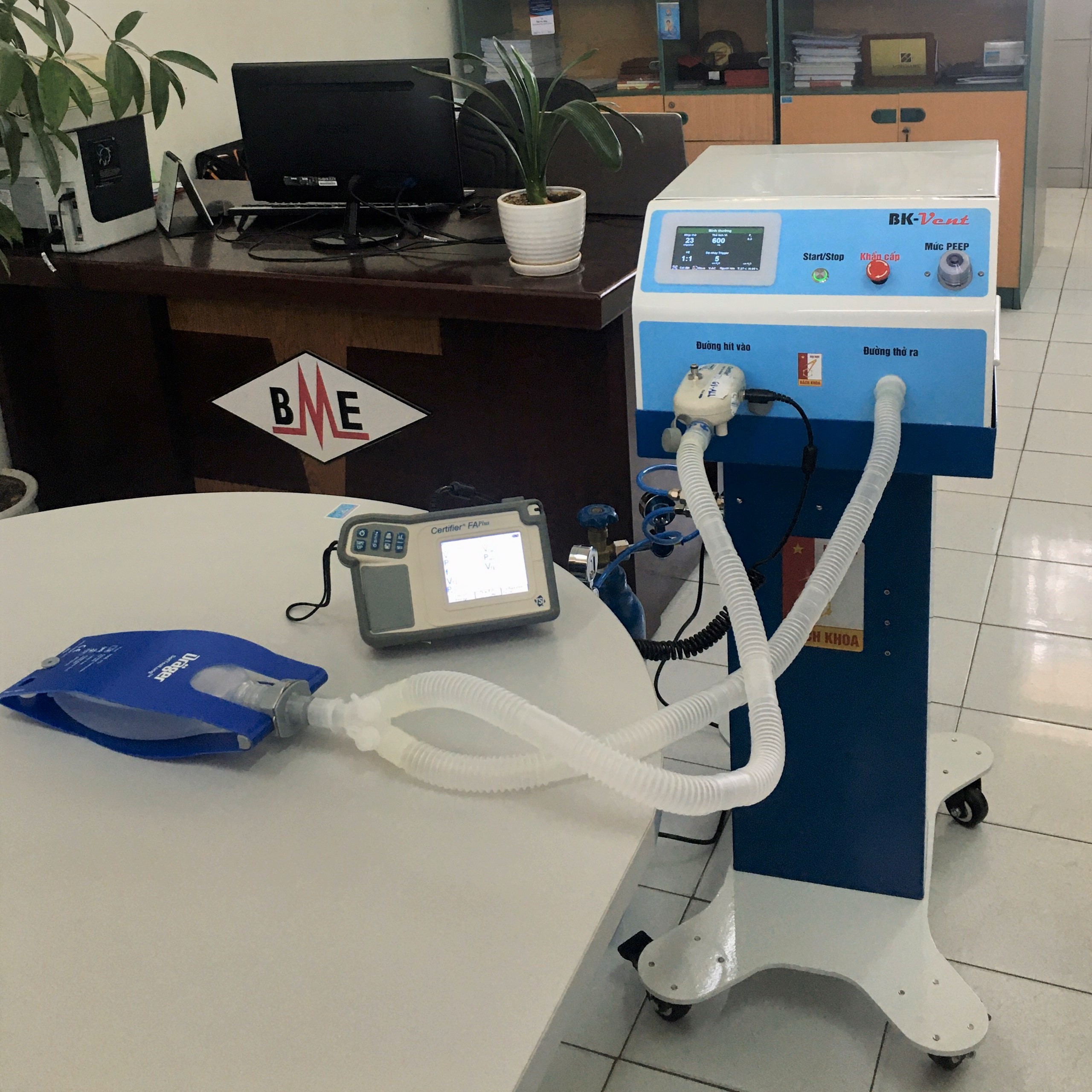 HUST's BK-Vent ventilator can totally support treatment for patients with pneumonia by combining 2 breathing modes including Continuous positive airway pressure CPAP and Volume assist-control VAC, said Assoc. Prof. Vu Duy Hai. Besides, the product's intelligent control functions will help to detect and synchronize accurately and effectively with the patients' biological breathing.
A standard ventilator for medical use requires manufacturers to research and build a thorough manufacturing process. This will take a lot of time and effort. Under normal conditions (without any disease), the demand for ventilators is low. Therefore, there are only a few companies in the world that specialize in ventilator manufacture.
Nevertheless, in the epidemic, at the present time in particular, when the Covid-19 situation is breaking out and becoming highly complicated, ventilators' manufacturers face many difficulties. Some even have to lay off employees to minimize the spread of the Covid-19 while ventilators' demand increases dramatically.
Therefore, recently, Governments around the world have called on technology corporations and universities to research and manufacture ventilators to fight the pandemic. In Vietnam, there are currently almost no companies able to provide our health service with specialized ventilators, most of which are imported abroad. However, under these circumstances, all orders of ventilator imports were rejected.
If the COVID-19 toll is 50,000 people or more, Vietnam would probably be short of ventilators with an overstretched health system and a lack of technicians and experts. Following some solutions issued by Government has issued, the implementation of research on manufacturing domestic ventilators in a short time to cope with the epidemic is a top priority task, especially requiring the participation of technology corporations, universities including Hanoi University of Science and Technology.
Thu Trang