https://hust.edu.vn/en/news/campus-life/hust-teams-up-with-local-business-to-make-respiratory-support-for-covid-19-patients-577141.html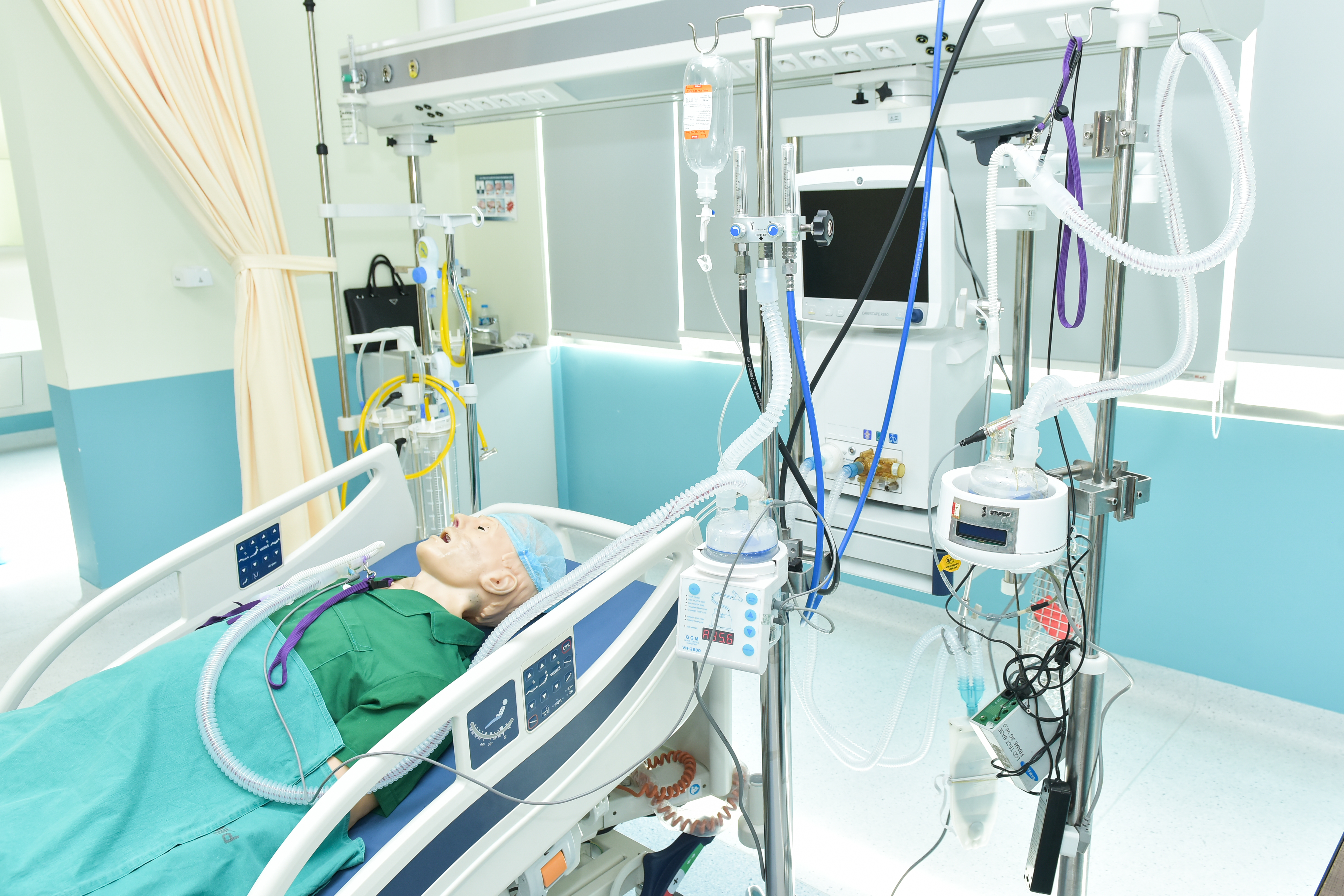 Hanoi University of Science and Technology (HUST) has worked with a leading technology company to produce high-flow nasal cannula which is a noninvasive ventilator for patients with COVID-19.
In an effort to help local hospitals optimize the use of mechanical ventilation, HUST and VMED Group, a company delivering medical supplies, equipment and other technology solutions, have managed to develop and produce high-flow nasal cannula machine for patients with coronavirus disease.
The high-flow oxygen machine can supply continuous high-flow breathing air, up to 60L/min. with adjustable oxygen concentration, from 21% to 100%. The machine, stable at 37 degrees Celsius and moisture saturation through the frame on the nose, is used to treat patients with respiratory failure.
The Department of Science and Technology, the Ministry of Education and Training supported the research team to perfect the medical compressed air system according to the national standards TCVN 8022-1:2009. Supplies of medical compressed air and medical oxygen are required to operate the BKVM-HF high flow oxygen machine. Each system has a maximum flow of 600L/min, which can simultaneously serve 10 high-flow oxygen machines in hospitals that do not have a central compressed air system.
HUST scientists, along with VMED Group, have built the high-flow oxygen machine from scratch in just two weeks.
"The timely and effective participation of HUST scientists has partly reduced the "burden" for the Vietnamese government. This also could help shield our community from a COVID-19 outbreak", HUST's Vice President Huynh Dang Chinh said.
Ngo Thanh Son, Deputy General Director of VMED Group, added: "We are proud to join with HUST to create a high- technology product that we can promptly deliver to the hotbeds of COVID-19, and quickly help hospitals with their treatment of COVID-19 patients."
The scientists are continuing to improve the oxygen concentrator which extracts more than 90% oxygen from the air and provides oxygen for medical treatment using industrially-produced gas.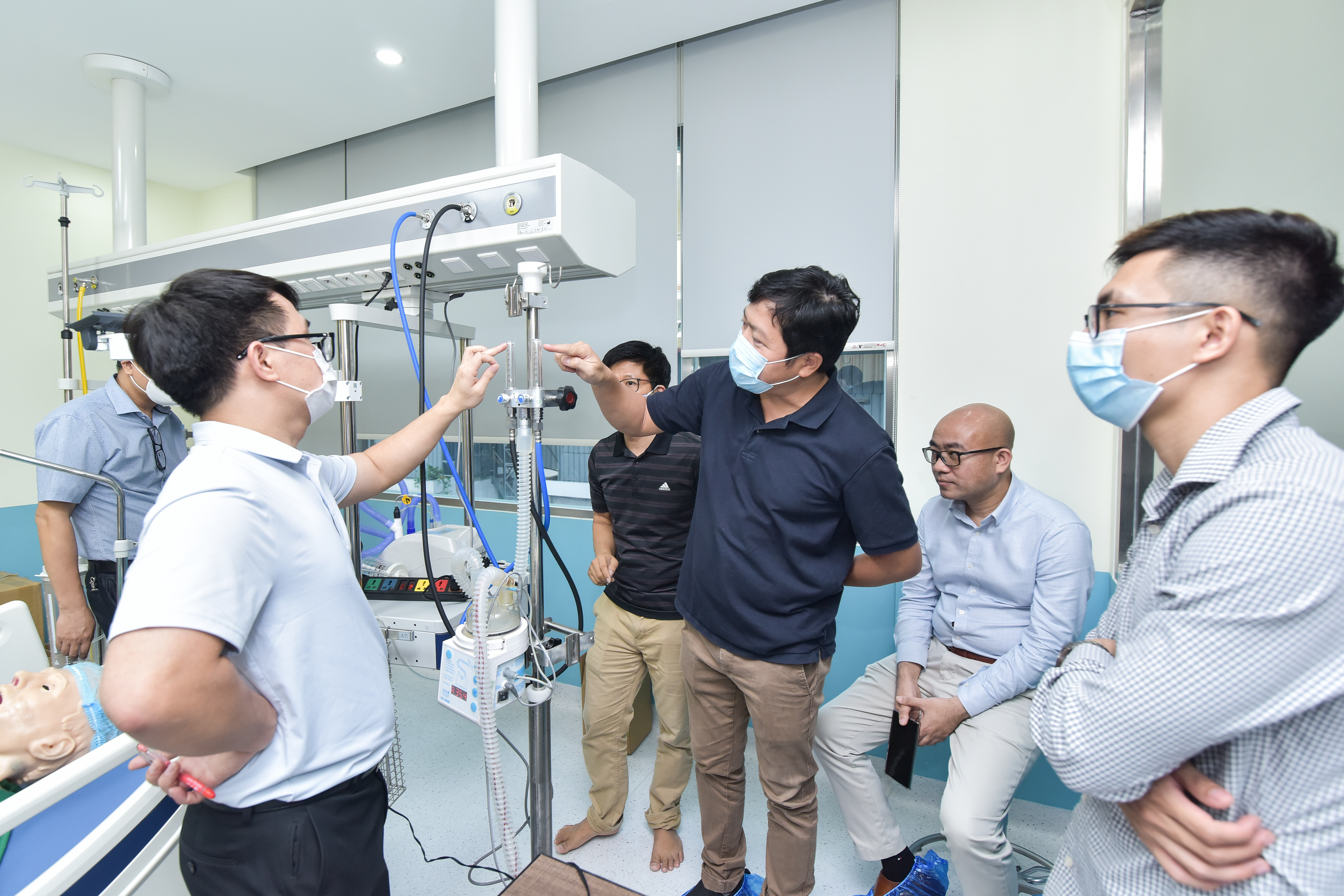 The BKVM-HF1 high-flow oxygen machine is tested at VMED Group's laboratory. Photo by CCPR-HUST.
The machine was measured and tested at VMED Group lab; tested at A9 Emergency Center, Bach Mai Hospital; licensed by the Ministry of Health for the treatment of COVID-19 patients.
"According to clinical research reports, 60-70% of patients with Covid-19 using this high-flow oxygen machine have recovered, not urgently in need of ventilators. High-flow oxygen machine is a necessary device to support the treatment of patients with pneumonia and respiratory failure in the early stages of Covid-19," Assoc. Prof. Nguyen Van Chi, leader of A9 Emergency Center at Bach Mai Hospital, confirmed.
Health Minister Nguyen Thanh Long highly appreciated the research results. He promised the ministry would push legal procedures so that HUST and VMED Group could mass produce the BKVM-HF1 high-flow oxygen machines.
The minister also hoped HUST would continue to come up with technological solutions to support the government to combat the COVID-19 virus, mentioning oxygen enrichment and portable gas supply systems and rapid Covid-19 screening tests.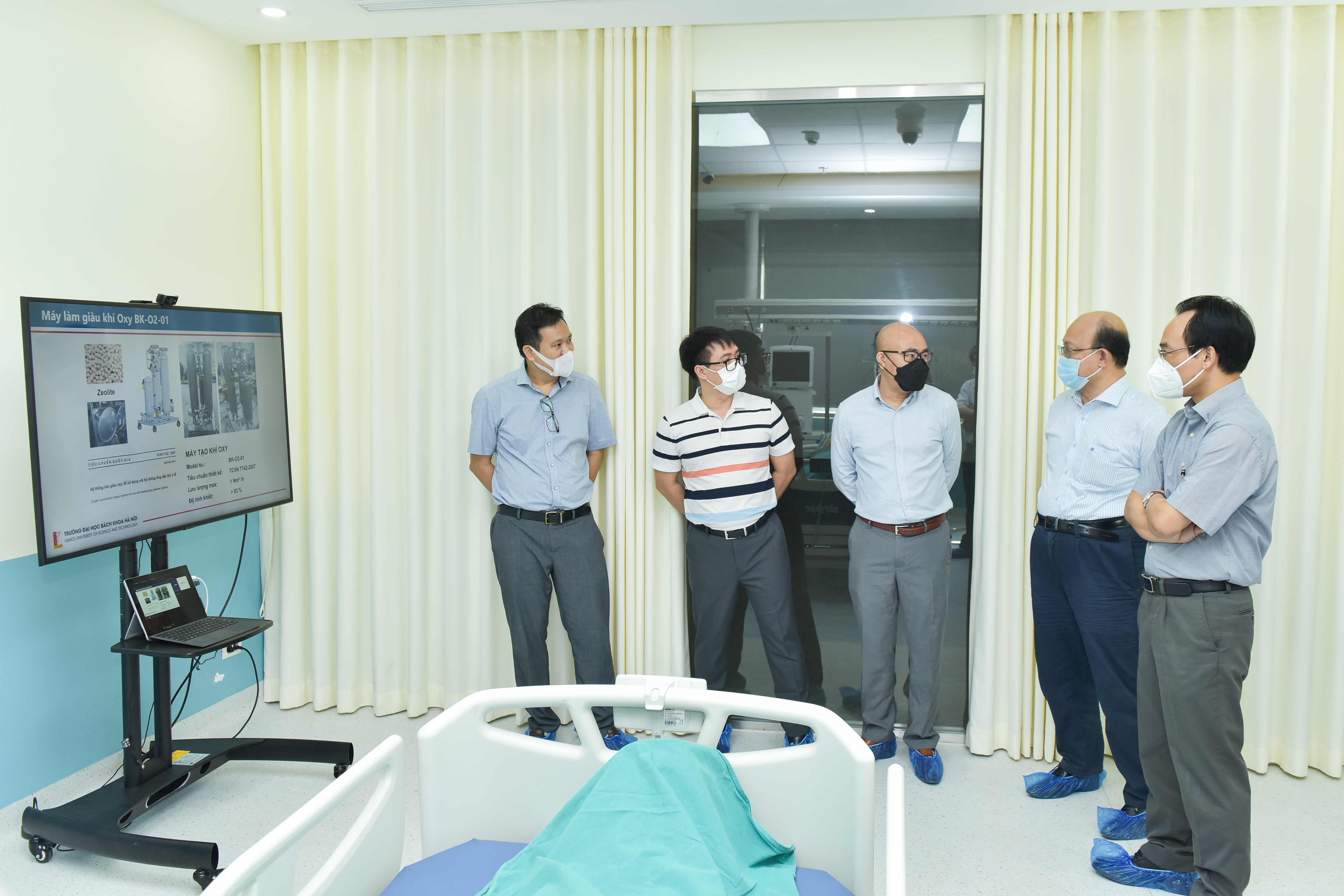 HUST's scientists present product development plans to Assoc. Prof. Hoang Minh Son, Deputy Minister of Education and Training. Photo by CCPR-HUST.
Many scientists and technologists at HUST have been joining Vietnam's effort to fight against the global pandemic cause by COVID-19 by developing many solutions such as a rapid test kit, negative pressure isolation stretcher, positive pressure chamber, fresh air breathing cap, portable full body disinfection chamber, and mechanical ventilator.
The first batch of 30 BKVM-HF1 machines is currently in production and ready to be sent to epicenters of a new outbreak. Each BKVM-HF1 machine is made a cost of about 50 million dong (around US$2,000), which is about half of the price of imported ones.
Petrosetco, a service arm of state oil group PetroVietnam, announced to finance the entire production of the first batch with a total cost of 1.5 billion dong.
"I hope that these products made by the heart and mind of Vietnamese scientists will help doctors in epidemic hotspots promptly save patients so that the country can overcome the Covid-19 pandemic in no time," Phung Tuan Ha, chairman Petrosetco, said.
As of July 2, the pandemic caused by coronavirus disease has resulted in more than 80 deaths and around 14,000 infections in Vietnam. The sickest patients with COVID-19 require hospitalization and mechanical ventilation for respiratory failure. Such demand has forced many local institutions, businesses and the government to shift focus to expanding access to mechanical ventilation by repurposing machines which are not typically used for mechanical ventilation. And the high-flow nasal cannula machine, developed by HUST, has come for that purpose.
CCPR - HUST