https://hust.edu.vn/en/news/campus-life/the-asia-oceania-top-university-league-on-engineering-aotule-2017-conference-285253.html
For the purpose of improving inter-university cooperation, quality of education, scientific research and mobility in Asia-Oceania top Universities of Technology, the AOTULE 2017 Conference has been held at Hanoi University of Science and Technology (HUST), from 22 to 24 November, 2017, with more than 120 participants including Deans, Faculty members, Staff and Students from AOTULE member institutions. This is the first time HUST, Vietnam has hosted AOTULE conference.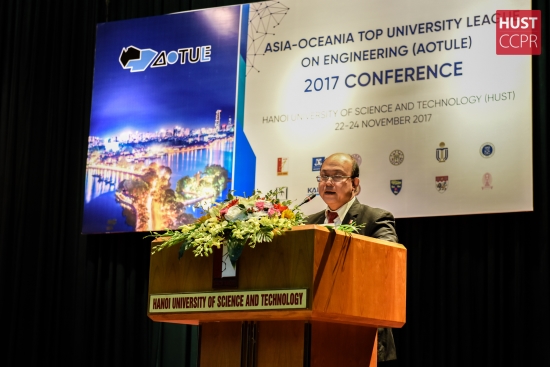 Assoc. Prof. Huynh Quyet Thang - HUST Vice President
In the welcome address at the opening ceremony, Assoc. Prof. Huynh Quyet Thang, HUST Vice President has stated that It was HUST's great honor to become an official member of AOTULE since 2014. This year, HUST was very proud to be in the position of a host institution, to organize AOTULE annual conference including Deans' meeting, Staff meeting, in parallel with Students Workshop. AOTULE annual conference was an excellent opportunity to strengthen the tie between members. It was believed that the strong AOTULE - Top University League would enhance inter-university cooperation, in education, research and mobility.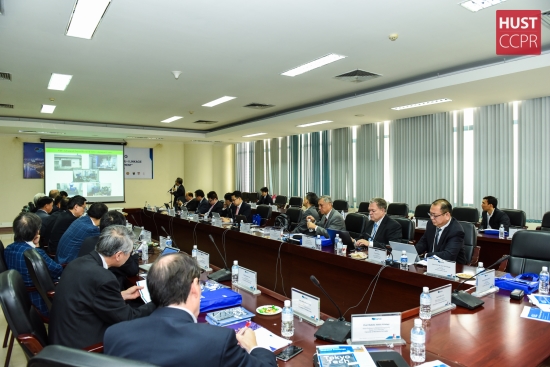 Deans' Steering Committee Meeting
During the conference this year, as usually, the Deans' meeting has been run in parallel with the staff meeting and student conference. The theme for the Deans' meeting is "Internationalization and U-I Linkage in University Development". The main focus of the Dean session was exploring the great potential of University – Industry Linkage, which was reflected in a wide range of topics such as Research with Industry, Alumni and Fund Raising, Start up and Entrepreneurship, Active Learning / Joint training with Industry. The leaders of global Corporation like GE Vietnam, Haesung Vina are also invited to share their experiences, opinions from the viewpoints of the industries. Besides, for the increasing importance of student mobility matter, the Staff meeting has brought about the issue of "Credit transfer and Recognition: Best practices and challenges" which refers to a crucial aspect of the league's main interest of mobility. Students have had opportunities to present their current research through oral presentations. During their group working session, students have worked in a group of 6 students and could find out and discuss about current issues concerning the theme of "AOTULE students' research toward sustainable resources tomorrow", which was expected to explore their acknowledgment and assign their role in the sustainable development.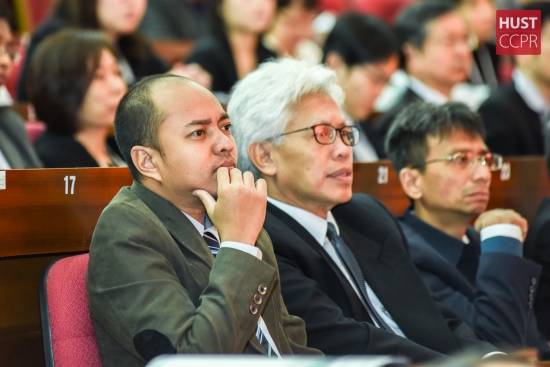 Faculty Participation
During Deans' Steering Committee, Assoc. Prof. Huynh Quyet Thang was voted to become the AOTULE Executive Chair from Nov 2017 to Nov 2018. University of Moratuwa (Sri Lanka) has been voted and admitted as a new member of AOTULE since 2017.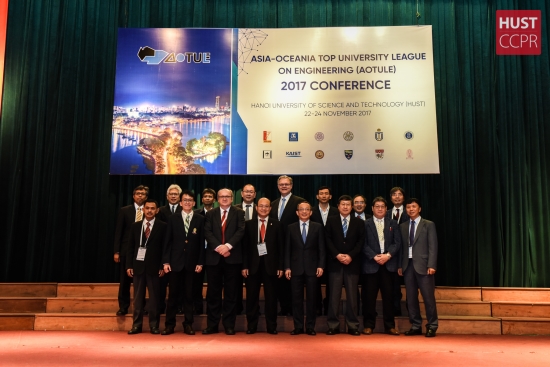 AOTULE Deans
AOTULE 2017 conference has been an opportunity for Deans, Staff and Students from member institutions to meet and exchange ideas on education and training and scientific research cooperation; It also has strengthened the collaboration among members. The main activities of the AOTULE 2017 conference were to promote cooperation among the top institutions in the region through meetings of the Steering Committee, Deans, Staff and Students. Therefore, becoming an official member of AOTULE league has brought opportunities for HUST to improve the quality of training, scientific research and mobility through cooperative activities and exchanges with top institutions. The AOTULE 2018 Conference was scheduled to be held at the Indian Institute of Technology Madras, India (IITM) in November 2018.
Member Institutions:
Bandung Institute of Technology, Indonesia
Chulalongkorn University, Thailand
Hanoi University of Science and Technology, Vietnam
Indian Institute of Technology Madras, India
Korea Advanced Institute of Science and Technology, Korea
Nanyang Technological University, Singapore
National Taiwan University, Taiwan
The University of Melbourne, Australia
The Hong Kong University of Science and Technology, Hong Kong
Tokyo Institute of Technology, Japan
Tsinghua University, China
University of Malaya, Malaysia
University of Moratuwa, Sri Lanka
ICD