https://hust.edu.vn/en/news/campus-life/twenty-four-fresh-grad-bachelor-of-business-and-administration-received-troy-university-us-diploma-363326.html
"Graduation Ceremony is a moment of importance during the time of university. Today, we all gathered here to praise for your impressive achievement after years of effort. You have earnt the international-recognized bachelor diploma right here, at the Hanoi University of Science and Technology. And we are proud to be a part of your success" – said Assoc. Prof. Tran Van Top, Vice President of Hanoi University of Science and Technology (HUST) at the Graduation Ceremony for twenty-four newly bachelors in Business Administration Major of the 13th intake of HUST and Troy University (TU – US) Joint-Training Program.

Participating the Ceremony were Sen. Gerald Dial – Alabama Senate, USA; Dr. Jack Hawkins – President of Troy University; representatives from other Schools, Departments of HUST, along with twenty-four fresh-grad bachelors and their families and friends.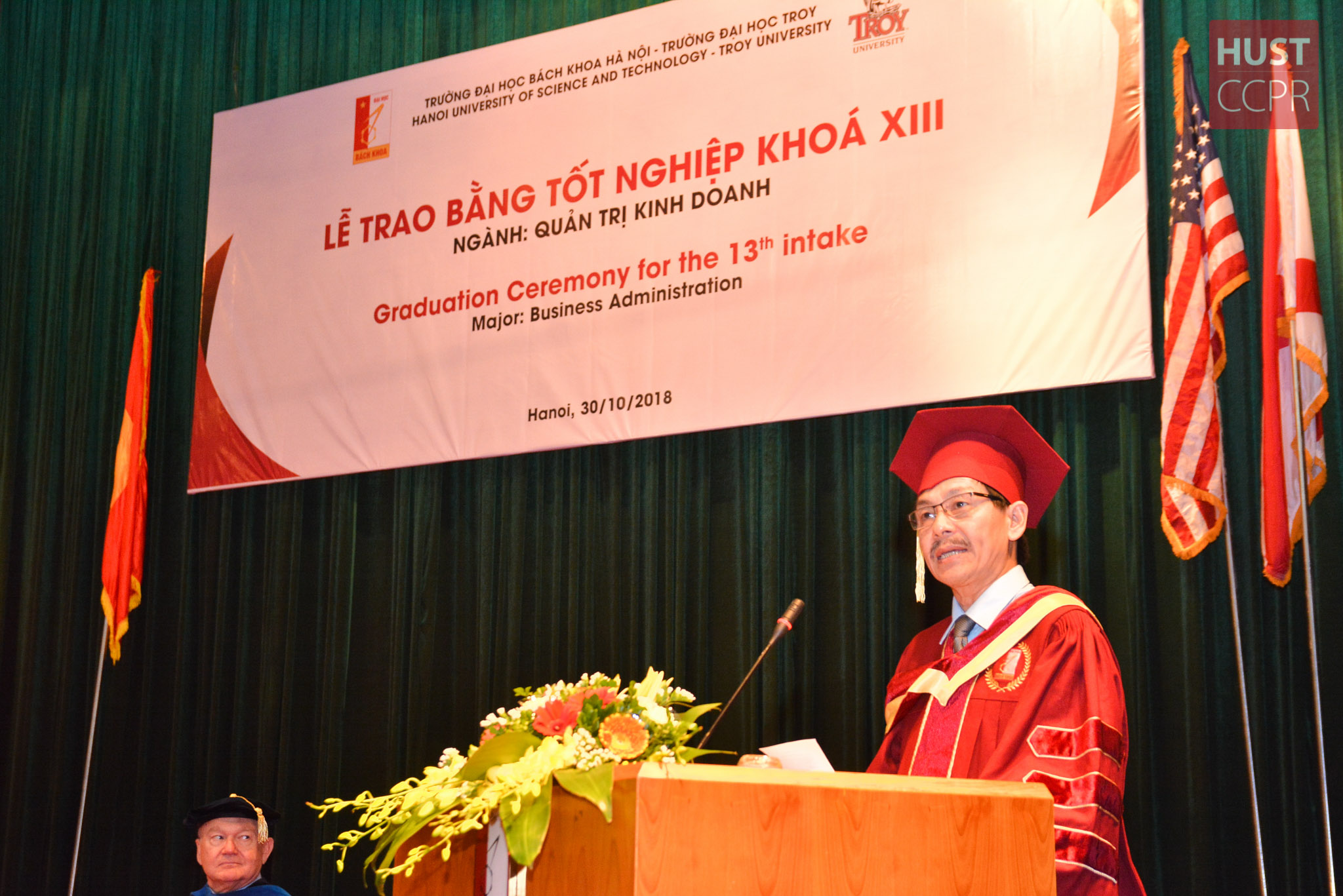 Assoc. Prof. Tran Van Top at the Ceremony
Welcomed and awarded the diplomas to the bachelors, Assoc. Prof. Tran Van Top emphasized: "After years of effort, overcame obstacles and challenges, you have earnt yourself the recognition from an university respecting international significances. This will support you a lot during your expedition into the world."

"Troy University is known as 'The Alabama International University'. Up to now, we have admission from 76 different nations, including 80 students from Vietnam, who have studied in HUST and continued in Troy. It means Troy University step-by-step prepares both knowledge and skills for HUST students to compete globally. Today, you have joined the family of more than 150,000 students of Troy all over the world. I am very proud of you all" – said Dr. Jack Hawkins.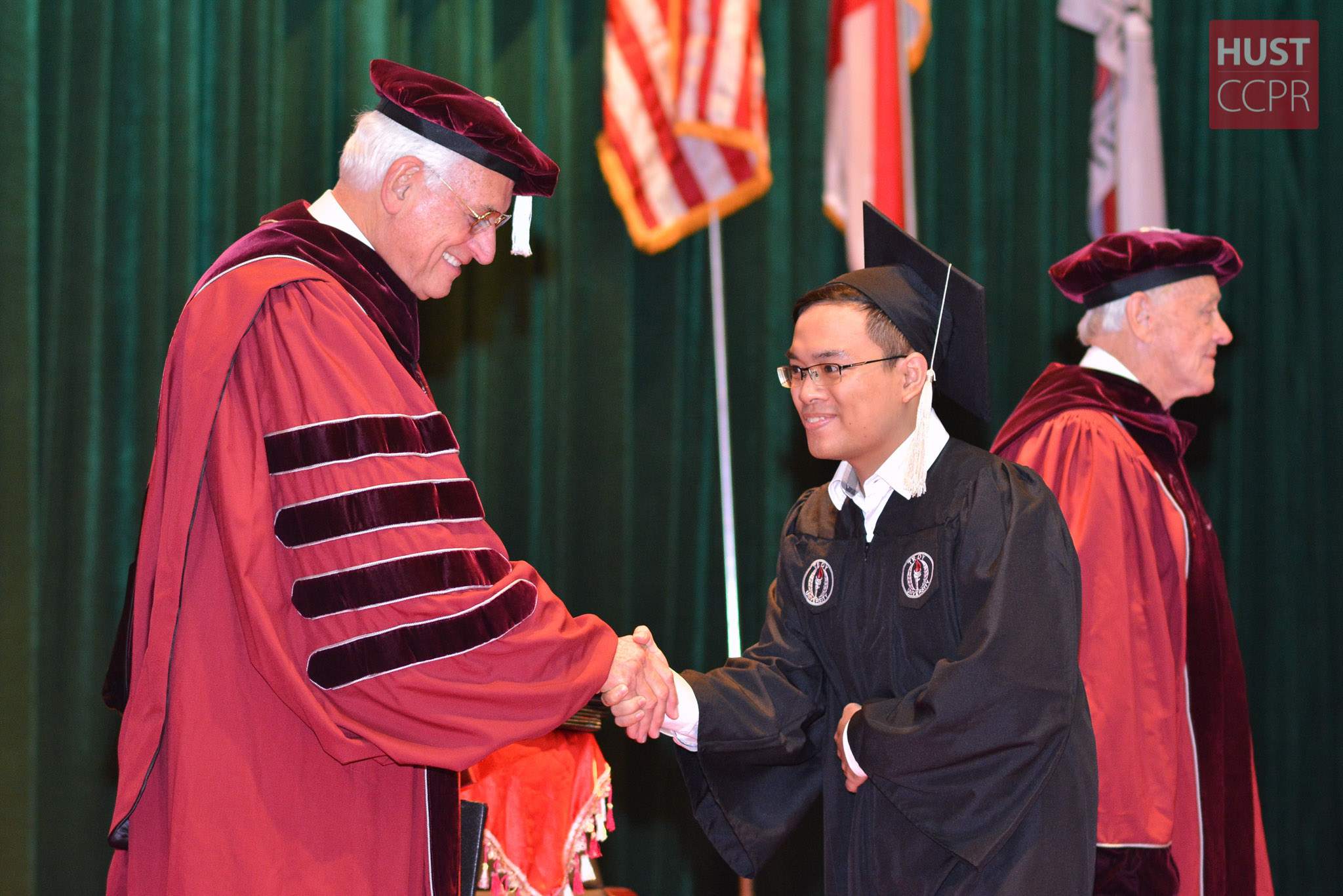 President of Troy University awarded the diplomas and praised the newly grads
Confiding at the Ceremony, fresh-grad bachelor Dao Linh Trang shared the thoughtful story of her own. Used to be a person of shyness and uncertainty, always remained silent in classes and never spoke her mind, it made Trang panic during one presentation. But to her surprise, whole class cheered and encouraged Trang to regain calm and finished the work well. Since then, the now-bachelor became more and more confident and continued to prove herself. "In Troy, some found friendship, other found love, even a family. And to me, I have found me. I have learnt how to follow my dreams, how to love myself, and how to speak up for my own. To my fellow friends, ask yourself, 'What is my story? What is my lesson during this path of knowledge-seeking?' You can find them in the books, in your friends next to you, etc. Whatever they might be, take a sincere appreciation. To very each memory, each moment you have here, it's what will change how you see the world, by the most unexpected ways" – Trang said.

After today ceremony, each bachelor will continue their own journeys, contributes their knowledge and talents for the nation. Their success in the future will be the proud for their families and friends, and will be the image for the development in cooperation between HUST and Troy University.
CCPR